In general, a hedge fund is defined as an investment fund that can undertake a wider range of investment and trading activities than other funds, but which is generally only open to certain types of investors. These investors are typically institutions, such as pension funds, university endowments and foundations, or high-net-worth individuals, who are considered to have the knowledge or resources to understand the nature of the funds (source: Wikipedia).
As a class, hedge funds invest in a diverse range of assets, but they most commonly trade liquid securities on public markets. These funds typically employ a wide range of strategies, and make use of techniques such as short selling and leverage.
Hedge funds are opportunistic, and invest where the most profit potential is seen. Some hedge funds are designed to invest in real estate, while others take advantage of opportunities in property as they arise. Hedge fund Pershing Square not only invests in real estate because values are expected to increase, but also takes advantage of properties that are falling in value. William Ackman, who runs Pershing Square, took a short position in a commercial property. This investment was a bet that the value of the property would fall and Ackman was attempting to profit on that. Ackman has a history of investing in distressed property, including the once-bankrupt mall operator General Growth Properties (NYSE:GGP).
Hedge funds are like mutual funds in that they both pool people's money to invest. However, the difference is that hedge funds can buy investments using riskier investment strategies that are not permitted for typical mutual funds. In addition, hedge funds are lightly regulated and they are not sold to retail investors as they are aimed to attract accredited investors.
A typical hedge fund fee model has two layers, including a 2 percent management fee and a 20 percent performance fee. If investment performance falters and profits drop, the hedge fund cannot continue to charge investors the performance fee until the fund regains any losses that were incurred. Some funds include a hurdle rate, which is a minimum profit the fund must earn before investors pay performance fees.
Vornado Realty Trust: Simply a Hedge Fund in a REIT Wrapper
Vornado Realty Trust (NYSE:VNO) owns and manages more than 100 million square feet of office and retail space across the country and generates nearly $3 billion in annual revenue. About 80 percent of Vornado's earnings come from properties in Washington, DC, and New York City. As Richard McGill Murphy wrote in a recent Fortune article, Vornado's Edifice Complex:
Vornado makes frequent plays outside its wheelhouse of prestige office and retail leasing, which is unusual for a REIT. The company holds large stakes in Toys 'R' Us and J.C. Penney. It's almost like a hedge fund in a REIT structure.
During the company's second quarter earnings call, Michael Fascitelli, President and CEO of Vornado, suggested that the New York-based company was aiming to simplify its model to operate closer to its core of competence strategies. As Fascitelli explained,
Well I think it's (simplification) the gradual process. I mean we have assets that we think that we can recycle and sell right now that better other people see that and we can take the cash and do better things with them. We have also assets that we think are less liquid that'll take a longer time to get out of, and but we want to obviously maximize the value out of them. So it's a process and transformation sounds like we're going to blow everything up and I think it's an orderly process to transition where we can get the maximum value and we can now also be reinvesting in the areas where we set, street retail, New York City, Washington in high-quality assets and improving the asset quality as a company. So it's a very deliberate strategy over a period of time.
So far this year, Vornado has had substantial progress in simplifying the company and that is evident in that 80 percent of the company's earnings come from New York and Washington office and retail holdings. Vornado's diverse footprint extends into office properties, retail space and temperature-controlled logistics and refrigerated warehouses. Besides its properties, the company also has investments in other REITs, industrial buildings and Toys 'R' Us.
New York, New York
Vornado's New York office assets totaled 19.5 million square feet substantially all in midtown. The company's recent office acquisitions have been concentrated on Fifth Avenue and Park Avenue. Vornado has a highly diversified office tenant base with over 1,200 tenants, no one tenant is more than 3.3 percent of the New York revenues.
New York has experienced record-breaking tourism with over 15 million businesses visiting the city last year (2011), making the destination a big plus for Vornado's retail assets of around 2.2 million square feet, including the acquisition of the co-controlling 40 percent interest in 666 Fifth Avenue in December 2011. Marriott Marquis Retail and 666 Fifth Avenue are the two best retail areas in Manhattan, Fifth Avenue and Times Square, and both enjoy tremendous presence in tenant demand.
Vornado owns the largest street retail platform in New York City where retail fee-owned properties are expensive and very valuable. Vornado also announced earlier this year that the company had entered into a lease with Host Hotels & Resorts (NYSE:HST) under which the REIT will redevelop the property located in the bow tie in the heart of Times Square that spans the entire block from 45th Street to 46th Street on Broadway directly across its iconic 1540 Broadway retail property, formerly the home of the famous Virgin Record Store in sign.
Some iconic names listed in the Vornado's New York retail portfolio include H&M at 640 Fifth Avenue, Coach (NYSE:COH) at 595 Madison Avenue, Joe Fresh at 510 Fifth Avenue, TopShop at So-Ho plus stores around Bloomingdale's and in the Macy's (NYSE:M) 10 Plaza District and up and down Fifth in Madison Avenue and at Union Square.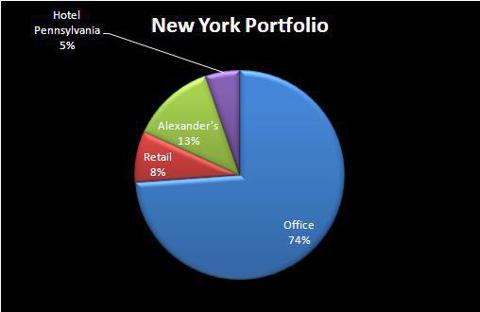 The Nation's Capital
Turning to Washington, D.C., Vornado is one of the largest office owners there with a portfolio that totals almost 16 million square feet. During the latest reporting period (Q2-12), Vornado's Washington, D.C. segment contributed around 19 percent of the company's overall EBITDA (including Toys 'R' Us).
Vornado has a strong asset portfolio in two of the best long-term office markets in the U.S. - New York City and Washington D.C. and that provides the company with a durable and competitive advantage to continually increase rents. The nation's capital has statistically one of the most educated work forces in the country and Vornado's CEO, Michael Fascitelli, explains the targeted strategy on the second quarter (2012) earnings call:
Companies continue to find Washington attractive for relocation and expansion and capital continues to actively see properties in the market. We really like this market and our assets here over the long-term.

Washington today is experiencing the perfect storm, BRAC, the GSA trying to be more efficient, a presidential election and a budget stands off creating uncertainty. But we expect a moderate growth and limited supply, over the next several years we stabilize the market. We are leasing space at good rents and getting more than our fair share of the leasing activity in the market.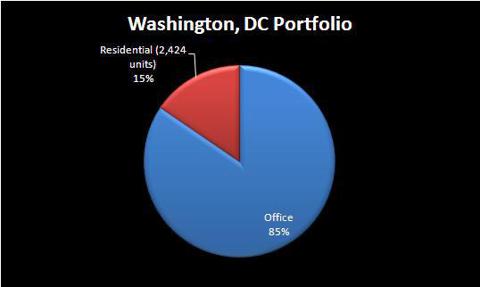 The Retail Properties
Vornado's retail segment consist of a well-balanced portfolio of assets in New Jersey (37), New York (17), Pennsylvania (10), California (10), Massachusetts (4), Maryland (4), Connecticut (2), Florida (1), Michigan (3), Virginia (2), Illinois (3), Texas (2), Ohio (1), South Carolina (1), Wisconsin (1), Washington, DC (1), New Hampshire (1), Kentucky (1), and Iowa (1). In addition, Vornado owns a portfolio of eleven sites in California leased to privately-held and leading grocer, Stater Brothers.
The diversified retail shopping center portfolio has variety of national tenants including PetSmart (NASDAQ:PETM), Best Buy (NYSE:BBY), J.C. Penney (NYSE:JCP), Wal-Mart (NYSE:WMT), Staples (NASDAQ:SPLS), Pottery Barn, Target (NYSE:TGT), Regal (NYSE:RGC), Trader Joe's, Kohl's (NYSE:KSS), Giant Food, Lowe's (NYSE:LOW), Party City, Rite Aid (NYSE:RAD), Home Depot (NYSE:HD), and Kmart (NASDAQ:SHLD). The portfolio is around 11.137 million square feet and the average occupancy rate (as of June 30, 2012) is 93.8 percent. Here is a snapshot of Vornado's Top 30 Tenants (includes all segments):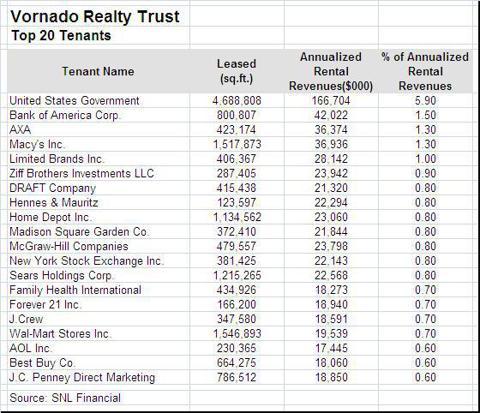 Vornado also owns seven regional malls totaling 7.819 million square feet. The portfolio has an overall occupancy rate of 92.6 percent (as of June 30, 2012). During the company's latest earnings call, Fascitelli noted that Vornado is "not a national mall operator" and that the company's "malls have very high productivity." As part of the company's recycling initiatives, Vornado has been selling off certain non-core assets and the CEO stated on the latest earnings call that the company is "currently marketing Green Acres Regional Mall and Kings Plaza Regional Mall as well as our 650,000 square foot power ship center in San Jose California." As explained by Fascitelli:
In the second half of the year, we are contemplating the sale of over $1 billion of assets. Including the beginning of the mall disposition program and continuing the pruning of our strip center portfolio.
Merchandise Mart
Back in 1998, Vornado decided to tap into the convention space segment with the $630 million acquisition of the Merchandise Mart and related assets. Over the years, Vornado grew the business with 11 "bolt-on" acquisitions of buildings and trade shows investing an additional $338 million. That business grew rapidly, but then the business model fell victim to the housing recession and eventually the board elected to "sell down" the portfolio, asset by asset.
In 2011, Vornado "sold" High Point to the lender for $237 million, realizing an $84 million gain. In January 2012, the company sold the 350 West Mart building for $228 million, realizing a $54 million gain. As part of the strategic plan to "simplify" the business model, Vornado has stated openly that it was "exiting the mart business," and during the second quarter the REIT sold or contracted to sell four mart assets for $228 million: the L.A. Mart, the Boston Design Center, the Washington Design Center and the Canadian Trade Show Business. Also, in the first quarter, Vornado completed the sale of 350 West Mart Center for $228 million.
Toys 'R' Us and Related Investments
From time to time, Vornado makes debt and/or equity investments in other companies that the REIT may not control or in which the company may not have sole control. These investments include Alexander's, Inc. (NYSE:ALX), Toys 'R' Us, Lexington Realty Trust (NYSE:LXP), J.C. Penney Company, Inc. , LNR Property Corporation and other equity and mezzanine investments.
This non-core approach to investing - liken to a mutual fund strategy - is structured to diversify the revenue in higher risk marketable equity securities of publicly-traded real estate companies or companies that have significant real estate assets, such as J.C. Penney and Toys 'R' Us.
Alternatively, because Toys 'R' Us is a retailer, its operations are subject to the risks of a retail company that are different than those presented by other lines of business. Also, the business of Toys 'R' Us is highly seasonal in that historically the Toys 'R' Us fourth quarter net income accounts for more than 80 percent of its fiscal year net income.
Vornado Realty currently owns about 32.5 percent of Toys 'R' Us and the potential for creating shareholder liquidity (for Toys) was recently explained by Fascitelli :
We went into Toys with two of the best LBO forums in the business, Bain and KKR. And you know LBO forum is a private equity forum, I think more properly stated. They go and we improve the business and they exit the business and traditionally that's done is through an IPO or sale of the company or a positive sale of the company. So we've done a pretty good job improving the business in terms of making EBITDA from 750 to 1 billion plus or minus. I think all the fund is in the management. We would like to see some kind of liquidity event and so whether the pretty event is public or private is depending on what the markets are. So we're certainly being in the realm of possibility to do that. But I'm not going to predict which outcome it might be, but we'll look at all outcomes as a possibility.
Note: Vornado's third quarter 2012 will include a loss of $8.6 million or 4 cents per share on account of Toys 'R' Us, compared to a loss of $9.3 million or 5 cents in the year-earlier quarter
Vornado also owns a 32.4 percent interest in the outstanding common stock of Alexander's, a small-cap REIT engaged in leasing, managing, and developing properties that are focused primarily on the locations where its former department stores operated before they ceased operations in 1992. The Alexander's REIT has seven properties located in the greater New York metropolitan area.
Vornado acquired a 9.9 percent stake in J.C. Penney in October 2010 for $600 million alongside hedge fund Pershing Square Capital Management. At the time, J.C. Penney's stock traded around $32, but it since has fallen to around $19.00 earlier this summer and it had started "claw back" to a recent closing price of $26.03.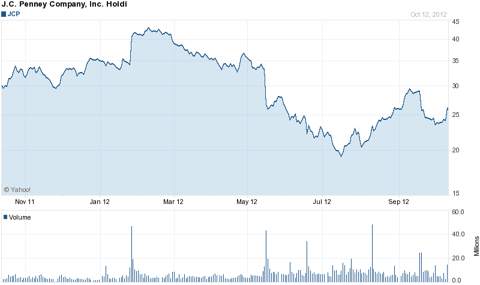 Vornado's bet on Penney was based on the retailer's controversial strategy to move away from discount prices when bargain stores appear to be thriving in tough economic times. Vornado's latest earnings results reported that the company had lost $58.7 million on its J.C. Penney stake that contributed to the REIT's weak second-quarter earnings in which funds from operations dropped to 89 cents a share from $1.27 in the same period last year on a non-adjusted basis. The loss on J.C. Penney widened substantially from the $6.8 million loss recorded a year ago, and Vornado's results fell short of the 95 cents a share some analysts projected.
Analysts have called on Vornado to sell its stakes in J.C. Penney and Toys "R" Us suggesting that the REIT should make a bold move to liquidate and get serious about improving the valuation of its shares against rivals like Boston Properties Inc. (NYSE:BXP) and Brookfield Office Properties Inc. (BPO, BPO.T). During the latest earnings call (Q2-12), Fascitelli reaffirms Vornado's commitment to J.C. Penney:
We've done retail investments of this nature a dozen times before over the last large number of year's quite success really by the way. The J.C. Penney investment is an investment that we're committed to, we have an enormous amount of a competence in Rahm, Johnson and his team. Rahm is not bashful in explaining to the public and the investing public as ideas, if you go on to the J.C. Penney website all of his presentations are on their website, and all of his strategy is there, very quite graphically and very understandably.

I think it's just, it's a little bit unfortunate that the launch of this very innovative and we think very, very exciting retail concept was a little shaky and the communication of Rahm's pricing strategy of the customer and they are in the middle of making some very important and proper mid-course corrections right now. So we are in this investment. We have confidence in the management team. We think the idea is an exciting one. We think the investment opportunity is hugely symmetrically in the favor of reward versus the risk and we're routing, we're currently the biggest routers in the land on this one. So I think that the awareness things have a long haul.
Where's the Simplicity for Vornado?
Vornado looks like a hedge fund, but it's a REIT. The business lines that investors want to see Vornado exit are the ones that are either hard to sell (like J.C. Penney) or because they're illiquid like Toys 'R' Us.
Vornado is trying to revitalize its stock by purging some strip malls and exiting the furniture-mart business; however, it may take a loss in the J.C. Penney investment before the investors warm up to the concept of simplicity.
For now, the CEO has reaffirmed that the company is not backing away from its holdings in J.C. Penney and for investors that means that the "hedge fund-like" strategy could be either a single or a grand slam. In the interim, investors should be content that Vornado is a patient REIT with over $2.6 billion in liquidity and an investment grade balance sheet (S&P BBB+) that is very strong.
The Fox and The Hedgehog
One of my favorite childhood fables goes something like this:
A fox and a hedgehog were strolling through a country path. Periodically, they were threatened by hungry wolves. The fox - being blessed with smarts, speed and agility - would lead packs of wolves on a wild chase through the fields, up and down trees, and over hill and dale. Eventually the fox would return to the path, breathless but having lost the wolves, and continue walking. The hedgehog, being endowed with a coat of spikes, simply hunkered down on its haunches when menaced by the wolves and fended them off without moving. When they gave up, he would return to his stroll unperturbed.
In the REIT-dom, there are also foxes and hedgehogs. Notably, Vornado is a complex thinking REIT that operates a variety of unique operating platforms. Its core competence cannot be defined as a one simple business model. Alternatively, Realty Income (NYSE:O) operates more as a hedgehog with a keen ability to focus and drive its core-focused platform (of triple-net properties) along a simple path (see my previous article on Realty Income here).
More recently, Jim Collins (author of Good to Great) took this concept into the business world in his book and it is one of the central unifying themes of his work. In his book and other writings Collins comes down pretty hard on Foxes:
Those who built the good-to-great companies were, to one degree or another, hedgehogs. They used their hedgehog nature to drive toward what we came to call a Hedgehog Concept for their companies. Those who led the comparison companies tended to be foxes, never gaining the clarifying advantage of a Hedgehog Concept, being instead scattered, diffused, and inconsistent.
Vornado has a market cap of around $14.59 billion and the common stock is trading at $78.49 per share. The dividend yield is 3.52 percent and the company's year-over-year total return performance of 4.68 percent barely beats the company's current dividend yield.
In the REIT industry, hedgehogs (like Realty Income) have the benefit of focus and the ability to keep their heads down and keep investors out of trouble during tough times. They succeed through the avoidance of substantial risk and through the ability to see things through. When they fail, it's because their conservatism holds them back, and markets move past them; or because they can't release their death grip on that singular idea and move on to the next thing. That is why, Realty Income is a "hedgehog" and Vornado Realty (the fox in REIT clothing) should learn some lessons from the stalwart brand known as "The Monthly Dividend Company".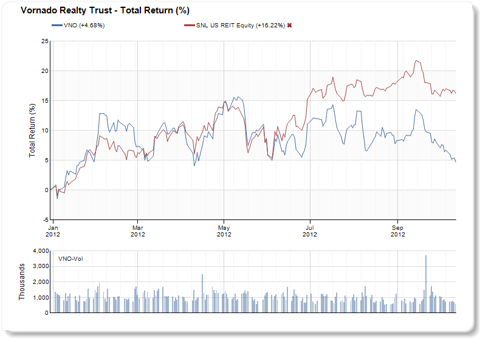 Source: SNL Financial, Vornado Q2-12 Earnings Call, Fortune Magazine
Disclosure: I have no positions in any stocks mentioned, and no plans to initiate any positions within the next 72 hours. I wrote this article myself, and it expresses my own opinions. I am not receiving compensation for it (other than from Seeking Alpha). I have no business relationship with any company whose stock is mentioned in this article.