After a rocky start, volume and volatility eased and trading turned relatively uneventful last week. The S&P 500 Index (SPX) suffered a two-day 2.5 percent slide Monday and Tuesday, but battled back to finish down just 6 points on the week. Meanwhile, the CBOE Volatility Index (.VIX) edged down .77 points to a two and half month low of 18.81 and approximately 26 million puts along with 27.6 million calls traded across the US options exchanges. Volume was down 30.8 percent from week ago levels.
Nevertheless, some noteworthy trades were seen including: Bearish spread trading in American International Group (NYSE:AIG), a late surge in Petrohawk Energy (NYSE:HK) calls, butterfly spreads on Comerica (NYSE:CMA), strangle buying on the SPDR Consumer Staples Fund (NYSEARCA:XLP), and call buying in Charles Schwab (NYSE:SCHW)

AIG Angst
American International Group (AIG) was one of 28 Dow stocks moving higher Friday. Only Exxon Mobile (NYSE:XOM) and Chevron Texaco (NYSE:CVX) lost ground. AIG wasn't a great performer; it rose just 9 cents to $19.87 and is trading only modestly above a 52-week low of $19.48 set the day before. In addition, one player in the options market appears to have made a substantial bet that the gains won't hold. Shortly after 11:00 Eastern time, with AIG trading for $19.66, an order for 7,750 AIG October 20 puts traded askside for $2.85 a contract on the NYSE. Meanwhile, the same number of October 17 puts traded bidside for $1.72 on the NYSE. Open interest in the 20s is 6,726 contracts and in the 17s, just 890 contracts.


Figure 1: AIG Bearish Spread Trading
Therefore, Friday's volume in those two puts seems to be an opening spread. In addition, it is probably a bearish one where the strategist is paying a net debit of $1.13 ($113 per spread x 7,750) and has the potential of making $1.87 if shares of AIG close at or below $17 a share at October options expiration (55 days). This trader might be on to something because after the closing bell, news broke that Fitch may downgrade AIG ratings on review uncertainties. Shares fell towards $19.60 in after hours trading Friday.

Late Week Spike in HK
Petrohawk Energy (HK) saw unusual action Friday. A flurry of buying interest surfaced in the September 35 and 40 calls in midday action. WhatsTrading.com noted the activity shortly before 14:00 Eastern time, when shares were trading down 4.5 percent to $32.43 and 18,700 of the September 35 calls had traded. By the closing bell, shares had recovered to $33.43 and volume in the September 35s had reached 26,900. Another 6,000 of the September 40 calls traded as well. There was no news to explain the surge in call volume and late day spike in the shares, but it certainly hints at some pending news in Petrohawk Energy.
Strangling the XLP

The Select Sector Consumer Staples ETF (XLP) saw ten times normal trading volume Thursday, as one player placed a substantial bet that shares will see an uptick in volatility during the next few months. The fund is not known for its volatility. The XLP holds a group of rather mundane stocks from industries like food products, drug stores, beverages, and household products. These companies make or sell items that don't see much impact from changes in the economy and consumer spending. They're staples.
Yet, Thursday, with shares trading near $28.30 in afternoon trading, an investor bought large blocks of XLP March 25 puts and March 31 calls. 10,000 of each traded on the offer, or 55 cents per contract for the puts and 33 cents for the calls. Since open interest in both these contracts went from zero Thursday to 10,000 Friday, the action seems to be opening buy orders. Moreover, since XLP was trading almost exactly midway between the two strikes, the strategist here is probably buying a strangle: looking for a volatile move in the fund over the next 6 months, but not sure about direction.
Players Bet Against Comerica (CMA)
Comerica (CMA) puts saw heavy trading Tuesday. 44,000 contracts traded, compared to just 1,191 call options. The stock fell $1.32 to $27.99 amid a broad sell-off in the financial sector. One butterfly spread trader seems to expect the weakness in CMA to continue and for the stock to perhaps drift back down towards its 52-week low of $19.32 set on July 15. For example, at 15:30 Eastern time, an order for 15,500 CMA October 20 puts traded bidside for 96 a contract. Meanwhile, 7,750 of the October 15s traded offerside for 35 cents a contract and the same number of 25s traded offerside for $2.67. The trade was repeated more than once and, by the end of the day, more than 20,000 of the CMA October 20s, 10,000 of the 25s, and 10,000 of the 15s had traded on the day.

In the end, the trading had all of characteristics of butterfly spread trading. If so, the strategist is selling 2 of the 20s (to form the body of the butterfly) for every long 15 and 20 put (the wings). The trade has a very bearish profile and one that yields its best profits if CMA settles at $20 a share at October options expiration (55 days). The stock was trading for $26.90 late Friday, down 3.9 percent from the time the spread was initiated.


Figure 2: CMA Bearish Butterfly Spreads
Is Deutsche Bank Talkin' to Chuck?
Charles Schwab (SCHW) saw 14 times its normal trading volume Friday after several web sites reported speculation that Deutsche Bank (NYSE:DB) might be looking at the discount broker. 38,100 SCHW calls traded, compared to 4,380 puts. While the talk is not new and now seems somewhat unlikely due to all the problems in the financial industry of late, the speculation certainly did drive some wild trading in options on Schwab Friday.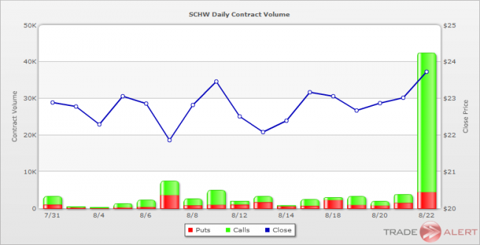 Figure 3: Charles Schwab (SCHW) Options Volume Spike
Stock position: None.