Chipotle Mexican Grill (NYSE:CMG) reports Q3 results on October 18th.
The Street expects:
Revenue: $702 million
EPS: $2.30 per share
Q4 revenue guide: $697 million
In Q2, Chipotle beat the bottom line but Q2 comps of 8% fell short of consensus' 10% due to weak macro environment and a shift by consumers toward other QSR. I note that an interesting aspect of Q2 was Taco Bell achieving 13% comps growth and Chipotle management indirectly acknowledging that pickup in competitors' advertising might have contributed to the weak Q2 comps. This shift in consumer spending raises the concern that Chipotle might not be able to command the pricing power and the brand loyalty among the consumers given that there are overlaps between Taco Bell and Chipotle customers.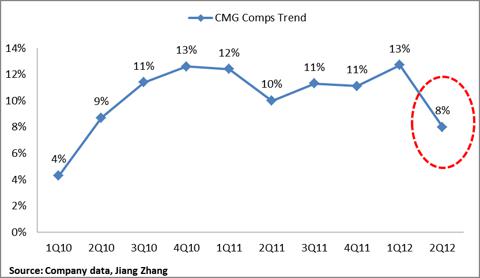 Heading into earnings, comps will again be in focus, but food inflation and emerging competition will remain key concerns.
Investors need to remember that Chipotle's stores are 100% company owned, which does not allow it to withstand rising commodities cost. Unlike a franchise system in which the franchisee, not the parent, buys the commodities, a corporate-owned system forces the parent to buy the commodity, subjecting it to rising commodity costs. Chipotle management has indicated that recent extreme weather will likely put pressure on the company's food costs until year end and well into 2013. Aside from rising avocado and beef costs, chicken and other dairy will likely face additional inflationary pressure.
Competition from Taco Bell's Catina Bell Menu, launched on July 5th, experienced solid sales momentum during the quarter. While I do not expect Taco Bell to severely affect Chipotle's sales, I do believe that Taco Bell would take some businesses away from Chipotle in the near-term due to the high quality ingredients used by the Catina Bell menu, and the rising popularity it is receiving from the consumers.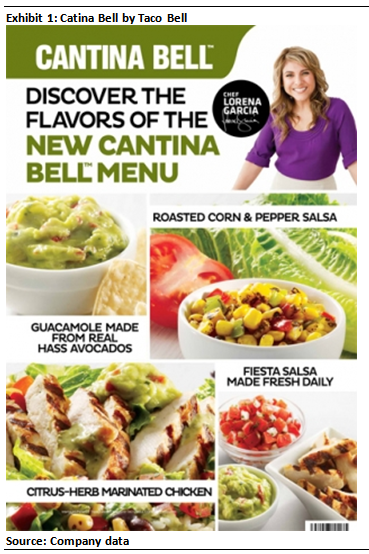 Disclosure: I have no positions in any stocks mentioned, and no plans to initiate any positions within the next 72 hours. I wrote this article myself, and it expresses my own opinions. I am not receiving compensation for it (other than from Seeking Alpha). I have no business relationship with any company whose stock is mentioned in this article.