eBay (NASDAQ:EBAY) will report Q3 results on October 17th.
The Street expects:
Revenue: $3.4 billion
EPS: $0.55
Q4 guidance: $3.94 billion
Heading into earnings, investors can expect continued turnaround of Marketplaces and momentum from PayPal. According to ChannelAdvisor, eBay sales for the quarter could see a slight upside, given its 24% growth compared with 22% growth in Q2.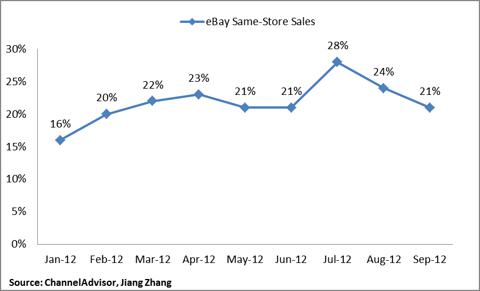 In my view, eBay's Marketplaces is on a steady turnaround path after the company invested heavily on improving user experience (eg. 14-day returns, fixed price items, mobile), search algorithm, fee structure and security. In addition, the enhanced product selections, free shipping and superior search results have translated to accelerated active users growth (+8% y/y) and items sold (+20% y/y) in 2Q12.
Aside from Marketplaces, PayPal has emerged as a formidable force in the global online payment markets despite rising competition. The platform has achieved mid 20% FX-adjusted total payment volume in the past 10 quarters and its 113 million active accounts generated 565 million payments valued at $34.5 billion in Q2.
According to management, PayPal is growing at least twice as fast as Marketplaces and its momentum is unlikely to slowdown anytime soon due to the upcoming products such as PayPal Here and redesign of Bill Me Later. Looking into 2013, PayPal's partnership with Discovery (NYSE:DFS) will give PayPal the access to another 7 million merchants who accepts Discovery credit card and be accretive to PayPal's proliferation. Hence, I am extremely positive on eBay's growth and its turnaround story is quite compelling for long-term investors.
Disclosure: I have no positions in any stocks mentioned, and no plans to initiate any positions within the next 72 hours. I wrote this article myself, and it expresses my own opinions. I am not receiving compensation for it (other than from Seeking Alpha). I have no business relationship with any company whose stock is mentioned in this article.