The CBOE Volatility Index [.VIX] lost 1.01 points to 18.81 and closed at its lowest levels since June 5 on Friday. The market's "Fear Gauge" edged down .77 points on the week despite bumpy trading Monday and Tuesday, when the S&P 500 Index [.SPX] suffered a two-day 2.5 percent decline. VIX started moving lower as stocks held steady midweek and then rallied Friday. In addition, since the volatility index tracks the expected volatility priced into S&P 500 Index options, it suggests that some investors expect volatility to fall over the next few weeks. It also reflects a shift in investor sentiment that has been seen in the equity market since mid-March.
Other indicators confirm that investors are turning more bullish. For example, the ISE Sentiment Index [ISEE] has been moving higher. The ISEE is a unique indicator developed by the International Securities Exchange [ISE], which is today's largest exchange for trading equity puts and calls. To be specific, the sentiment index tracks daily call buying divided by put buying (multiplied by 100) for trading on ISE.
On Friday, the sentiment index rose to 151, which indicates that call buying outpaced put buying by a ratio of 1.5-to-1. That, in turn, was the highest reading since June 24. It indicates that investors are increasingly buying calls, relative to puts, and is a sign that bullish sentiment is rising. Stripping out index and exchange-traded funds [ETFs] options, the ISE equity only sentiment index rose to its highest levels since June 5. It hit 188. Therefore, when looking only at stock options, investors were buying almost twice as many calls when compared to puts.
From a contrary view of the markets, signs of high levels of bullishness are almost always a red flag to look for a move lower in any market. It suggests that investors are piling on one side of the trade and it is therefore time to look for a reversal. In this case, if the majority of investors or "the crowd" is too bullish, it might be time to get bearish. VIX and the ISEE do indeed suggest that bullishness in quite high relative to the recent past. 
At the same time, this time might be different for two very important reasons. First, as several readers pointed out last week, volume and volatility are light for seasonal reasons. For example, on Friday, only 3.7 million puts and 4.5 million calls traded across the seven US options exchanges. By way of comparison, one month ago, volume totaled 8 million puts and 8.9 million calls, more than double Friday's volume.
In addition, while investor sentiment is leaning a lot more bullish, the trend comes after bearishness, pessimism, and negativity had reached an extreme. The chart below shows the ten-day average of the equity only ISEE. While the index did hit its best levels since June 5 on Friday, the ten-day average is nowhere near the bullish extremes seen at previous market tops. On May 27 (a week after the previous market turning point), the ten-day average hit 175. It is now 139.
click to enlarge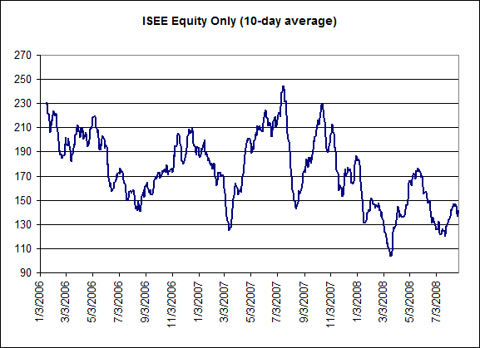 ISEE Equity Index (10-day Average)
Meanwhile, as was duly noted last week, many longer-term indicators certainly aren't consistent with extreme bullishness on the part of investors. Investors Intelligence now reports that 40.7 percent are bullish and 38.4 percent bearish. While bullishness is up from 31.8 percent (and bearishness down from 45.5 percent), the numbers aren't consistent with market topping levels of bullishness. Meanwhile, the American Association of Individual Investors [AAII] says bullish sentiment fell from 42.86 percent to 38.1 in the past week. Bearishness also fell, from 38.96 percent to 37.3 percent.
In conclusion, while some sentiment indicators like VIX and the ISEE suggest that bullishness is rising and is somewhat high, the shift comes after extreme pessimism and negativity forged a foundation for a genuine market bottom. From a contrary view, the trend bodes well for higher stock prices because, as anxiety levels ease, money can flow out of other asset classes and back into equities. For example, money might flow out of safe havens like Treasury bonds or gold. Or, it might find its way out of money market funds, which now hold more than $3 trillion in cash according to the Investment Company Institute. In sum, as high levels of bearishness are unwound, the trend can begin to feed on itself--that is, until the pendulum swings once again and sentiment reaches the opposite extreme of bullishness, euphoria, and greed.
Disclosure: None