Introduction
Amazon (NASDAQ:AMZN) is currently scheduled to report earnings on October 26. Over the past few years Amazon has been one of the fastest growing stocks. In anticipation of the upcoming earnings report investors can look at past earnings releases and information contained in them in order to foreshadow stock behavior. This article looks at the data in past earnings releases, the stock movement before and after an earnings release, and the change in Amazon's implied volatility while making sense of the information contained in them.
Data
The earnings history, stock movement, and implied volatility are presented in this section. This information can be valuable to investors because stocks frequently behave in a similar manner.
Earnings Results
| | | | | | |
| --- | --- | --- | --- | --- | --- |
| | | | | | |
| 7/26/12 | Q212 | $0.01 | $0.02 | $12.83B | $12.89B |
| 4/26/12 | Q112 | $0.28 | $0.07 | $13.8B | $12.9B |
| 1/31/12 | Q411 | $0.38 | $0.19 | $17.4B | $18.2B |
| 10/25/11 | Q311 | $0.14 | $0.24 | $10.9B | $10.93B |
| 7/26/11 | Q211 | $0.41 | $0.35 | $9.9B | $9.37B |
| 4/26/11 | Q111 | $0.44 | $0.61 | $9.86B | $9.52B |
Table 1: AMZN earnings history
Table 1 shows the earnings history for Amazon stock. As a stock that trades well over 100 times earnings it is important to note that investors are not very concerned about profit. Instead what investors are most concerned with is revenue. They want to see that Amazon continues to grow its revenue and increase market share. The long-term investors are hoping that profits will come in the future as Amazon replaces the Wal-Marts and Best Buys of society.
The upcoming earnings release has an EPS estimate of -$0.08 and a revenue estimate of $13.9B.
Stock Movement
The movement in the stock price throughout the earnings week was graphed.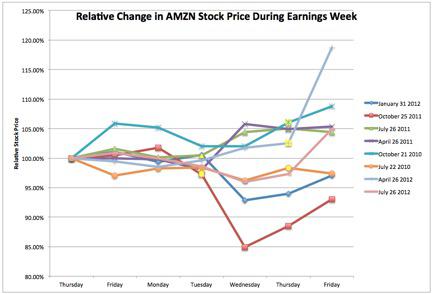 Figure 1: The relative change in stock price of AMZN stock as earnings approaches.
Figure 1 shows the relative change in the stock price of Amazon for the week of earnings. The stock price for each earnings week has been normalized to 100 so that its price movement can be compared. The yellow points indicate the close before the earnings release.
The biggest jump in Amazon came in April 2012 when it crushed revenue projections by almost $1B. In January 2012 Amazon beat earnings but fell well short of revenue estimates. This caused a price drop after earnings release (see dark blue line). Likewise, in October 2011 Amazon barely missed the revenue estimate and tanked (see red line), however, it should be noted that the entire market was severely volatile at that time. It should be noted that after the initial drop in price the stock price rebounded the next two days so if Amazon falls again it could be a good buying opportunity.
Amazon also beat revenues April 2011 and July 2011 and the stock price popped (green and purple lines). Amazon's price is clearly driven by revenue and the stock moved April 2011 despite a substantial miss in EPS.
Implied Volatility
The implied volatility for the weekly option price during Amazon earnings week was also graphed.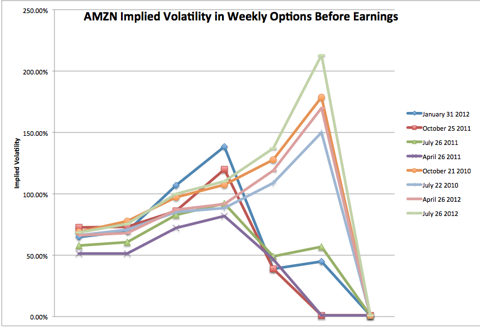 Figure 2: The rise in implied volatility for AMZN options
Figure 2 shows the rise in implied volatility on Amazon options.
The implied volatility of Amazon shows a very clear pattern. The IV starts very flat and jumps over the weekend as earnings approach. This information is very valuable for any option trader who is attempting to profit from a rise in IV. Depending on when an investor enters the trade a target implied volatility of below 70% might be ideal. The implied volatility could easily climb to greater than 150%.
Conclusions
Amazon investors are clearly driven by the company's revenue. Investors don't care about earnings but want to see a noticeable increase in revenue and even a slight revenue miss will be considered a disappointment and a selloff may ensue.
Traditionally the stock shows a minimal movement before the earnings release, however, after the release the stock can make very substantial price movements. If the stock falls after earnings it has shown a tendency to rebound.
The implied volatility sky rockets before the earnings release and falls afterwards. The increase in IV doesn't occur until after the weekend in the couple days before earnings release.
Disclosure: I have no positions in any stocks mentioned, and no plans to initiate any positions within the next 72 hours. I wrote this article myself, and it expresses my own opinions. I am not receiving compensation for it (other than from Seeking Alpha). I have no business relationship with any company whose stock is mentioned in this article.