On July 11, 2012, I warned readers in an article here about Angie's List (NASDAQ:ANGI), an online reviews website running a paid-subscription model. In the piece, I outlined how despite glowing recommendations from sell-side research analysts, ANGI has never been profitable and has historically become increasingly unprofitable with additional growth; why I believed the company is operating an unsustainable and broken business model; how ANGI's aggressive accounting practices served to obscure its poor operating performance and how ANGI appeared to be on track to burn through its entire existing cash reserves in 1-2 years. I also elaborated on major competitive threats facing ANGI, highlighted various clues in accounting figures that suggested ANGI is reaching market saturation and outlined how the company is engaging in increasingly desperate operating practices in order to generate revenue. Finally, I warned readers that second quarter results looked ominous and could provide a negative near-term catalyst for the stock.
Since my initial warning, ANGI reported its second quarter results and as I predicted, they were a major negative catalyst for the stock. My initial report was released when ANGI was trading at $15.50 per share and since then the stock touched a low of $8.94, a decline of 42.3%. The stock has recently rebounded to over $10 on the back of renewed cheery assessments from investment banking research houses such as Oppenheimer, which underwrote two prospectus offerings for ANGI and has recently upgraded the stock.
That said, the situation for ANGI looks even worse today than when I wrote on the stock three months ago. Today's piece will outline a number of additional red flags which have surfaced since my initial report on the company. Taken together, these red flags suggest that ANGI's third quarter results, which are scheduled to be reported on October 22, could act as the catalyst for another major move down in the stock. At this juncture, despite the fact that the stock has declined by about 1/3 since my initial article, ANGI still has sizeable downside potential and looks poised to perform poorly in the months ahead.
Peak Q3 2012 Google Search Interest for Angie's List Stands 65% Below That Achieved in July 2011; Angie is Losing Ground to Competitor Yelp
Google Trends is a useful tool which tracks the relative popularity of a search term over time. In order to gain some insight into the effectiveness of ANGI's massive advertising spend and a preview at potential new subscriber figures, it makes sense to consult Google Trends to see how the numbers stack up.
Angie's List is a seasonal business, and according to page 26 of the most recent 10-Q, the winter months are typically slower from a seasonal point of view than the months of Q2 and Q3. It should therefore be particularly troubling that despite being the supposed peak time for customer signups and monetization, according to Google, Q3 2012 has seen a sharp decrease in overall search interest for ANGI's list.
Looking at a chart of search traffic for "Angie's List" from January 2010 until today, Google Trends confirms that July-August is indeed the peak period on a seasonal basis from a user search perspective. Clicking on the link to Google Trends will allow readers to look in more detail regarding specific week-to-week search figures. What should be troubling to existing or prospective shareholders is that for 2012, the number of searches for Angie's List during this peak period has declined 65% from the peak period of 2011 and even stands 27% lower than the peak search figures realized during the period in 2010.
ANGI's Search Volume Data (2010-2012)

Meanwhile, according to data from Google Trends, competitor Yelp.com (NYSE:YELP) has consistently increased its peak search traffic from 2010 through 2012. Yelp's 2012 peak search popularity, which also occurs in Q3, is 22% higher than the peak 2011 figure and 67% larger than the 2010 figure.
YELP's Search Volume Data (2010-2012)

A Google Trends comparison shows that ANGI is also losing major ground to YELP between 2010 and 2012. In 2010, Angie's List peak search interest was achieved in the week August 1-7. At that point in time, search interest in Angie's List represented 11% of total search interest in Yelp. In 2011, Angie's List peak search interest was achieved in the week July 17-23. At that point in time, search interest in Angie's List had improved and represented 18% of total search interest in Yelp. But in 2012, Angie's List has taken a huge step backwards; its peak search interest, which was achieved in the week July 22-28, represents just over 5% of total search interest in Yelp during that week.
Yelp vs. Angie's List Search Volume Data (2010-2012)

The significant drop in search interest is worrying in that it not only indicates that general interest in Angie's List is declining, it also suggests that ANGI's huge spending on sales and marketing is rapidly losing effectiveness in generating new customer interest and is probably misplaced as an overall business strategy. It additionally raises significant existential questions regarding ANGI's entire model as a paid-subscription business vs. the free model embodied by YELP.
More Smoke and Mirrors Accounting - Management's Q2 Reporting of "Cash Burn" Metric is Deceptive
In my first piece about ANGI, I outlined how the company used aggressive and asymmetric accounting disclosures which served to obscure the true level of difficulty the business was facing through Q1 2012. In reporting its Q2 results to investors, ANGI's management continues in this vein, employing and promoting questionable accounting metrics which do not accurately reflect the true state of the business.
Beyond the accounting definitions already explored in my first piece, ANGI's management introduced another to investors in its Q2 conference call, a transcript of which is available here. In the conference call, CFO Robert Millard made reference to a metric he termed as ANGI's "incremental year-to-date cash burn." Arguing that this is a more important metric than overall EBITDA, Millard stated:
"A more important metric, incremental year-to-date cash burn, was $11.8 million on an incremental selling and marketing investment of $29.1 million."
The figure quoted does not represent an accurate picture of ANGI's true cash burn because this is simply referring to the year-over-year increase in cash burn, a figure which was already firmly negative in 2011. ANGI's actual cash burn for the first half is 75% higher than the figure reported as "incremental year-to-date cash burn" and this is the real figure to which investors should be paying attention.
The cash flow statement reported in ANGI's Q2 report, reveals ANGI had year-to-date operating cash flow of negative $17.2 million, while cash flow from investing activities stood at negative $3.5 million. Taken together, ANGI burned $20.7 million in the first half of the year. Meanwhile, the total cash position only recorded a total decrease of $12.1 million because ANGI raised some money through financing activities, primarily by taking in $8.6 million in a $109.7 million May 2012 prospectus offering. Incidentally, ANGI's officers and directors used that offering to sell 4,234,381 shares, or 50.1% of the total shares sold in the offering, while the company itself only received 7.9% of the funds.
Regardless, ANGI's real cash burn for the first half of the year stood at $20.7 million and investors should not be fooled by management's references to the lower figure represented by "incremental year-to-date cash burn."
History Suggests ANGI's Cash Flow Will Suffer in the Second Half as the Company Pays Down Liabilities Accrued in Q1 and Q2
In my first piece, I outlined how ANGI's Q1 operating cash flow figures were inflated because the company was accruing operating liabilities at an unsustainable rate in the quarter. ANGI's balance sheet contained in Q2's 2012 10-Q report reveals that the company postponed significantly paying down these accrued liabilities in the quarter and they remained at $23.3 million vs. $23.8 million disclosed in Q1's 10-Q.
Historically, ANGI has needed to pay down these accrued liabilities in the second half of the year. Although ANGI does not disclose a Q2 2011 balance sheet in any of its reports, we can find out the Q2 2011 accrued liabilities number by looking at other figures that the company has disclosed in its various reports. In the cash flow statement of the Q2 2012 10-Q, it is revealed that in the first half of 2011, accrued liabilities represented a $10.1 million source of cash i.e. increased by $10.1 million vs. the figure as of year-end 2010. Meanwhile, the 2010 balance sheet in ANGI's May 2012 offering prospectus reveals that at the end of 2010, accrued liabilities stood at $6.0 million. Piecing this together, we arrive at an accrued liabilities figure for ANGI in Q2 2011 of $16.1 million. This is important to note, because the 2011 balance sheet in the prospectus also shows that by the end of the year, accrued liabilities stood at only $10.5 million, i.e. ANGI had to pay down $5.6 million of accrued liabilities in the second half, representing 35% of the total figure on the books as at Q2 2011. Applying this to 2012, it is unlikely that ANGI will be able to count on accruing additional operating liabilities as a source of cash in the second half and based on the historical trend, if it repays 35% of the Q2 figure by year-end, then it will represent an additional usage of $8.1 million of cash, further increasing ANGI's true cash burn figure.
ANGI's Q2 Report Shows Signs of Major Deterioration in Pricing Metrics
Looking at ANGI's Q2 report, there are a number of red flags to which potential or existing investors should pay attention. Taken together, these signal that despite record spending on sales and marketing, consumers are less receptive to ANGI's offering and the market appears to be reaching saturation.
Analysis of ANGI's cohort information, revealed on page 10 of the most recent 10-Q suggests major pricing deterioration in the quarter across all cohorts. Page 10 of the Q1 10-Q also contains customer cohort information for that period. Looking at the Pre-2003 cohort as an example, although total paid memberships have increased from 271,800 to 305,248, revenue per paid membership has declined from $50.78 to $47.31. While this figure may appear like a small difference on the surface, when examined closely, it actually reveals that the marginal revenue benefit to ANGI of each new member is 60% lower than the average figure for the cohort in Q1. We can determine the average revenue of the new paid memberships based on these figures as follows:
271,800 users x $50.78 = $13,802,004
305,248 users x $47.31 = $14,441,283
Difference in Revenue = $14,441,283 - $13,802,004 = $639,279
Difference in Users = 305,248 - 271,800 = 33,448
Therefore:
Average Revenue per New Member = $639,279 / 33,448 users = $19.11
Despite the record sales and marketing spend, this type of deterioration is taking place across all of the cohorts and suggests that customers are becoming less and less receptive to ANGI's paid membership offering. These types of figures are also troubling, because these lower price memberships in established areas can serve to cannibalize existing higher priced memberships as they come up for renewal, i.e. if ANGI is giving out $19 memberships in your area, why would you pay $50?
This trend is well established across all cohorts and ANGI's membership pricing has suffered a continuous trend of deterioration since the company's IPO. Additional cohort information for Q4 2011 and Q4 2010 can be found in the 2011 10-K and IPO prospectus, respectively.
Membership Revenue per Paid Membership: Pre-2003 Cohort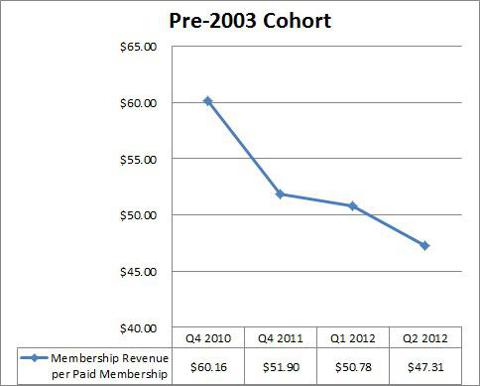 Membership Revenue per Paid Membership: 2003-2007 Cohort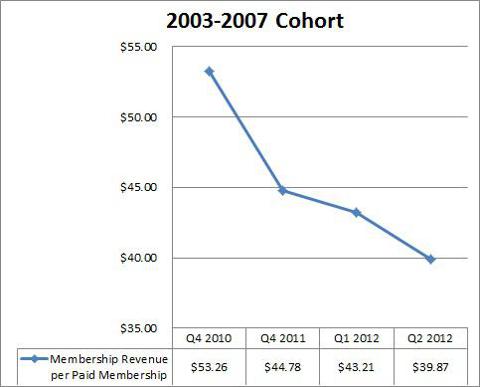 Membership Revenue per Paid Membership: 2008-2010 Cohort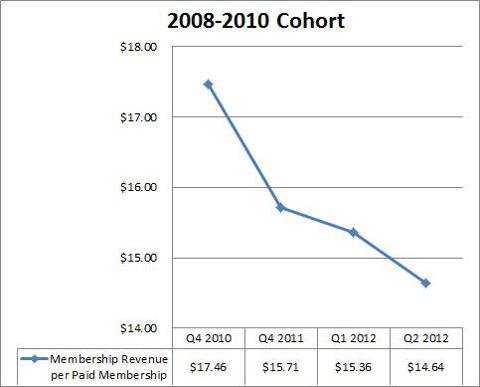 Membership Revenue per Paid Membership: Post-2010 Cohort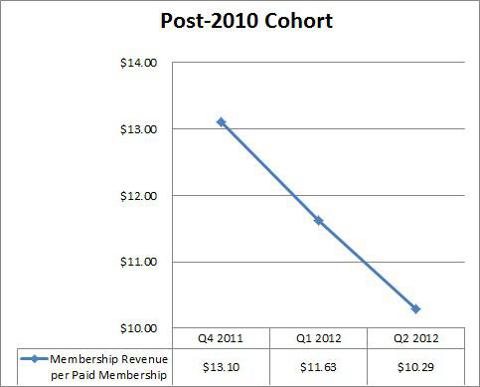 Although Membership Revenue Metrics are Rapidly Deteriorating, Cost per Membership Acquisition is Increasing and Renewal Rates are Decreasing
Despite the fact that the marginal benefit being collected on new memberships is considerably lower, the marginal cost to acquire such new members is increasing, both on a year-over-year and on a quarter-over-quarter basis. This development is troubling because it signifies that there are ever diminishing marginal returns on new memberships. I should add that this figure is already negative, but it is simply becoming more negative, i.e. ANGI is losing even more money per new member addition. Cost per paid membership acquisition in Q2 2012 was $91, up sharply from $82 in Q1 2012, and up from $89 on a year-over-year basis. ANGI's membership renewal rates suffered in Q2 as well, with the first year renewal rate and the average renewal rate dropping 1% each on a year-over-year basis.
The data confirms that ANGI is spending more to acquire new members and having a harder time holding on to existing members, all of this while simultaneously charging considerably less per membership. Looking ahead to Q3, the trend in Q2 is indicative that the market has already reached saturation and ANGI's core business strategy of spending ever increasing sums of money on sales and marketing expenses to gain new subscribers will become even less effective going forward.
ANGI Has Been Engaged in a Spam Email Campaign Touting 40-60% Discounted Rates on Any New Signups for the Entire Duration of the Quarter
Pricing trends for Q3 are unlikely to have improved vs. Q2 and may actually have taken a turn for the worse. One indication of this is that ANGI has been engaged in an email spam campaign for the entire duration of the quarter. The substance of this campaign has been weekly emails touting a 40% discount code for membership to Angie's List and a further 20% discount if users sign up using Paypal. One can't help but view the extra Paypal pitch with cynicism in light of ANGI's alleged deceptive practices on Paypal reported here and here. Below is evidence of the spam campaign consisting of a screenshot from my email box showing the various emails and the dates they were sent which clearly shows that the emails were sent weekly for the entire duration of the quarter: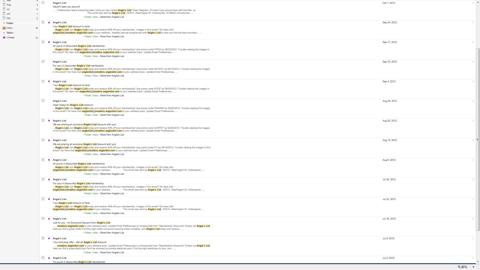 Below is an example of the contents of one of the spam emails: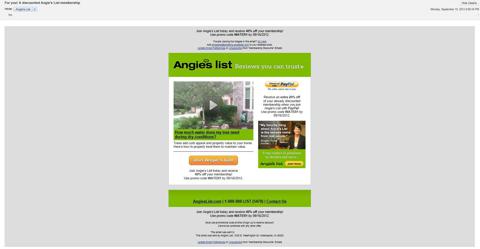 Resorting to sales tactics such as these suggests that ANGI is increasingly desperate to meet investor expectations with regard to subscriber figures. Such ongoing promotions also have the potential to lower revenue figures on expiring members who may be considering renewing their memberships.
Q3's Financial Report Could Be a Major Negative Catalyst for the Stock - Another $20+ Million Loss Appears Likely
In my first report on ANGI, I warned that the release of second quarter financials could be a major negative catalyst for the stock and that a historical record loss was likely. In the piece, I predicted a $23.0 million operating loss, a prediction which was within $70K of the actual $22.93 million operating loss reported by ANGI in the Q2 10-Q. I also accurately predicted that this historical record loss would be a negative catalyst for ANGI's shares when ANGI reported its earnings on July 25 after market close. On July 25, the stock closed at $14.55 and since then has touched a low of $8.94, representing a 38.5% decline. The stock has since rebounded, but in light of the red flags already explored and projections of Q3 financials, which I will explore below, this is unjustified and the stock should be trading at a low going into its earnings announcement.
ANGI has given investors relatively little guidance regarding its expectations for Q3, only revealing anticipated revenue figures and spending on marketing. The company expects $40.3 - $41.3 million in revenue and plans to spend $26.0 - $27.0 million on marketing expenses. For argument's sake let's assume a mid-point for those figures of $40.8 million and $26.5 million, respectively. We can probably safely assume that ANGI's other operating expenses will increase vs. Q2 2012 based on long-established quarterly trends of growth in Selling, Operations and Support, Technology and G&A expenses.
Looking at the Q2 2012 10-Q and the Page 56 of the most recent prospectus, we can see ANGI's quarterly results over the past 10 quarters. I have plotted the various expenses over the last 10 quarters onto graphs viewable below and also highlighted their 10-quarter compound quarterly growth rate ("CQGR"). By looking at these long established quarterly trends, we can reasonably estimate what these other operating expense figures may be for Q3 of 2012.
Based on a historical CQGR of 16.59%, we can estimate that Q3 2012's selling expenses will be approximately $16.7 million.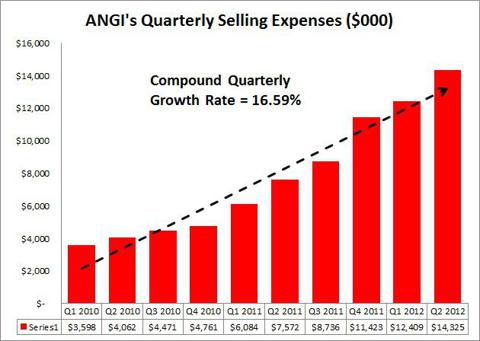 Based on a historical CQGR of 10.10%, we can estimate that Q3 2012's operations and support expenses will be approximately $7.4 million.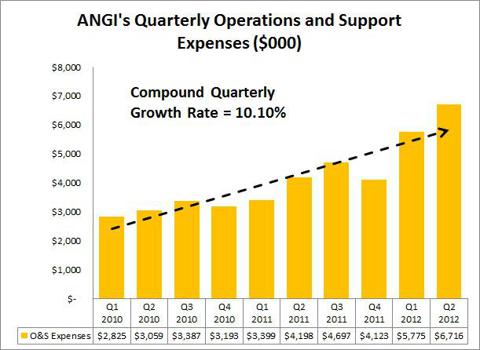 Based on a historical CQGR of 13.67%, we can estimate that Q3 2012's technology expenses will be approximately $4.8 million.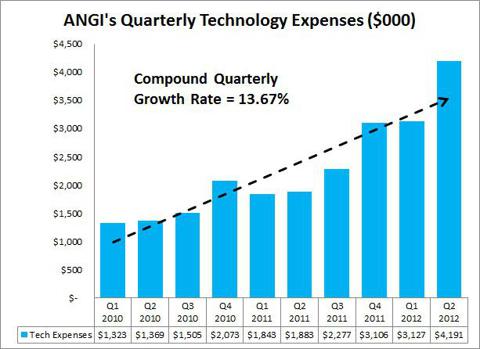 Based on a historical CQGR of 12.25%, we can estimate that Q3 2012's G&A expenses will be approximately $7.4 million.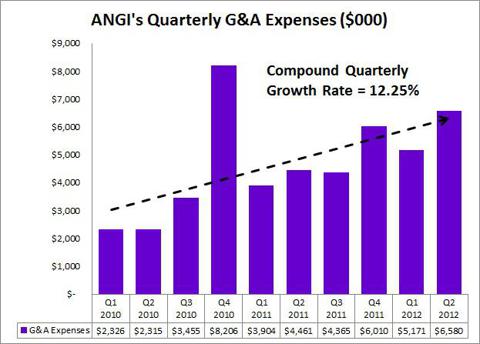 Adding all these figures together we arrive at a total of $36.3 million in additional non-marketing related operating expenses. Adding this figure to the $26.5 million in marketing expenses from management's guidance, we arrive at a total operating expenses figure of $62.8 million. Subtracting this figure from the midpoint of revenue guidance of $40.8 million, we arrive at a projected operating loss for Q2 of $22.0 million.
While this figure is slightly below ANGI's historic record net loss of Q2, investors should take little comfort in this as it would still represent the second largest loss in ANGI's history and a very large loss on an absolute basis. Operating cash flow could come in even worse than the operating loss figure considering the situation with accrued liabilities. Cash burn for the quarter could easily exceed $25 million under such a scenario, which would represent almost 1/3 of ANGI's current cash reserves. The other red flags outlined also present a risk to management's top-line guidance, but even giving them the benefit of the doubt, back to back $20+ million losses would highlight just how unsustainable ANGI's current business model and strategy appears to be.
What is a Fair Value for ANGI's Stock?
In light of all the red flags, ANGI appears significantly overvalued at this juncture. A more appropriate valuation would be one in-line with other troubled web businesses, such as Groupon (NASDAQ:GRPN) which currently trades at 2.15x trailing twelve month sales. Even Groupon likely deserves a premium valuation relative to ANGI based on the fact that it is actually generating substantial amounts of free cash flow at present. Given ANGI's numerous financial woes, inevitable dilution at what is likely to be lower prices, and a totally unproven business model, a generous value for the stock would be somewhere in the range of 1 - 2x the estimated 2012 sales figures. Projecting a 2012 full year sales figure of approximately $153 million, which assuming the mid-point of management's guidance of $40.8 million in Q3, implies revenue of $44.6 million in Q4 and gives a total equity value of $153 - $306 million. With 66.3 million shares outstanding as of the most recent balance sheet, this equates to a price per share of $2.30 - $5.60, substantially below the current stock price of $10.21.
Conclusion
At this point, ANGI's business appears more troubled than ever. Poor Q3 search numbers, email spam campaigns, deteriorating pricing metrics, rising customer acquisition costs and decreasing renewal rates all suggest that the company is facing significant problems. Despite the company's tendency to emphasize questionable accounting metrics, closer examination of the real data reveals the true depth of ANGI's troubles.
Given all the signals and leading up to what appears will be a very difficult Q3, ANGI's stock should approach or surpass its historic low of $8.94 going into the earnings announcement. If the results are as bleak as they appear will be, then the stock will likely break its historic low. From the perspective of technical analysis, below $8.94, the stock has no technical support and will need to work out a new bottom. This process can be very painful to shareholders, as those caught holding during and after Q2 earnings are well aware. On a fundamental basis, the stock currently appears to have approximately 50-70% downside from the current price.
With all of this in mind, I believe ANGI is a Strong Sell and existing or prospective shareholders should be extremely cautious when approaching ANGI's stock.
Disclosure: I am short ANGI. I wrote this article myself, and it expresses my own opinions. I am not receiving compensation for it. I have no business relationship with any company whose stock is mentioned in this article.
Additional disclosure: I am short ANGI and/or hold derivative positions which will benefit from a decline in the stock price.