Trucking and transportation are not the most exciting ventures in the market -- but upon reading "Arkansas Best: Want A Trucking Company For Free?" I decided to investigate myself. As noted by the above author, Arkansas Best's acquisition of Panther for $180 million begs the question: "Why is a company that just acquired another company for $180 million selling at a market capitalization of $209 million?"
While the company may get a favorable reduction in the benefits it pays to the Teamsters, and while the synergies look achievable with the acquisition (pdf) of Panther, the capital intensive nature of the business clouds our visibility of whether the company will generate enough cash flow in the future to make a purchase today worth it. If it cannot generate enough cash flow to reward shareholders, it is not worth it, no matter how far the price has fallen. That said, the company is not going out of business and its cheap price relative to its assets merits attention.
The Company
Arkansas Best Corporation (ABFS) derives most of its business from freight transportation and it is one of the largest less-than-truckload ("LTL") carriers in North America, a segment which makes up the majority of its revenue. It serves 98% of U.S. cities with a population of 30,000 or more.
In 2011, Arkansas Best was named "National LTL Carrier of The Year" [1]. It was listed on "Information Week 500" [2], the "CIO 100" [3], and the "best companies to sell for" list [4]. Arkansas Best is the only six time winner of both the "American Trucking Associations President's Trophy for Safety" and the "Excellence in Security Award." Arkansas Best -- as should be obvious at this point -- is well recognized for its reputation (such awards continue, see its impressive collection of awards here).
Further, it is 70% unionized, like its competitor YRC Worldwide (NASDAQ:YRCW) -- and unlike Con-Way (NYSE:CNW) and the majority of others who remain unaffiliated with labor unions. YRC Worldwide and Arkansas Best both employ labor represented by International Brotherhood of Teamsters.
Fixed Cost Disadvantage
Because of Arkansas Best's unionized work force, the company has a higher fixed cost structure than some of its competitors. This fixed cost structure shows itself clearly when we compare 2011 to 2010 results. The ratio of operating expenses to revenue fell from 103.9% in 2010 (that is, a loss), to 99.8% in 2011 (that is, a profit). The primary difference was the increase in revenue -- driven by a 4% tonnage volume increase and a 6% general rate increase -- over the fixed cost structure in place.
That is to say, Arkansas Best was profitable only because of revenue increasing rather than, say, any reductions in variable costs. It did not cut expenses to achieve profitability -- there doesn't appear to be much room for that. And because of the decline in revenue following the 2008 contraction, ABF suffered losses -- partially exacerbated by its unionized work-force and pension expenses.
Pension Question Mark
Currently, 40% of what ABF contributes to its pension plan is payments made to retirees of companies other than ABF. Why? Because of its participation in a multiemployer pension plan. This arrangement could increase pension expenses in the future if it, or other employers, should leave the multiemployer pension plan setup.
Further, the various pension plans are underfunded by about the same amount of total cash from operations for the full year 2011. Of course, if discount rates change (upward, as they must eventually), it will decrease the pension obligation. Nevertheless, the current pension obligation is now greater than its long-term debt.
Capital Intensive
Given the level of inflation which seems to constantly permeate the U.S. economy -- not to mention the specter of future inflation if the U.S. banking system ever stops recapitalizing -- it seems that we have to get used to investing within the context of inflation. As pointed out by Buffett, many capital intensive industries do not fare well during in bouts of inflation. Arkansas Best has historically made the majority of its money in LTL trucking, which is capital intensive (although it is trying to move away from being dependent on this industry).
Warren Buffett expresses the problem of capital intensive industries and inflation in his 1981 letter to shareholders:
"Two major categories stand out [of companies which fare well during inflation]. The first involves companies that, through design or accident, have purchased only businesses that are particularly well adapted to an inflationary environment. Such favored business must have two characteristics: (1) an ability to increase prices rather easily (even when product demand is flat and capacity is not fully utilized) without fear of significant loss of either market share or unit volume, and (2) an ability to accommodate large dollar volume increases in business (often produced more by inflation than by real growth) with only minor additional investment of capital."
With that please note: the trucking industry cannot really raise prices given competition between carriers -- and it certainly cannot increase unit volume without significant capital expenditures.
It should be noted that this problem affects the entire industry, from Fedex (NYSE:FDX) and UPS (NYSE:UPS), to Werner Enterprises (NASDAQ:WERN) and Swift Transportation (NYSE:SWFT).
Earnings
One can see below where Arkansas Best's revenue fell below its expenses until recently -- although its recent profit is rather slim, as can be seen as the lines narrow as they approach the right hand side of the graph: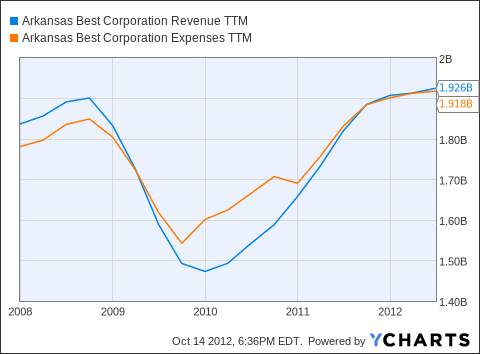 ABFS Revenue TTM data by YCharts
From a free-cash-flow [5] standpoint, Arkansas Best doesn't look pretty, but its TTM FCF yield is still better than the majority of its peers: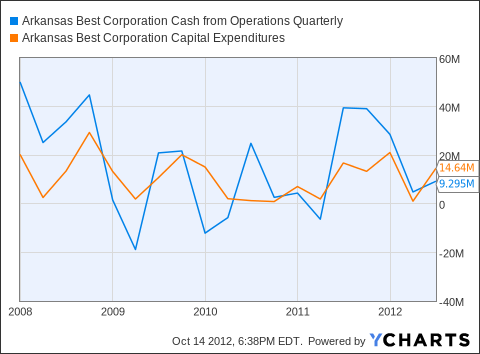 ABFS Cash from Operations Quarterly data by YCharts
A quick back of the envelope calculation puts the TTM FCF at 13.94% -- not bad, how can that be? The trick is that it is not -- Arkansas Best pretends that the financing of investments by way of installment sales or notes payable count as "investing activities" rather than financing ones and it therefore nets them against capital expenditures. Once we reclassify the cash expenses, Arkansas Best's FCF is similar to its peers. For those interested, I've outlined the accounts where this takes place below.
Within Arkansas Best's capital expenditure line item, it includes the poignant little phrase "net of capital leases and notes payable":

(Source: 2011 Arkansas Best Corporation 10-K, p. 57)
At another point in the 10-K we find some information to further illustrate Arkansas Best's capital expenditures:

(Source: 2011 Arkansas Best Corporation 10-K, p. 39)
I believe that, generally speaking, FCF is a better metric than earnings for valuing vast majority of corporations. When it comes estimating FCF, we ought to count the total capital expenditures the company made -- whether the cash flow appears in this period or in future periods due to "installment payments" (one can think of capital leases as de facto installment sales [6]) or due to future interest and principle payments on debt.
Recent Developments
Arkansas Best, to its credit, acquired Panther Expedited Services on June 15th of this year. The service is "non-asset/asset light" -- which is to say that it will not require the sort of capital required to run the LTL business. Before its acquisition of Panther, only 10% of its revenue was generated from "non-asset based" activities -- after the acquisition, that percentage ought to increase materially. Diversifying Arkansas Best's income stream away from capital intensive industries is a good idea.
The Economy
Because the trucking industry moves goods, it is more highly correlated with the general level of goods purchased within any given year than other industries. That is to say, it will respond to the macroeconomic condition nearly in tandem (probably with a slight lag). Therefore in the event of a general down turn, not only will the company be hit by less demand for its services -- but its shares will also be hit by speculators.
Speculation on whether the economy fares well, or poorly, will likely result in speculation in whether transportation does well, or poorly.
Conclusion
The capital intensive nature of the business, the swollen pensions, and the continuous pressure from fixed costs associated with benefits due to unionized contracts makes Arkansas Best an unpredictable investment. Out of its peers, its cash flow appears to best the majority of them -- except that once you take into account that it finances a significant portion of its capital expenditures as "installment sales" and debt, one realizes that its basically in the same boat as its peers. Our advice is to avoid Arkansas Best for now. Let us see if its share price falls further presenting us with a safer buying opportunity.
Notes:
By National Shippers Strategic Transportation Council (2011 Annual Report, p. 9)
By InformationWeek magazine.
By CIO Magazine - "for its use of information technology in leveraging supply chain services" (2011 Annual Report, p. 9)
By Selling Power magazine.
Free-Cash-Flow = FCF = Cash From Operations - Capital Expenditures
Hackel, Kenneth S., and Joshua Livnat. "Financial Structure and Free Cash Flows." In Cash Flow and Security Analysis. 2nd ed. Chicago: Irwin, 1996. 353.
Disclosure: I have no positions in any stocks mentioned, and no plans to initiate any positions within the next 72 hours. I wrote this article myself, and it expresses my own opinions. I am not receiving compensation for it (other than from Seeking Alpha). I have no business relationship with any company whose stock is mentioned in this article.