When the economy falls, the demand for escapist entertainment rises. History has proven this over and over again. During "The Great Depression" (1929 – 1939) 25% of American families had no income and 40% of factory workers were unemployed. In 1930 there were 200,000 evictions in New York City alone.
Despite this, movie box office receipts during the 1930s soared 22%. In many cases people elected to see a movie, rather than eat. That's how desperately North Americans needed to escape (mentally) from the weight of their problems. And if you think things are different now, think again.
click to enlarge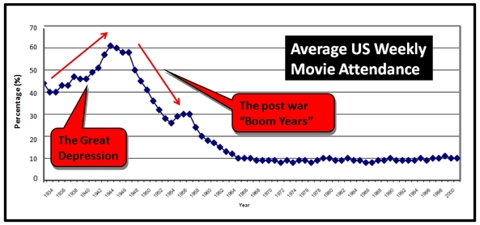 Click to enlarge
In 2002, after the technology bubble burst, the Dow Jones Industrial Average dropped 22%. Meanwhile video gaming revenues increased 43% to $7 billion. Yes, the "Escapism Industry" has fractured. Now there are many different (drug-free) ways you can purchase a ticket to a parallel universe. The surging growth of escapist activities has created opportunities for investors.
TV is probably the cheapest option, but I would argue that it is also the least effective. If you can manage to bypass CNN and Fox News (reminding you how bad things are) and reality TV (a festival for ambitious dimwits) you are likely to land on a "quirky comedy" with fake laughter piped in to remind you it's funny. If you want to get distracted and find some bear market winners for your portfolio, you'll have to wander away from the TV.
In recent weeks I've been writing about tech companies that thrive during economic downturns. There's a big opportunities in tech companies that help their customers to cut costs ("Tech Stocks Provide Safe Haven"). Times are tough and corporations are going into survival mode.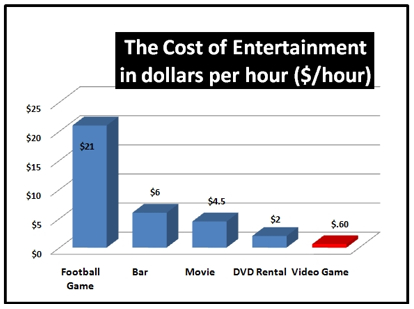 But of course businesses are not the only ones watching their pennies. Consumers are also squeezing more value from their shrinking discretionary budget. When money is tight an average person will (consciously or unconsciously) make spending decisions based on "bang for the buck." And there's no bigger bang for your entertainment dollar than in video games.
A ticket to a three-hour NFL game is $65. That's about $21 per entertainment hour for a three hour game if you pass on the foam finger, hot dogs, etc. If you go to a bar with no cover charge and nurse a local beer, you'll be spending about $6 an hour. A two hour movie will cost you about $4.50 an hour. Watching a DVD: $2 an hour.
Of course these estimates assume that you live within walking distance of a football stadium, bar, movie theatre or local Blockbuster. If you have to drive to the venue, pay for gas and parking, it becomes significantly more expensive.
That's where the video gaming industry gets its big advantage. Your average video games costs $60 and takes an expert about 100 hours to master. That works out to a mere 60 cents an hour. And you only have to leave your home once to make the original purchase.
Is it any wonder 267 million video games were sold in 2007? That's an average of 9 games per second, for total sales of $7 billion. Console sales, dominated by Nintendo's (OTCPK:NTDOY) Wii, Sony's (NYSE:SNE) Playstation 3, Microsoft's (NASDAQ:MSFT) X-Box 360 totaled $9.35 billion.
That's a $16 billion dollar industry that enjoys a huge value advantage (measured in $/hour of entertainment) over competing forms of entertainment. An economic downturn creates cocooning and belt-tightening instincts which add further leverage to the gaming industry's advantage.
May 2008 sales are up 43% from a year ago. Over-all 2008 sales are projected to grow 27% to $23 billion.
But the most impressive thing about the gaming industry is how they have expanded their demographic reach. Fifty-six percent of all games sold are rated "Everyone 10+" (equivalent of a "G" rating for movies). According to the Entertainment Software Association, there are now more adult women playing games than boys under 17. The fastest growing demographic is the 50+ crowd. Eighty percent of "gamer parents" play video games with their kids.
So games are not just for kids anymore. And deepening economic hardship will accelerate the growth in the gaming industry. As an investor, those fundamentals get me interested.
There a lot of different companies in this space like Take Two (NASDAQ:TTWO) who publish software titles for PlayStation 3, Xbox 360, Wii, GameCube, DS, and Game Boy Advance etc. Take Two's runaway success is Grand Theft Auto IV (known simply as GTA to its devoted players) from its Rockstar Games division. GTA is the game that gets all the media attention due to its extreme violence, story-line, and success. It sold a staggering $310 million on its first day of release.
Take Two is a $1.9 billion company with 2007 revenues of $1.2 million. They have an operating Margin of 2.17% and quarterly revenue growth of 162%. The forward P/E is 15. Take Two has been one of the biggest benefactors of the gaming boom. Earlier this week the Federal Trade Commission granted permission for Electronic Arts (ERTS) to purchase Take Two. Take Two has already rejected a $2 billion offer for the company.
Shanda Interactive (NASDAQ:SNDA) develops online games for the Chinese market. It specializes in massively multi-player online role playing games [MMORPGs] like Latale, Dungeons and Dragons, and World Hegemony. Hundreds of thousands of players can go online to play with each other. This $2 billion market cap company has 2007 revenues of $395 million with an operating margin of 40% (double what it was in 2006). Shanda's quarterly revenue growth is 46% and it has a very low P/E of 11. Shanda's upside is amplified by the rapidly increasing wealth of the Chinese middle class.
The gaming industry requires an "upstream supply" of expertise and technology, and this is another way to invest in the space. Mad Catz (NYSEMKT:MCZ) makes accessories for video game platforms such as control pads, steering wheels, joysticks, light guns, flight sticks, dance pads, microphones, carry cases, keyboards, and headsets. They have a P/E of 11. Current market cap of $35 million. And an operating margin of 5.6% on $87 million revenues. Mad Catz is down 36% from its 52 week high. It is a junior player that has carved out a profitable little niche that could get much bigger.
There's a lot of opportunity in the gaming sector. The ability of the industry to reach a wider audience proves there are ways to ride out an economic downturn. You've just need to invest in industries that perform better in tough times.
In the 193Os people spent their last pennies on escapist entertainment. At Q1 Publishing, we believe that history is about to repeat itself, and the gaming industry will be a big benefactor.
Make money, not war.
Disclosure: None