Intel (NASDAQ:INTC) reports on Tuesday, and it will be interesting to see how pundits and traders react to the numbers, especially considering that the stock's been falling like a knife.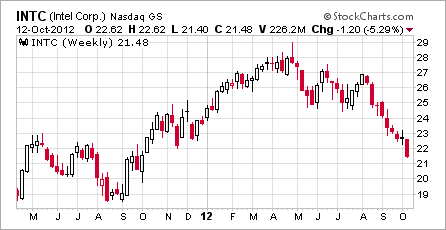 In fact, year-to-date Intel has underperformed the S&P 500 ETF (NYSEARCA:SPY) by well more than 20%.
Why? Last week Selerity Research presented a fairly comprehensive overview on the company's fundamentals, pointing out that R.W. Baird cut its price target on the stock from $32 to $26 and that Bernstein Research downgraded Intel to "underperform," moving its price target from $24 to $20.
Yet Intel is one of those companies that has either maintained or raised its dividend for the past 15 years, so I thought I'd present a chart that shows how the stock has traded against various dividend levels since 2008: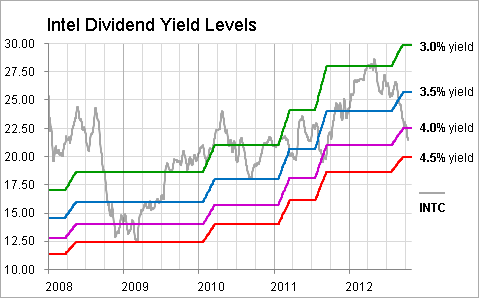 As you can see, the current dividend yield is now well above 4% - and based on the current payout of 90 cents, could hit a 4.5% yield if the stock were to reach $20. The stock hasn't traded at that yield since the market bottom back in March of 2009.
A look at the dividend and payout ratio since 2004 shows that while the dividend has been increasing, the payout ratio has been rising.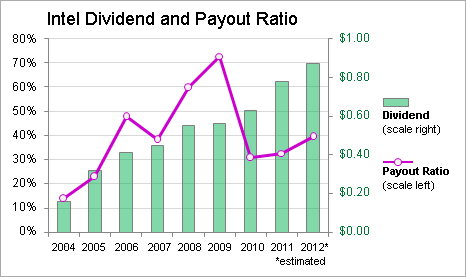 That increasing payout ratio is a bit worrisome considering that the company has already warned that revenues and gross margins will be below its previous outlook. But I may consider buying more INTC if the price gets near $20 because a 4.5% yield on this stock would be really hard to ignore.
Disclosure: I am long INTC. I wrote this article myself, and it expresses my own opinions. I am not receiving compensation for it (other than from Seeking Alpha). I have no business relationship with any company whose stock is mentioned in this article.