On September 12th, I issued a very specific warning on Annaly Capital Management (NYSE:NLY). In an article I wrote, I elaborated on numerous factors that could possibly lead to a strong downtrend in the company's share price. I stated that:
mREITs will have to face reality sooner rather than later. I strongly suspect that what keeps the share prices floating for the time being is a desperate clinging on to anything that resembles yield, together with adages such as "the share price has risen and is likely to keep rising."

I believe that dividend cuts in the mREITs sector are imminent. These, in turn, will lead to a strong wave of selling by unsuspecting shareholders.
The graph below shows the beginning of the downtrend in NLY: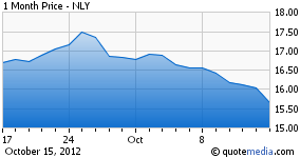 Shares have been losing steam over the course of the past month, decreasing from the $17.5 level to $16.04 as of this writing. Even if we account for the $0.5 dividend distribution on September 27th, shares are still down about 6% in one single month. I believe this marks the beginning of a downtrend in NLY as well as other mREITS.
Wrong side of the curve
mREITs make their profits by trading the interest rate curve, i.e., buying short-term lower rate mortgages and selling longer-term mortgages which bear higher rates. The difference between the two is their revenue.
It is my opinion that Bernanke's latest "QE Infinity" announcement a month ago will make it much more difficult for mREITs to make money because of the tightening of this spread. In its latest Q3/2012 market commentary, Annaly's management stated that:
Spurred by global monetary policy, and aided by fundamental credit improvement since the crisis, flows into the sector continue driving yields and spreads to historic lows.
This makes it much harder for NLY to make money and much harder to support current levels of dividend payouts.
Not all mREITs are made equal
Let's take a hard look at some important valuation gauges of the different companies in the playfield called mREITs, such as Chimera Investments (NYSE:CIM), American Capital Agency (NASDAQ:AGNC), Invesco Mortgage Capital (IVR), American Capital Mortgage (NASDAQ:MTGE).
| | | | | |
| --- | --- | --- | --- | --- |
| | Market Cap | P/B | P/E | PEG |
| NLY | 15.6BL | 0.99 | 7.82 | -1.2 |
| CIM | 2.65BL | 0.79 | 5.73 | 1.13 |
| AGNC | 11.1BL | 1.11 | N/A | N/A |
| IVR | 2.4BL | 1.13 | 7.71 | N/A |
| MTGE | 0.8BL | 1.11 | 6.68 | 2.93 |
The most important gauge to consider when analyzing mREITs is the book value. Since most of their profits return to shareholders in the form of dividends, shares tend to trade near book value. The recent pullback in shares of mREITs have caused prices to gravitate closer to their book value than before. Nevertheless, due to the future decrease in earnings, I expect retained earnings to decrease and with them - the book value.
My outlook for the future
I believe that the downtrend in the share price of mREITs will be quickly followed by imminent dividend cuts. This, in turn, will lead to further downside pressure on the stock.
Although the price for shares have partially retreated to book value, I still recommend to stay away from mREITs, at least for the near term.
Disclosure: I have no positions in any stocks mentioned, and no plans to initiate any positions within the next 72 hours. I wrote this article myself, and it expresses my own opinions. I am not receiving compensation for it (other than from Seeking Alpha). I have no business relationship with any company whose stock is mentioned in this article.