It has been a rough few months for chip giant Intel (NASDAQ:INTC). Intel reported Q2 revenues that were slightly below analyst forecasts, and issued Q3 revenue guidance that was weaker than expected. In early September, the company lowered its Q3 revenue forecast even further, and shares have continued lower since then. Analysts have continued to take down estimates on Intel, and the current consensus numbers are pretty dismal. However, with shares down as much as they are, there may be an opportunity. Intel will report earnings on Tuesday, October 16th, after the bell. Should the report be decent, or just not bad, Intel shares could find a bottom.
For those that have not been watching Intel lately, here are my three articles on the name since the warning, describing the troubles that the company is going through.
So where do things stand now? Well, Intel's recent revenue warning guided to revenues of $13.2 billion, plus or minus $300 million. For the last couple of weeks, that number was exactly what analysts were expecting. However, the current consensus now stands at $13.23 billion. That figure would be down 7.1% from last year's third quarter, when Intel reported $14.23 billion in revenues.
The real movement has been in Intel's earnings estimates history, in the table below provided by Yahoo! Finance. The "90 days ago" numbers were prior to Intel reporting its second quarter results. The "60 day ago" numbers were before Intel's Q3 revenue warning, and the "30 days ago" numbers were a few days after the warning.

The numbers keep coming down, and these are the lowest levels I've seen them at. But as I've detailed in my articles above, these numbers actually are worse than they look. Intel is currently buying back a lot of stock, so the diluted share count is going down, which helps earnings per share. Net income is actually falling faster than earnings per share are. At the end of last year's Q3, Intel had 5.34 billion diluted shares (used for EPS calculations). At the end of the most recently reported Q2, Intel had just 5.199 billion shares. Don't be surprised when net income falls a lot this quarter, more so than earnings per share.
As I detailed in my latest article, Intel will be lowering its full year forecast when the company reports Q3. Management might not provide an actual full year number, because as long as a Q4 forecast is provided, you can just add that number to the first three quarters for a full year total. But when Intel reported Q2, the full year forecast called for 2012 revenue growth of 3% to 5%. Given the Q3 revenue warning, that number would be extremely difficult to achieve. Analysts are currently looking for yearly revenues to be down 1.1%, from $54.00 billion to $53.43 billion. For Q4, analysts are expecting revenues to decline by 1.1% over last year's period to $13.81 billion.
This isn't a company specific issue, either. On Thursday afternoon, we got a warning from Advanced Micro Devices (NYSE:AMD) as well. The company announced that it expected revenues to be down 10%, compared to previous guidance for a range of minus 4% to plus 2%. Additionally, the gross margin forecast was cut from 44% to 31%, partially thanks to an inventory write down. AMD shares fell to new multi-year lows on Friday, and those losses increased late in the day as the company's debt rating was put on watch for a possible downgrade by S&P. AMD shares finished down 14.4% on Friday, which also helped send Intel down nearly 1% to a new 52-week low.
Intel's warning also followed cautious comments from chipmaker ARM Holdings (NASDAQ:ARMH). ARM's CEO stated that the second half of 2012 would see a sales slowdown, stating that customers were not expecting an uplift. Those comments were in early September, and while ARM shares have recovered since then, it adds another point of emphasis of the slowdown in this sector. Deustche Bank had issued a cautious note on ARM at that time as well, noting that declining Android phone prices could send chip prices lower, and that ARM was facing increased smartphone and tablet competition from Intel. Well, Intel may be growing in those areas, but we know from Intel's warning that Intel is still struggling overall.
Intel shares have continued to drop, as I've noted throughout this article. The following chart shows Intel since its recent closing high of $26.88 on August 10th. In the 44 trading days since, Intel has only managed to be higher on 14 trading days, less than a third of the time.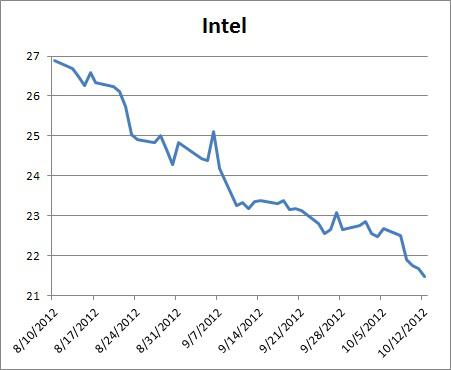 Intel is now trading for slightly less than 10 times forward (2013) expected earnings. The expectation for 2013 is now just $2.15, a far cry from the $2.64 analysts expected just 90 days ago. Some may call that a value given a dividend that now yields 4.19%, and the company's buyback. However, this is a company that is expected to see revenues decline in 2012, and current estimates see just a 4% rise in 2013. Combine that with an earnings plunge this year, including the help from the company's buyback, and flat earnings next year, and it doesn't look like much of a value.
That's why investors will be looking for some good news during this week's earnings report. If Intel can show that its quarter wasn't as bad as its warning (meaning they come in above expectations), or that net income and earnings didn't plunge as much as expected, you could see shares pop next week. You would also see a bounce if Q4 guidance isn't as bad as many expect. Intel was hoping, along with the rest of the general "computer" industry, that Microsoft's (NASDAQ:MSFT) Windows 8 would provide a nice 2nd half boost. Currently, most analysts are looking for the opposite, the worst year in the industry in about 20 years. Intel shares have certainly been hit hard in recent months, and they could continue lower if this week's report is bad. But any positive news will send this name higher, given how much we are down already.
Disclosure: I have no positions in any stocks mentioned, and no plans to initiate any positions within the next 72 hours. I wrote this article myself, and it expresses my own opinions. I am not receiving compensation for it (other than from Seeking Alpha). I have no business relationship with any company whose stock is mentioned in this article.