SandRidge Energy (NYSE:SD) seems to be repeating a story we're seeing over and over again in the energy and mining sector these days. It is showing phenomenal sales growth and negative income growth at the same time. The latest fundamentals show that SandRidge's sales growth rate was 51.9%, while its income growth fell by -65.7%.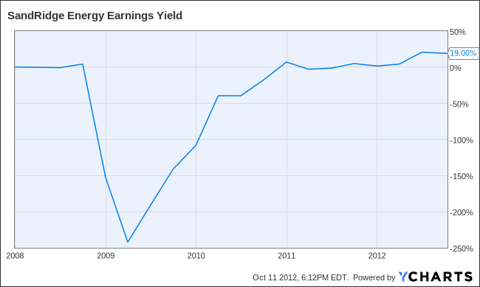 Yet sales growth and income growth are not the most interesting figures for SandRidge; the net profit margin was 59.29%. This made for a forward P/E of $47.73, which is great for a company with a share price of $7.16. So is SandRidge the perfect stock as some analysts claim or too good to be true?
Perhaps a little of both. The company has delivered a revenue growth rate of 31.16% and an earnings per share growth rate of 250%. The problem with this figure, as you can see below, is that the growth rate seems to be based on coming from nowhere in a very short period of time. It's very easy to deliver impressive figures like this if you start from nothing.
Yet the company does seem to have a lot of cash in the bank for its low share price if you take a look at its cash and ST investments. SandRidge had $421.07 million in the bank on June 30, 2012, compared with $13.05 million for Kodiak Oil & Gas (NYSE:KOG) and $42.9 million for Northern Oil & Gas (NYSEMKT:NOG) on the same date. That indicates that SandRidge seems to have some real money to back up its figures.
The company also had $635.65 million in cash operations and $358.84 million in cash expenditures at the same time. This made for a net income of $749.55 million from $159 billion in revenue. So SandRidge is generating a lot of cash - but like another high flying energy company we know and love, Chesapeake Energy (NYSE:CHK), SandRidge has taken on a lot of debt to expand.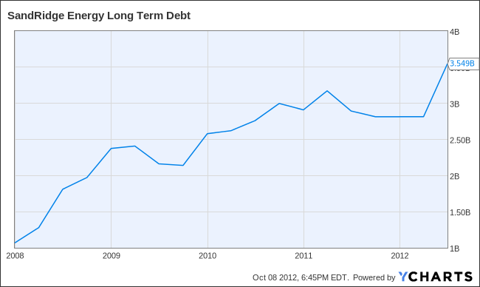 The company has $3.54 billion of long-term debt compared to Kodiak Oil and Gas, which has just $805.93 million in debt. This is particularly bothersome because SandRidge's enterprise value is $6.687 billion, so the company's debts are worth nearly half its value. As you can see from the chart above, SandRidge's debt load has been increasing over time, so the situation is getting worse, not better. It isn't up to the heights of Devon Energy (NYSE:DVN), which has $10.6 billion in debt, but it is going up.
So once you get under the hood, SandRidge doesn't look as good as its being made out to be in some commentary. The company has managed to increase its revenues, but it has also increased its debts. That's why the sales are up even as the income is down. Any additional revenue SandRidge brings in is being used to service that debt.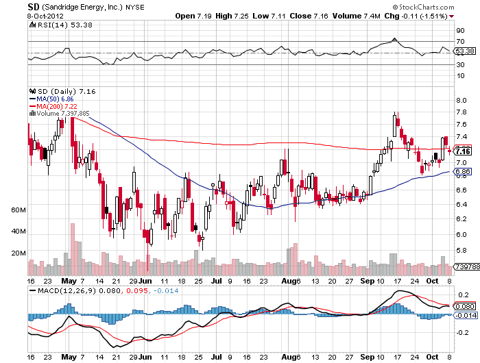 That means this company might be accurately priced by the market. It has managed to increase production and profits, but it has done so the old fashioned way-by borrowing.
So SandRidge is hardly the perfect stock that some of the commentators are trying to make it out to be. It has managed to increase production by 31%, but it hasn't retired enough of that debt to make a sizable difference yet. The company will need to be able to pull off that trick again soon.
At first glance, SandRidge looks like a bargain, but it is a bargain that comes with a lot of risk in the form of debt. The company seems to be betting that energy prices will rise fast enough for it to be able to pay down all of that debt. That strategy didn't work very well at Chesapeake Energy.
Be careful with SandRidge. It isn't the perfect stock, but it is cheap. If you have a high tolerance for risk in the energy sector, check it out. If you want to avoid debt heavy companies, keep away from SandRidge; the numbers just don't seem to jive here. SandRidge is another case of a low priced energy stock that is far from a bargain because of the debt load and risks.
Disclosure: I have no positions in any stocks mentioned, and no plans to initiate any positions within the next 72 hours. I wrote this article myself, and it expresses my own opinions. I am not receiving compensation for it (other than from Seeking Alpha). I have no business relationship with any company whose stock is mentioned in this article.