With a record of better-than-expected quarterly earnings, a juicy distribution yield of 6.4%, and attractive organic expansion projects, Atlas Pipeline Partners (NYSE:APL) provides investors with a steady, predictable income stream. As it nears its third-quarter report, this Zacks No. 1 Rank (Strong Buy) midstream energy operator's earnings growth is expected to be strong for the next couple of years.
Stellar Second-Quarter Results
Atlas Pipeline Partners is scheduled to report its third quarter on Oct. 31. The Zacks Consensus Estimate is 25 cents per share. It has posted five positive earnings surprises in the past six quarters, with an average beat of more than 175%.
On Aug. 1, Atlas Pipeline Partners reported second-quarter 2012 earnings per limited unit of $1.35, soaring almost 265% from last year's 37 cents and topping the Zacks Consensus Estimate by 575%. The positive variances were primarily due to strong volume growth (processing and gathering up 27% and 30% year over year, respectively).
Adjusted earnings before interest, tax, depreciation and amortization (EBITDA) stood at $49.1 million, reflecting a high of nearly 13% from the year-earlier period. Despite the weak natural gas and NGL prices over the prior year, Atlas Pipeline has been able to boost processed volumes on all of its systems.
More importantly, distributable cash flow (DCF) -- an indicator of cash paid for distribution to unitholders -- increased 9.7% to $32.8 million year over year, providing a healthy 1.01 times distribution coverage.
Consistent Distribution Growth
Atlas Pipeline Partners pays an annual distribution of $2.24 per limited partner unit, yielding an impressive 6.4%. After increasing the distribution by 19% over the past 12 months -- mainly buoyed by higher operating results -- the partnership maintains an attractive investment profile. Since 2009, it has been able to grow its distribution by more than 273%.
Given strong volume growth trends, this midstream partnership is expected to maintain a decent coverage. The growth drivers include organic expansion opportunities on the back of its robust asset base. Atlas Pipeline is in the process of expanding its total system capacity from 600 million cubic feet per day to 1.1 billion cubic feet per day by 2014.
High Earnings Growth Prospects
Analysts see impressive earnings growth for Atlas Pipeline over the next couple of years backed by solid performances across all segments. The 2012 Zacks Consensus Estimate is at $1.46, representing a 12.3% earnings per unit growth over 2011. Next year's Zacks Consensus Estimate is $1.92, representing solid growth of 31.5%.
Valuation Picture
With respect to its valuation metrics, units of Atlas Pipeline Partners look attractive given its attainable earnings growth prospects and rising income. Its price-to-sales (P/S) ratio of 1.43 is below the peer group average of 4.27. Again, its price to book (P/B) ratio of 1.52 trades at a 4.4% discount to the peer group average of 1.59.
The trailing 12-month return on equity (ROE) of 13.0% is much better than its peer group average of 11.0%. The stock also looks attractive with regard to its trailing 12-month return on assets (ROA) of 8.0%, which is above the peer group average of 5.9%.
Market Performance and Technicals
Since the announcement of the second-quarter distribution in July, Atlas Pipeline units have fared better than the simple moving average for 50 days, or SMA (50), barring a few hiccups.
In particular, the continuous uptrend in stock prices and the ever-increasing gap between the unit price and the moving average since October signal a bullish trend. In October, Atlas Pipeline Partners announced the completion of an expansion project at its Wayonka natural gas processing facility in northwest Oklahoma.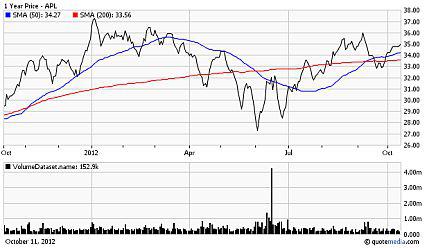 Formed in 1999, Atlas Pipeline Partners is a master limited partnership engaged in natural gas gathering and processing services in the Mid-Continent as well as the Appalachian Basin in the eastern United States. It owns and operates approximately 9,100 miles of gathering pipelines and seven processing plants. The partnership also has a 20% interest in the Chevron (NYSE:CVX)-led West Texas LPG Pipeline Limited Partnership.