Much has been written about the U.S. domestic oil boom and the rapid drilling growth in the Bakken and Three Forks formations of the Williston Basin. Many excellent articles have also been written about the opportunities presented by many of the region's top lease holders and drillers. Continental Resources (NYSE:CLR), EOG Resources (NYSE:EOG), Marathon Oil (NYSE:MRO), and Kodiak Oil and Gas (NYSE:KOG) were just some of the companies that I had considered during my initial research into long positions in the Fall of 2011. Ultimately what I was looking for though was a small-cap growth play focused primarily on production in the Williston Basin. For me Kodiak Oil & Gas fit the bill.
There is a lot to like about Kodiak. They operate on 155,000 acres in the Williston Basin with a potential 806 net drilling locations. Its lands hold proven reserves of 70 million BOE (Barrels of Oil Equivalent), 86% of which is liquid. Today they're averaging roughly 13,000 BOEs per day (2Q figures), up about 325% over the 2011 average rate. Revenue is also up almost 300% year over year. Some argue that the P/E ratio isn't as low as some of Kodiak's peers, but with a PEG of 0.40 it sure looks like a bargain. Third quarter results are due November 2nd and I suspect they'll show a similarly strong performance.
But the nature of a volatile small-cap stock has its own risks. You can buy, hold and wait (Kodiak does not offer a dividend) or you can be proactive by managing the possible expected outcomes. Looking at the premiums on the options chains one may surmise that the general expectation for price appreciation is high in the near term, perhaps too high. Kodiak may be a great company to hold long term, but near term pricing may be more subject to macroeconomics than fundamentals. Bear in mind that something important in the political world happens this November.
Here is one possible strategy to capitalize on this situation using covered calls. The usefulness of this strategy is situation dependent and I don't advocate using them all the time. It's also a fairly basic options strategy so if you're familiar this will be a review.
Let's assume you hold 500 shares of KOG at $9.50/sh, roughly the Oct 12th closing price. This amounts to an initial investment of $4750. Taking a look at the options chain below for December you decide to decide to sell 5 DEC $10 contracts for $0.60/sh (last price). This immediately nets you $300 pre-commission into your account. Your investment is now worth $5050.00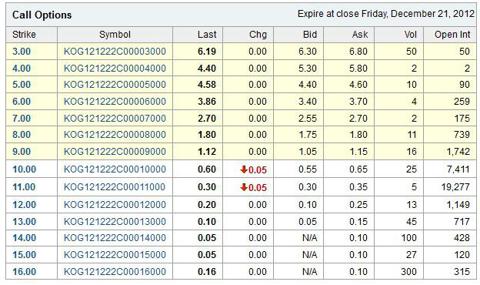 options chain courtesy of yahoo! finance
Looking at the possible outcomes at the December expiration date, let's assume the stock trades sideways and closes at $9.50. In this case you remain the owner of all 500 shares but you essentially were paid a 6% premium over the course of less than two and a half months. You still hold shares of the company in which you were bullish on the long term.
Let's say 3Q results impress and the price closes at $10.70. Your covered shares will then be sold to the buyer at $10. You keep the premium of $0.60 for a net sale of $10.60 and the buyer profited $0.10. That's nothing to lose sleep over, but what about if the stock surges to $13.00 by expiration? You've missed some price action, $1.40/sh in this case, at the expense of guaranteed premium. You still came away with $5300 on an initial investment of $4750 for a gain of 11.5% in 69 days (60% annualized return in a perfect world). Without talking about rolling the calls over (feel free to bring it up in the comments) this gets into active management and risk vs. reward. The most successful money managers are often the ones who produce consistent returns and who manage risk carefully.
Another possibility is at expiration the stock trades at $9.00 due to weaker than expected 3Q earnings. The buyer has already paid you the premium so the option expires worthless. You still hold the shares but the difference is you've collected a $300 premium which effectively drops your cost basis to $8.90/sh. You have downside protection that the buy and hold investor doesn't. Of course at this point you're free to repeat the original call writing.
What is the best scenario for you? It depends on both your long term and short term outlooks. I'm bullish for the long term prospects of Kodiak though I don't share the same short term expectations that the options chains reflect. If you agree, or you'd just like to generate some extra premium from your shares, a covered call strategy may be for you.
Disclosure: I am long KOG, MRO. I wrote this article myself, and it expresses my own opinions. I am not receiving compensation for it (other than from Seeking Alpha). I have no business relationship with any company whose stock is mentioned in this article.
Additional disclosure: I am short KOG DEC 11 calls