In my previous article, "Repeal of Dodd Frank: A 'What If' Analysis," I touched on the Volcker Rule in regards to the broad affect on major financial firms' performance including Bank of America (NYSE:BAC), Morgan Stanley (NYSE:MS), Goldman Sachs (NYSE:GS), JP Morgan Chase & Co (NYSE:JPM), and Wells Fargo & Company (NYSE:WFC) and I briefly discussed how it played a role in affecting Morgan Stanley's investment funds. However, in this article I am going to provide a further insight on MS's Global Infrastructure Fund (MUTF:UTLAX), evaluate UTLAX's asset composition as well as historical performance, and conclude with how the Volcker rule is affecting UTLAX's growth.
UTLAX lies within the equity asset class and is an open-ended fund incorporated in the US. The investment approach of the fund is focused on capital appreciation and current income. UTLAX is actively managed by Michael Nolan and Helen Krause.
Asset Break Down and Performance Analysis
Given the fund has the goal of capital appreciation with an income approach, UTLAX invests at least 80% of its assets in equities of firms that derive at minimum half of their revenues or devote at minimum half of their assets to the following sectors:
Energy
Utilities
Transport Communication
Or other infrastructure
The pie chart below shows how UTLAX's assets are broken down across the different sectors its investments fall under. UTLAX's largest holding by far is the utilities sector, making up approximately 43% of the overall portfolio. The second and third largest holding include the energy sector (21.3%) and the industrial sector (18.7%).
Figure 1: UTLAX Asset Allocation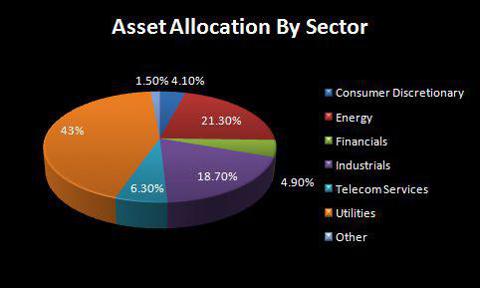 Figure 2: UTLAX Holding Period Returns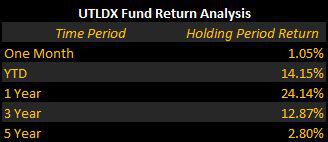 Implications of The Volcker Rule
Under the Dodd-Frank Act, the Volcker Rule is causing tremendous issues for financial firms nation wide. A prime example is Morgan Stanley, which is being hit hard by the Volcker rule, because it is ultimately restricting the amount of capital MS can allocate to its global infrastructure funds. In the long run, this restricts the funds' full potential and only allows them to receives a small share of what could be a potentially large return.
Infrastructure funds typically focus on the equity asset class and invest in a variety of assets such a roads, airports, power grids, and electricity transmission networks. Through these funds investors are given a lower risk return, yet a long investment horizon. Critics are even speculating in regards to the future of big banks and are still questioning their future under the restrictions of the Volcker Rule.
Specifically, MS is required under the Volcker rule to cap investment in new private equity funds at 3%, which is extremely low in comparison to the desired 10% allocation. This has forced fund managers to target a higher return on an annualized basis to compensate for this difference.
Conclusion
The intent of this article was to introduce a different type of investment product that allocates its investment to a wide array of growing areas across the globe. In addition, elaborate on how the Volcker rule is affecting major financial firms nation wide. However, there is a high probability that if Mitt Romney is elected the Volcker Rule will be repealed, which would lift a huge burden off financial firms and spur growth.
Sources: The information used in this article was retrieved from FinViz, Google Finance, Reuters, and The Wall Street Journal.
Disclosure: I have no positions in any stocks mentioned, but may initiate a long position in MS, BAC, JPM over the next 72 hours. I wrote this article myself, and it expresses my own opinions. I am not receiving compensation for it (other than from Seeking Alpha). I have no business relationship with any company whose stock is mentioned in this article.