Introduction
Much has been written over Nokia's (NYSE:NOK) exclusive deal with AT&T (NYSE:T). As fellow author Ashraf Eassa argued, the deal is a huge mistake because Nokia limits the sales potential of Lumia phones, and as you can see in the below diagram, sales of WP's are very low compared to iOS- and Android phones.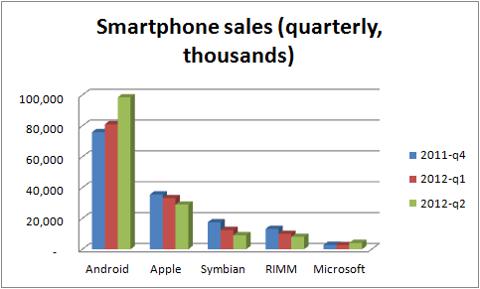 Why Nokia gave AT&T exclusivity
I think, however, the term "mistake" is a bit misused in this case. Stephen Elop has received quite a lot of criticism as of late, and I don't think it is completely justified.
First of all, we do not know all the details of the deal, and secondly, it might not have been up to Nokia to give exclusivity. In general, carriers want exclusivity, so they can differentiate themselves from the competitors (especially if they are going to spend advertising money on promoting the phone). Apple (NASDAQ:AAPL) and Samsung (OTC:SSNLF) are exceptions, as they (given their success) have power over the carriers. Nokia, however, barely has any presence in the US market, and therefore it needs to give each carrier a different model.
Mobile analyst Jan Dawson also points out that Nokia has a poor track record of making good phones for CDMA (the technology used by Verizon's and Sprint's cell net works), and therefore it is unlikely that those carriers wanted to sell the same Lumia 920 as AT&T offers.
T-Mobile and Verizon
As many know by now, the "exclusivity-story" didn't end there, and a couple of days later, Nokia announced that T-mobile would offer the Lumia 810 model. Compared to the 820 model (which is offered by AT&T), it weights 15 grams less, and the design is more "blocky". The battery is also better, as the expected talk-time is 10.2 hours compared to the Lumia 820 of just 7.5 hours. However, the customer base of T-mobile is relatively small (compared to Verizon and AT&T), and it's a weakness that T-mobile doesn't support LTE yet. Therefore I do not think the 810 will be a high selling device.
While T-mobile may have a small customer base, Verizon (NYSE:VZ) doesn't, and a couple of days ago, photos of Verizon's Lumia 8xx- and the 9xx models were leaked. Not much is yet known about these devices, except that they will probably be called Lumia 822 and Lumia 922. So the "exclusivity" of the AT&T is mostly just a "PR-stunt", as Verizon, besides a few cosmetic differences, will offer similar models.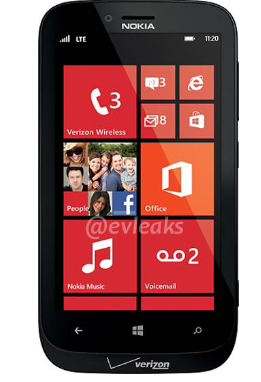 Conclusion
I think there are two things to take away from this article.
I think we should be a bit careful on criticizing decisions from management based on limited information.
Nokia seems to have support from three of the four largest carriers. T-mobile, AT&T and Verizon will support the midrange 8xx model and AT&T and Verizon, will support the 9xx model. Compared to the support of the old Lumia phones (T-mobile supported 710 and AT&T the 900 model), I think it's fair to conclude that Nokia will reach out to a wider customer base over the next year.
Disclosure: I have no positions in any stocks mentioned, and no plans to initiate any positions within the next 72 hours. I wrote this article myself, and it expresses my own opinions. I am not receiving compensation for it (other than from Seeking Alpha). I have no business relationship with any company whose stock is mentioned in this article.