Solarfun (SOLF) had a stunning run last week, up almost 30% in 4 days. Investors chose to take profit and sell into this rally. From an investment point oif view, this rally shows a lack of fundamental support. Actually, the big investors started pulling out on Thursday and S&P downgraded Solarfun Power on Friday on valuation. The risk/reward ratio of Solarfun stock has jumped during the last week's rally. I would not be surprised to see a significant pullback in the solar stock prices. This includes Sunpower (NASDAQ:SPWR) and Energy Conversion Devices (NASDAQ:ENER) and First Solar (NASDAQ:FSLR).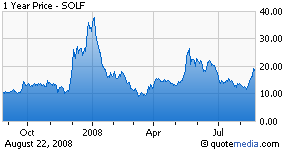 Fundamentally there are a few reasons solar may have peaked for the time being. First, China so far has no plan to subsidize solar energy nationwide. Looking around, all the Chinese solar companies have the bulk of their sales overseas, with less than 10% of their sales in China. The country still embraces crude and coal as its 'cheap' energy sources. In other words, there is no root for Chinese solar to take hold of domestically. With solar subsidies diminishing worldwide, the demand for solar PV may reach a pivotal point to the downside in the near future.
Second, tumbling oil prices cannot be ignored. If oil prices continue to go lower at their current pace, no solar or wind energy company will survive. The grid parity many solar companies are eager to see in the future is actually widening further with oil prices falling precipitously. Fed chairman Bernanke predicted continous strength for the greenback into 2009. This will put extra pressure on solar company earnings, especially for company such as Solarfun, as most of its sales are from Eurozone nations. A 10% rise in the greenback will easily kill the company.
Third,  a CNN poll also shows 69% of Americans prefer McCain's offshore drilling plan. As a solar investor, I am worried about the future of solar and other renewable energy companies, without support from the new president. This sector has had a tremendous run partly due to the momentum built into it by Obama's earlier commanding lead. This may disappear in a flash.
Disclosure: None