Since 2010, Ernst & Young and The Hedge Fund Journal have been releasing annual editions of Tomorrow's Titans, a survey identifying 40 emerging hedge fund managers who are making significant contributions to the industry's development and success. In the latest version of its Tomorrow's Titans 2012, E&Y and The Hedge Fund Journal presented the most reputable hedge fund managers with increasing industry influence and appeal, who have gained their reputation by producing exceptional returns, realizing significant asset accumulations, and featuring diverse and influential portfolio management responsibilities.
John Burbank, the founder and Chief Investment Officer of Passport Capital, a $3.4-billion macro hedge fund, is one of the emerging hedge fund managers making the list in 2012. He has earned his reputation by heavily shorting subprime debt in 2006 via credit default swaps, generating substantial returns for investors. While he is specifically bullish about Saudi Arabia, Burbank is generally pessimistic about the prospects of global equity markets. Making his bets based on broad macroeconomic themes, this year Burbank has been bearish on commodity miners, financials, industrials and telecoms. Still, he manages a portfolio of long equity positions, with a number of bets reflecting his interest in value plays or convictions about future market movers.
In a recent CNBC interview, Burbank advised investors to go long high-quality dividend stocks and short the speculative ones. Burbank himself is long the beaten-down Research in Motion (RIMM), a biotech growth story Vivus Inc. (NASDAQ:VVUS), and a specialty chemicals company Cytec Industries Inc. (NYSE:CYT). Here is a closer look at Burbank's top four dividend picks from the second quarter of this year.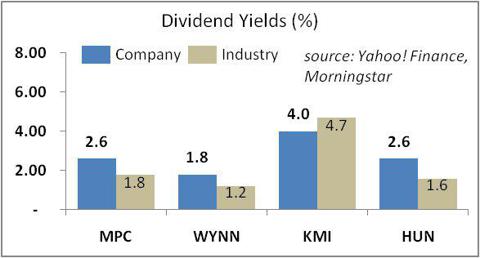 Click to enlarge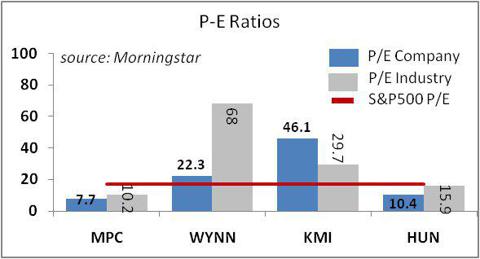 Click to enlarge
Marathon Petroleum Corporation (NYSE:MPC) was one of the largest holdings in Burbank's hedge fund, based on its second-quarter 13F filing with the Securities and Exchange Commission (SEC). The position was reduced by nearly a third from the previous quarter, but it was still the 10th single largest position, valued at more than $74 million. MPC is an $18.4-billion company engaged in refining, transporting and marketing petroleum products, mainly in the United States. The company's quarterly dividend, paid since the third quarter of 2011, has increased cumulatively by 75%, while this year alone it was hiked by 40%. The company's EPS is forecast to expand at an average rate of 5.2% per year for the next five years. Given that the stock has a low payout ratio of only 20% and forecast EPS growth, dividend payouts can be expected to rise in the future. MPC is currently benefiting from high refining margins and extensive logistics system that gives the company access to a variety of discounted crudes. MPC has been increasing its capacity vis-à-vis investments in facilities in Louisiana, Venezuela, and Texas. MPC has a high free cash flow yield of 7.3%, ROE of 25.5%, and return on invested capital [ROIC] of 18%. As regards its valuation, on a forward P/E basis, this stock is trading below its peer group. Billionaire hedge fund manager D. E. Shaw is also bullish about MPC.
Wynn Resorts (NASDAQ:WYNN) is also a dividend-paying stake in Burbank's portfolio and likely his play on income growth in China and the rest of East Asia, given Wynn Resorts' hotel and casino facilities in Macao (China). Despite the slowdown in China's growth and concerns about gaming revenue in Macao, Burbank boosted his stake in this company in the second quarter by as much as 86% over the previous quarter. He acquired the stake in the company in the quarter in which the stock sank to below $100 per share. Wynn Resorts is an $11.4-billion resort and casino operator in Las Vegas and Macao. The company saw its EPS shrink at an average rate of nearly 5% per year over the past five years, while its dividends grew at an average annual rate of 3.1% over the same period. Analysts forecast that the company's EPS growth will accelerate to an average rate of 16.9% per year for the next five years. This assumption is based on the expectation of a rebound in global growth, and especially in China's. The rising middle class in East Asia, with a high propensity to spend on discretionary goods and services, including travel and gambling, bodes well for this casino operator. Wynn Resorts pays a dividend yield of 1.8% on a payout ratio of 41%. Its rival Las Vegas Sands Corp. (NYSE:LVS) pays a dividend yield of 2.3%, while competitor MGM Resorts International (NYSE:MGM) does not pay any dividends. Wynn Resorts' stock has a high ROE of 44% and ROIC of 11%. On a forward P/E basis, the stock looks somewhat pricier than its peer group. Fund managers James Crichton and Adam Weiss (Scout Capital Management) are also large hedge fund investors in the stock.
Kinder Morgan, Inc. (NYSE:KMI) was a $66.4-million stake in Passport Capital's portfolio in the second quarter. The company is a $36-billion owner and operator of oil and natural gas transportation and storage assets in the United States and Canada. It is the largest midstream energy company. The company raised dividends in four out of five past quarters, with its dividend cumulatively increasing by 150% since April-quarter 2011. Analysts expect that the company's EPS will grow at an average rate of 34.4% per year for the next five years. Given that the company runs the largest natural gas pipeline network in North America, its future performance will be boosted by a continued shale gas boom. Currently, Kinder Morgan pays a dividend equal to about 100% of its last year's free cash flow, with a yield of 4.0%. Its peers Enterprise Products Partners LP (NYSE:EPD) and Williams Companies, Inc. (NYSE:WMB) pay yields of 4.7% and 3.5%, respectively. Kinder Morgan's stock has a ROE of 8.4% and ROIC of 1.6%. As regards its valuation, the stock is priced above its peer group, with KMI's forward P/E at 27.7, above EPD's at 21.5 but below WMB's at 29.5. Among fund managers, billionaire Stephen Mandel is a big fan of the stock.
Huntsman Corporation (NYSE:HUN) was also a major position in Burbank's second-quarter portfolio. The position was valued at $45.2 million. The company is a $3.7-billion specialty chemicals maker, producing chemicals that are used in insulation, construction materials, adhesives, electronics and paint. Over the past five years, the company's EPS shrank at an average annual rate of 5.2%. The company has maintained a dividend of $0.4 per year since 2007, despite poor performance in earlier years. Notwithstanding robust growth in its polyurethanes division, the company's top-line growth has been weak. In the most recent quarter, Huntsman Corporation beat EPS expectations due to corporate restructuring efforts. The company will continue to see headwinds due to high inventory levels of titanium dioxide, rising input costs, and weak demand in Europe. Still, analysts expect that the company's EPS will grow at an average rate of 13.5% per year for the next five years, driven by an expected cyclical rebound in the global economic activity. The stock is currently yielding 2.6% on a payout ratio of 27%. Its competitors The Dow Chemical Company (NYSE:DOW) and BASF SE (OTCQX:BASFY) pay dividend yields of 4.5% and 3.9%, respectively. Huntsman Corporation's stock has a free cash flow yield of 6.6%, ROE of 17.5%, and ROIC of 6.4%. As regards its valuation, the stock is valued at a major discount to the commodity chemicals industry. The company is a takeover target; reportedly, Bank of America Merrill Lynch Fund has looking for a buyer among private equity firms such as Bain Capital and K.K.R. David Tepper, a billionare fund manager of Appaloosa Management LP, is also a major hedge fund investor in the stock.
Disclosure: I have no positions in any stocks mentioned, and no plans to initiate any positions within the next 72 hours. I wrote this article myself, and it expresses my own opinions. I am not receiving compensation for it (other than from Seeking Alpha). I have no business relationship with any company whose stock is mentioned in this article.