Have the patent cliff and a changing healthcare market push big pharma into a value investment? Perhaps some pharmaceutical houses, including Pfizer (NYSE:PFE), are displaying low prices and good fundamentals. Pfizer's numbers are so good that it is looking like a value buy at this time even though its superstar drug, Lipitor, has fallen off the patent cliff.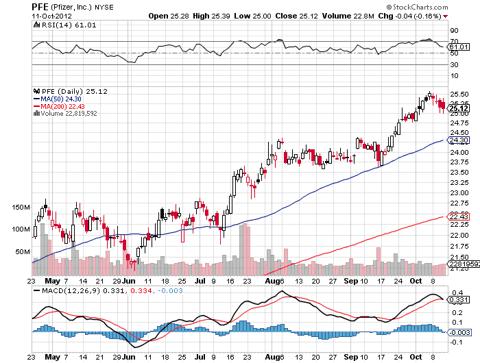 Click to enlarge
As you can see, Pfizer's share price is low but rising. The share price is not what makes Pfizer so attractive. It is the company's basic numbers. In the last set of stats, Pfizer showed income growth of 6.3% and a net profit margin of 13.85%. That's pretty good for a big old line pharmaceutical house facing the patent cliff. The company has been able to grow, albeit slightly, despite the loss of drugs.
Pfizer also has an impressive store of cash and ST investments. The latest statistics indicate that Pfizer had $24.13 billion in cash and ST investments. In contrast, Johnson & Johnson (NYSE:JNJ) had $16.92 billion and Eli Lilly (NYSE:LLY) had $5.26 billion. Merck (NYSE:MRK) had around $5.26 billion and GlaxoSmithKline (NYSE:GSK) $12.02 billion.
So Pfizer has actually stashed more cash than the industry average in a business known for high research and development expenses. That looks like a classic value buy - a company sitting on a lot of extra cash. Interestingly enough, Pfizer's bank account is actually bigger than its cash from operations. The company made $16.5 billion from operations in the year that ended on June 30th.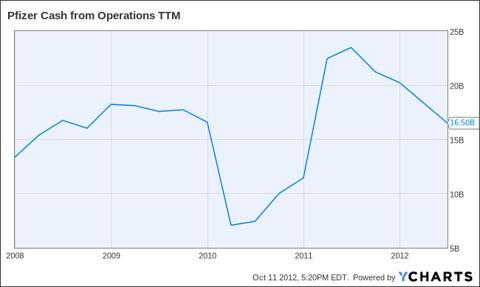 Click to enlarge
This indicates a conservative management that knows how to maximize resources and keep its cash. Yet Pfizer has also been able to grow its business by developing new drugs, some of which have the potential of becoming big sellers. The most promising of these is a new opioid painkiller that might not be as addictive as Oxycodone. Pfizer reported that the safety formulation of the drug, called ALO-02, was similar to existing painkillers.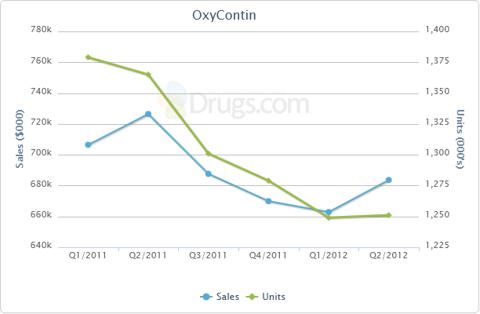 Click to enlarge
Oxycodone, or OxyContin, is currently the 15th bestselling drug in the United States. Sales of it were around $683 million in the second quarter of 2012. OxyContin sales were up slightly in that period. A less addictive alternative is wanted because Oxycodone is often used by addicts and sold on the streets. This often gets drug retailers, such as Walgreen, into legal entanglements with the Drug Enforcement Agency.
Developing a less addictive alternative to oxycodone is the kind of savvy that we've come to expect from Pfizer. It is concentrating its resources on developing products that actually have a proven market.
Pfizer is also working to get its pneumonia vaccine, Prevenar 13, approved for use on more people in Europe. Prevenar can currently be used on persons over 50, but Pfizer wants to get it approved for persons under 50. That's a shrewd move because national health insurance systems in Europe finance vaccines for most of the population.
Pfizer has also entered the generic drug business in Japan in collaboration with Mylan Laboratories (NASDAQ:MYL). Mylan will make the drugs that Pfizer plans to distribute in that country. Japan is the world's number three market for prescription drugs, and its national healthcare system has plans to increase its use of generic drugs by the end of this year.
Even though Pfizer seems to be in better shape than the rest of big pharma, there are some clouds on the horizon. The government of India has plans to increase its share of the $40 billion global market for generic drugs. The nation's commerce secretary has launched a plan called Brand India Pharma to increase sales of generic drugs from India around the world. The targets include Japan, which has a $100 billion market for pharmaceuticals. Currently India, which just signed a free trade pact with that nation, has just 1% of the Japanese drug market.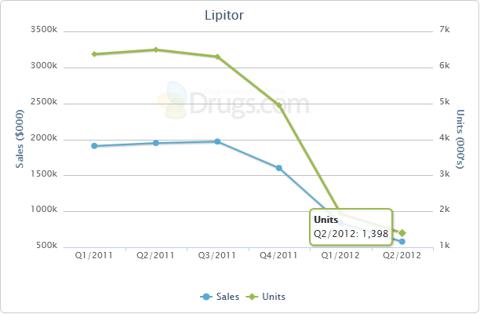 Click to enlarge
The largest Indian generic drug maker, Ranbaxy Laboratories Limited (RBXZF.PK), has launched a generic version of Pfizer's super seller, Lipitor. The Indians are a big threat to Pfizer because of their ability to churn out cheap generics. Pfizer has at least moved to protect itself by entering the generic market.
If you're looking for a value buy in pharma, consider Pfizer. It is big, and it has a lot of cash, but it also has a low share price. It also seems to be in the best position to survive the flood of generic prescriptions that is coming.
Disclosure: I have no positions in any stocks mentioned, and no plans to initiate any positions within the next 72 hours. I wrote this article myself, and it expresses my own opinions. I am not receiving compensation for it (other than from Seeking Alpha). I have no business relationship with any company whose stock is mentioned in this article.