Microsoft (NASDAQ:MSFT), like Apple (NASDAQ:AAPL), is opening up retail stores to sell their products. They plan to reach 44 permanent outlets by mid 2013. With signature stores, Microsoft is reinventing their brand image and consolidating it so that it is more unified, succinct, and distinguishable. It also gives customers the reassurance of having a dedicated, Microsoft-certified center to go to for questions about products and help with potential problems.
Another Apple-like move the company is making is producing their "Surface" tablet in-house: opting to sell it exclusively in Microsoft stores, both in person and online. The company is also rapidly expanding their ecosystem to remain relevant, announcing that their app store will have over 100,000 applications by February. Windows 8 provides the glue that links the surface and other devices together in a unified, interlinking ecosystem. The once boring Microsoft is becoming exciting again.
Microsoft is also opening up temp stores for the holidays. This should be huge in pushing their tablet and getting consumers interested in Windows 8. Many of these temporary stores will be more like mall kiosks, and will be much smaller than permanent stores. They may be smaller, but they will also stand-out in the middle of a mall and attract customers' attention instantly. They also allow Microsoft to be lean and mean, as well as adaptive, selecting strategic locations to place their "pop-up" stores.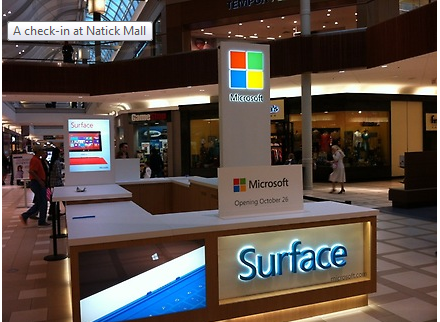 Microsoft also has an "X-factor"- the Xbox. Say an ordinary family is walking through the mall, shopping for new tech gadgets. Apple is probably the first store that comes to mind. So on the way they see a similar store, run by Microsoft. Do the kids want to go into the sterile looking, black and white, familiarly stale Apple Store? OR would they rather experience something new and exciting and walk into the Microsoft store, filled with brightly colored Surface tablets, where they see other kids their age playing demos on Xbox with Kinect technology?
The majority of people associate Microsoft with business. They see it as an old, boring company-second tier to the "cooler" Apple. But what if Microsoft becomes the new cool? They are trying hard to become not only the leader in business, but also in the leader in the "cool" side of the market. It looks like they are also attempting to open everyone's eyes to this in a major way by opening up stores and kiosks to showcase their new products, which may end up out-innovating Apple and beating them at their own game. To become the cool brand, Microsoft is reinventing itself and targeting the youth.
The youth is who will determine what is or isn't cool. The Xbox is something that can attract kids to the Microsoft store over the Apple one. The company even offered summer camps in their Microsoft stores, free of charge. Microsoft has a dominant position in the business related market, but if they can take the cool away from Apple and establish themselves in place of the latter in the eyes of the youth, the company could see instantaneous success.
Microsoft is doing big things, and I think many are underestimating them. The company is putting out innovative gadgets, generating a gigantic ecosystem of products and apps, and completely reinventing themselves. Not only will Microsoft have their signature stores, but they will also continue to hold onto their huge network of suppliers, such as Staples and Best Buy. Windows 8 is a catalyst with the possibility of providing the spark that lights Microsoft's stock on fire. Microsoft retail stores and strategically placed temporary kiosks will fan the flames by opening up the eyes of consumers. After years of laying flat, there may finally be a significant pop in the share price coming soon, as well as a reinvented, cooler Microsoft.
Disclosure: I am long MSFT. I wrote this article myself, and it expresses my own opinions. I am not receiving compensation for it (other than from Seeking Alpha). I have no business relationship with any company whose stock is mentioned in this article.