In this research note, we are going to consider PNC Financial's (NYSE:PNC) operating segments. The firm's major operating segments are its retail banking, and corporate and institutional banking segments. We'll also discuss the asset management group. Further, we'll cover some of the geopolitical uncertainties investors face.
PNC Operating Segment Data
Retail banking revenue in the second quarter of 2012 increased to a new high level. The increase was 8 percent greater than the prior quarter and 10.5 percent greater than the year-ago quarter. Revenue is above the four quarter moving average and may be at an unsustainably high level.
Corporate and institutional banking revenue increased to a new high level in the second quarter of 2012. The increase was 13.6 percent higher than the first quarter and 19.7 percent higher than the year-ago quarter. Revenue is above the four quarter moving average and may be at an unsustainably high level.
After taking a dip in 2008 because of the financial crisis, asset management group revenue returned to the $200 million level. Asset management revenue was down compared to the first quarter and up compared to the year-ago quarter. Asset management revenue ranges between $220 million and $250 million.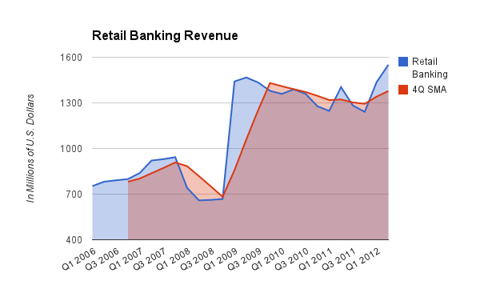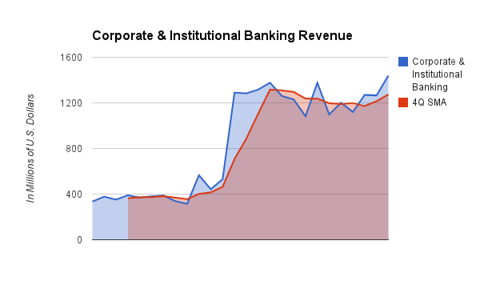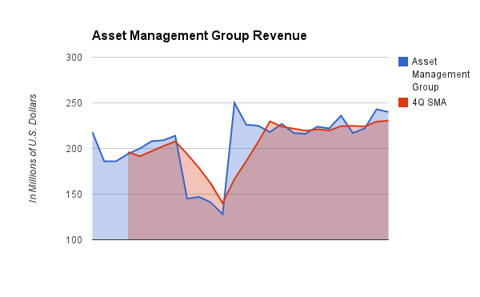 The acquisition of National City doubled revenue from retail banking and corporate institutional banking. That said, we saw strong performance from the operating segments in the second quarter. However, revenue may be peaking. The operating segment financial performance suggests the company is growing. The U.S. fiscal deficit declined compared to fiscal 2011.
U.S. Fiscal Deficit
The U.S. posted a fiscal deficit of $1.09 trillion for fiscal year 2012 or about 7 percent of current-dollar gross domestic product. Last year, the fiscal deficit was $1.3 trillion. Compared to fiscal year 2011, outlays declined roughly $60 billion while receipts increased about $150 billion. The decline in outlays and its negative impact on risk sentiment is minor. A Greek exit from the Euro would negatively impact financial markets.
Greece May Leave The Euro
Swedish Finance Minister Anders Borg said Greece may quit the common currency within the next six months.
EU leaders meet in Brussels Oct. 18-19 to discuss their efforts to make the ECB Europe's chief bank supervisor and plans to tighten economic and monetary ties within the bloc.
Borg said a Greek Euro exit probably wouldn't have a major impact on the financial system. Further, Borg believes Greece could have to stimulate competitiveness through a significantly lower exchange rate.
Borg is saying that even though the political will to save the euro may be there, the correct decision for Greece may be to exit the Euro and devalue its currency. One option for Greece is to leave the Euro and use a significantly weaker currency. Another option is to undergo a period of substantial deflation. That is what we are seeing: the Greek government is reducing expenditure, unemployment is rising and the economy is in recession.
In order to restore competitiveness, labor market participants and businesses may have to accept reduced prices for their good and services. The structural adjustments need not come in the form of a devalued currency, they may come in the form of a broadly accepted new reality.
Borg's comments add to already heightened uncertainty as market participants are left guessing which countries, if any, will leave the common currency. Typically, in a period of uncertainty market participants are willing to pay lower premiums to purchase shares of firms. The ECB is set to become the euro-area bank supervisor.
ECB Bank Supervision
The head of the European Central Bank said that common banking supervision in the euro area may not become operational before 2014 even if legislation is in place at the beginning of next year.
EU leaders called for a single bank supervisor in June as a condition of allowing euro-area banks direct access to the region's firewall funds. While they set a start date of Jan. 1, 2013, the ECB is pushing for more time.
While allowing euro-area banks direct access to the region's firewall funds removes some uncertainty surrounding the capital adequacy of euro-area banks, questions remain as to which firms will receive funding. All firms can't be allowed to access funding from the firewall. Bad banks should be allowed to fail. ECB supervision and bank access to firewall funding does not remove the threat of bank failures. It may act to limit the risks associated with the insolvency of a major financial institution. That said, the failure of a major euro-area bank will weigh on global risk sentiment. Also, I believe some euro-area banks will be able to access firewall funding prior to the 2013, or 2014 start date of ECB supervision. PNC's operating performance was solid between 2006 and the second quarter of 2012.
Conclusion
Although I prefer other financial firms, PNC Financial is also an attractive investment at the right value. The firm's profit margin has been roughly 30 percent the past two years and total equity is increasing. The firm has one of the lowest financial leverage ratios among its peers which is one of the reasons return on equity is lower than some of its peers. Investors should consider purchasing shares on a substantial decline in the share price. We aren't at a level that I would buy shares. An estimated purchase level would be below $60-share, but investors should also consider the investing environment when we get to that level. The uncertainty over Greece remaining in the Euro, when the ECB will become the euro-area bank supervisor, and U.S. federal government outlays, the fiscal cliff, may provide investors with a buying opportunity.
Disclaimer: This article is not meant to establish or continue an investment advisory relationship. Before investing, readers should consult their financial advisor. Christopher Grosvenor does not know your financial situation and ability to bear risk and thus his opinions may not be suitable for all investors.
Disclosure: I am short SPY. I wrote this article myself, and it expresses my own opinions. I am not receiving compensation for it (other than from Seeking Alpha). I have no business relationship with any company whose stock is mentioned in this article.