The world's largest beverage company, the Coca-Cola Company (NYSE:KO) is scheduled to release earnings before the bell tomorrow morning. It was a busy quarter for the Company in terms of housekeeping items; CEO Muhtar Kent announced that starting in January, the company would be reorganized into three segments, down from the current six. This is in an effort to streamline operations, add efficiency, and as an article back in July mentioned, it is the beginning of the race for who will be next to lead the beverage giant. Since becoming CEO back in July of 2008, Mr. Kent has done a superb job of retooling a global giant and is responsible for increasing profitability and also taking market share from struggling rival, PepsiCo (NYSE:PEP).
The Street is looking for earnings of $0.50 per share on revenue of $12.39 billion. My estimates are for revenue of $12.41 billion and earnings per share of $0.52 per share on the back of stronger pricing in the North America and Pacific segments. Europe continues to be a weak spot for the market as a whole, but not so much for the company, with volumes declining 4% during the second quarter. Despite the economic turmoil that has afflicted Europe for the past few years, volumes only turned negative for the first time during the second quarter.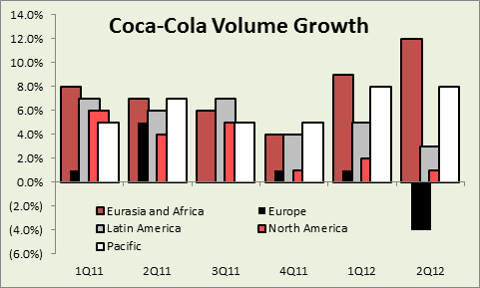 Click to enlarge
(Click to enlarge)
Pricing power has remained strong over the past few quarters as gross margin has remained relatively constant despite the dramatic increase in cost of raw materials, namely fuel and corn. North America is the important segment in terms of pricing power as volumes have been relatively flat, averaging 3.2% growth over the past six quarters. Prices have kept pace relatively well with commodity cost increases, and I modeled for another strong quarter in North America. The question becomes now, with the slowdown in China, can volume and prices continue to improve. During the second quarter, volumes improved 7%. Volumes around the world continued to improve as well, with India (+20%), Russia (+9%), Brazil (+6%), Middle East and North Africa (+20%; +13% excluding the benefit of the Aujan transaction), and South Africa (+10%) leading the way.
The two most important segments in my opinion moving forward are North America (accounts for 44.3% of revenue) and Pacific (13.1% of revenue). With such a large portion coming from North America, volume, pricing power, and margin controls are pivotal. With the Pacific segment, volume growth and profitability are key. My estimates call for slightly higher revenues, stemming primarily from a strong Pacific segment as well as continued growth, albeit slower than the previous quarter, in North Africa.
A wildcard for KO is Europe. Just about every industry out there has seen a huge impact from the struggling economies in Europe; however, it took until the second quarter of 2012 for KO to see a negative volume response. Volumes in Europe have averaged about a 1.0% increase over the past six quarters, with the second quarter registering a 4% decline. I have modeled for volumes to continue to be weak, but slightly better than last quarter.
Management is actively purchasing the stock, and with a strong dividend, the stock should trade higher even in a "risk-off" market environment. At the end of the second quarter, management had repurchased $1.6 billion of stock and is well on its way of repurchasing between $2.5 billion and $3.0 billion for the full year. I am looking for approximately $900 million of share repurchases for the third quarter. KO is my favorite in the industry. It offers a dual pronged investment approach; capital appreciation (through the stock price increasing) as well as through dividend growth. The company has strong cash flow, solid return on investment, and continues to outperform its closest rivals, namely PepsiCo and Dr. Pepper Snapple Group (NYSE:DPS). The stock is up almost 9% year to date (compared to the S&P500 which has gained more than 14%, and 6% for PEP), but it is down 1.4% over the past three months (compared to the S&P, which has gained 5.8% and PEP which is relatively flat). I prefer to invest for the longer term, and KO should be a pivotal part of a longer term portfolio.
Disclosure: I am long KO. I wrote this article myself, and it expresses my own opinions. I am not receiving compensation for it (other than from Seeking Alpha). I have no business relationship with any company whose stock is mentioned in this article.