Bristol-Myers Squibb (NYSE:BMY) currently offers a compelling, low-risk way of capitalizing on the next wave of pharmaceutical breakthroughs. The thesis of this article will explore the three main disease state categories that will power BMY to future gains. At the end of the article, I will examine the volatility risk along with the income-generating potential.
The first franchise I will examine is the diabetic franchise, which consists of Onglyza, Byetta, Bydureon, and Symlin. Onglyza is a DDP-4 inhibitor that is used to provide better glycemic control. According to CFO Charles Bancroft during BMY's most recent conference call:
ONGLYZA franchise sales were $172 million, up 54% compared to last year. Going forward, we are focused on driving adoption earlier in treatment as the first add-on to metformin, leveraging our head-to-head data vs. SU as used in our label update for the use of ONGLYZA in combination with insulin.
As we can see, sales are increasing at a rapid pace. If the current growth continues, it will become a well over $1 billion a year drug.
The other products in the diabetic franchise were recently acquired from Amlyin Pharmaceuticals. Byetta and Bydureon is glucagon-like peptide-1 (GLP-1) receptor agonist that works to improve blood sugar levels after food is consumed. Bydureon is a once weekly injection version of Byetta. According to Amylin's first-quarter press release:
Net product sales of $150.6 million for the quarter ended March 31, 2012 include $120.6 million for BYETTA® (exenatide) injection, $23.1 million for SYMLIN® (pramlintide acetate) injection and $6.9 million for BYDUREON. This compares to net product sales of $150.8 million, consisting of $128.0 million for BYETTA and $22.8 million for SYMLIN for the same period in 2011. There were no BYDUREON revenues during the same period in 2011 because BYDUREON was not yet approved. Revenues under collaborative agreements were $3.1 million for the quarter ended March 31, 2012, compared to $1.9 million for the same period in 2011.
As we can see from the data presented, sales are still in their ascendance. With the Amylin purchase, BMY's sales force has a wide array of products to promote to physicians, which should help drive sales into the future. The diabetic franchise is in collaboration with Astra Zeneca (NYSE:AZN).
The second franchise that I would like to highlight is the oncology franchise. The three main products make up the franchise are Sprycel, Yervoy, and Erbitux. Sprycel six-month 2011 sales were 365 million as compared to 2012 sales of 475 million. If you click here for a breakdown of all BMY product sales, you can see that Sprycel sales have advanced at a more than 20% clip and will soon enable the product to achieve blockbuster status (more than 1 billion in annual sales). The newest product in the oncology franchise is Yervoy, with six-month sales of 316 million as compared to 95 million in the first six months of last year. Yervoy is a new product that was recently (in the second quarter of 2011) approved for sale in the U.S. As additional clinical data come in and if BMY is successful in expanding its prescribing label, Yervoy should become a blockbuster drug as well. The third product in the franchise is Erbitux, with sales of 358 million as compared to 338 million. Clearly, growth has slowed. However, with sales of 691 million last year, it is still a slow-growing yet profitable drug.
The third franchise I will highlight is the cardiovascular franchise, which consists of Plavix, Avapro, and, pending approval, Eliquis. Avapro and Plavix were successful products for BMY, totaling close to $8 billion in sales in 2011. The patent has expired on both products, resulting in significant sales loss due to generic competition. Sales for the most recent six-month period were $2.78 billion compared to $4.16 billion, with further loss expected to occur as the year progresses.
BMY is hoping to alleviate some of this loss with Eliquis, a new treatment for atrial fibrillation. The drug has been shown in recent studies to consistently reduce stroke and embolism rates when compared to warfarin. Warfarin is the main current therapy; however, it requires frequent monitoring and causes a plethora of drug-to-drug interactions. The hope is if an alternative can be found that is as efficacious without the bleeding risk, it would be a major advance in medicine. BMY, in collaboration with Pfizer (NYSE:PFE), has developed the med and conducted extensive clinical trials. The med has been approved for use in Europe, which adds to my confidence that it will be approved for sale in the United States. The FDA has granted the med fast track approval status and will make a decision on its application by March 17, 2013. Granted, European approval doesn't guarantee U.S. approval, but I would be surprised if it wasn't. The market for this type of product has been estimated at $10 billion, with two current entrants -- Pradaxa, made by Boehringer Ingelheim, and Xarelto, by Johnson & Johnson (NYSE:JNJ). I believe that if Eliquis is approved, it would become the dominate player in the market and a blockbuster drug.
Click to enlarge image.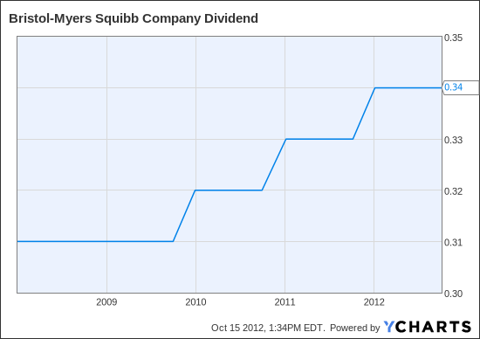 Click to enlarge
For the final part of my article, I would like to examine BMY's dividend and payment history, along with its volatility. BMY currently pays a 34-cent dividend, which works out to a 4% yield (price used is $34 a share). That is far better than T-bills and money market rates. As new products come to market, it isn't a stretch to envision BMY increasing the dividend, offering capital gain along with a high and rising dividend payment. The shares have a beta of 0.44, which indicates for every one-point move in the market, BMY will fluctuate 0.44. BMY currently has the lowest beta of all the major pharmaceutical companies.
In summary, I believe BMY offers a compelling value at current levels. The shares offer an above-average yield (4%) coupled with the potential for significant capital gains. I am comfortable with BMY at current levels and view it as a long-term holding.
Disclosure: I am long BMY. I wrote this article myself, and it expresses my own opinions. I am not receiving compensation for it (other than from Seeking Alpha). I have no business relationship with any company whose stock is mentioned in this article.
Disclaimer: This article is for informational purposes only and not actual investment advise.