"If the loss of one customer would be catastrophic to a supplier, I'd be wary of investing in the supplier" ~ Peter Lynch, "One Up On Wall Street"
Ask any long-term investor to name a few of his/her favorite investment gurus. Peter Lynch is almost certain to figure in their top 5. Lynch was famous in the late 1970s and 1980s for easily beating the street. So, one can safely assume he knows what makes good stock market investing.
This article looks at a few companies that fail a particular Peter Lynch rule - companies that are too reliant on one product or a customer. Why is this important ? Because if the stock goes up because of a single hot product, it could easily come crashing when competitors catch up or if the single biggest customer stops buying for some reason. Let us get into the details.
Cirrus Logic (NASDAQ:CRUS): is a company that supplies chips for Apple's (NASDAQ:AAPL) iDevices. Believe it or not, the stock has gone up 134% YTD based on strong iDevices' sales. Apple contributed about 50% of the company's revenues in 2011 and in 2012, the number has crossed 60%. Sure, Apple is on a high still and CRUS is riding the wave but it is undeniable that CRUS is over-reliant on Apple.
The business world is all about dollars and pennies. Not long ago, Google (NASDAQ:GOOG) and Apple were so friendly that Google's CEO was on Apple's Board of directors. Now, the companies are at each other's throat. Sure, CRUS is unlikely to compete with Apple directly but the point is, all it takes is one shot from either side to break the marriage. In this case, Apple will be the stronger partner post split, if any.

Click to enlarge
(Source: Ycharts.com)
Lorillard (NYSE:LO): Let us jump from technology to the world of tobacco. Lorillard is perhaps the third most popular name in U.S tobacco - behind Altria (NYSE:MO) and Reynolds American (NYSE:RAI). The stock has been great for investors since 2011 with capital growth and great dividends. So, what is the worrying aspect about this stock ? It's the over-reliance on the brand Newport, which accounted for 88% of the 2011 revenue. The statement below is from the company's website.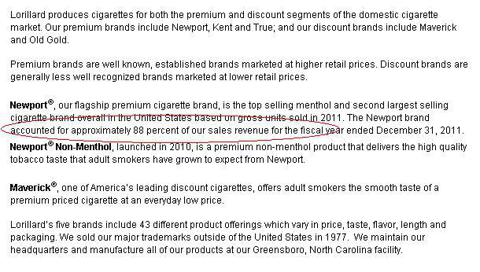 Click to enlarge
(Source: Lorillard.com)
Newport is a menthol-based product and there have been some scary drops for the stock on news that the FDA was considering banning menthol cigarettes. And needless to say, it rocketed up on any positive news on menthol. Check here, and here. Altria, the king of tobacco, is trying to diversify into smokeless products and wine. Lorillard might appease the investors if it begins to diversify into powerful products. It has some other brands as well but none have the same impact as the Newport brand.
Apple: Let us jump back into Technology again. Apple doesn't yet quite fail this test, by the way. Being long-time holders of Apple, the one thing we are looking forward to is the next industry Apple is going to disrupt. Steve Jobs was a master of cannibalization. According to this biography, his employees said he was always worried about what product was going to kill them next.
In the early 2000s, iPod replaced iMac as the company's top product and remained so till the iPhone replaced it. The iPhone has grown into a monster as shown in the chart below. In 2012, iPhone is expected to provide 51% of the company's revenue. It has gotten so huge that iPhone by itself generates more revenue than all of Microsoft's (NASDAQ:MSFT). As Apple lovers, we are cautiously watching the company's over-reliance on the iPhone and what next super product will be. Yes, the iPhone5 and future revisions will be huge as Apple releases them in many more countries but the company's first real post-Jobs test will be the next big product.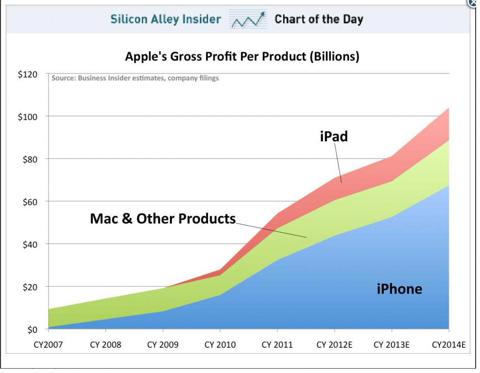 Click to enlarge
(Source)
The sketch below shows the impact of each of Apple's new products over time. iPod reigned till iPhone started running close in 2008. Now, even iPad has displaced iPod. In other words, this is cannibalization at its best.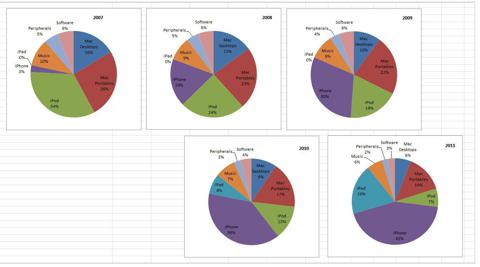 Click to enlarge
(Source)
Conclusion: We are not so worried about Apple right now as about the other two companies listed. The iPhone magic should do well for the next year or two. But as current Apple stock holders, we are definitely on the lookout for the next new product that is going to shoulder the major revenue responsibility.
Disclosure: I am long AAPL. I wrote this article myself, and it expresses my own opinions. I am not receiving compensation for it (other than from Seeking Alpha). I have no business relationship with any company whose stock is mentioned in this article.