With U.S. stocks trading near five-year highs amid sluggish economic growth, investors can grow wary of a possible bubble in equities. I do admit that a part of the rally has been driven by excess liquidity, and the markets can shed the excess flab over the next three to six months. I had discussed my view on market correction in one of my recent articles: "Four Reasons Why The Equity Markets Will Correct In The Next 3-6 Months." Having said that, any correction is a buy opportunity, as the markets are nowhere near a bubble, and U.S. equities might continue to rally over the next three to five years.
This article looks into few primary reasons why I believe that we are not in a bubble in equities, and why the upside potential for the market is significant. In line with this rationale, investment ideas are also discussed.
Before discussing the critical factor of liquidity flow into equities, I would like to mention that the corporate earnings have fueled upside in the markets, with corporate profit after tax touching record highs.
(click images to enlarge)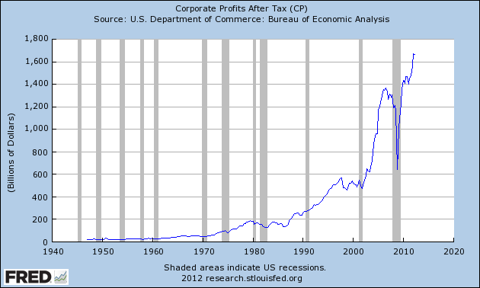 Click to enlarge
I do believe that corporate earnings will disappoint over the next few quarters, and corporate profit after tax will decline from higher levels. With a recession in the eurozone and sharp slowdown in China, corporate earnings will disappoint globally, and U.S. companies are globally diversified. At the same time, uncertainties related to tax and policy changes after the elections will ensure that the U.S. private sector holds back on capital investment and recruitment of full-time employees. Policy uncertainties do have a major impact on corporate earnings and can dent GDP growth, which has been driven by the private sector after the crisis.
With these factors in mind, I would remain cautious about taking a fresh exposure to markets at current levels. Investors would benefit from taking a wait-and-watch approach. A 15% correction in the markets over the next two quarters will present some good long-term buying opportunities. I don't mean to say that markets will only correct by 15%. The point I am trying to make here is that investors can expect a meaningful correction, and one can be in cash (to some extent) in order to benefit from the coming correction.
Coming to a critical discussion on the allocation of liquidity to different asset classes and regions, the chart below gives the cumulative flow to global mutual funds from the beginning of 2007 in global bonds, emerging equities and developed market equities.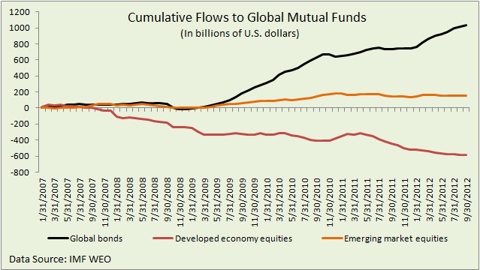 Click to enlarge
As evidenced by the chart, global mutual fund inflows to bonds have been over $1 trillion over a period of five years. During the same time, developed market equities have witnessed an outflow of $582 billion, while emerging market equities have witnessed an inflow of $154 billion.
Certainly, mutual funds are not the only source of inflows of funds into different asset classes. At the same time, the numbers do give an indication of which asset class is relatively favorable in the current economic environment. There is no doubt that investors have sought refuge in government bonds globally, along with investment grade corporate bonds, which are better than government bonds. Therefore, if one has to classify an asset class as an overcrowded trade, it would be the bond market, and not equities.
After 2007, there have been quick shifts from "Risk On" to "Risk Off" trades and a prolonged period of exuberance, which leads to bubbles. This is absent from equities. However, this might not take time to change -- it just needs relatively stable global economic activity. Further, if the possibility of headline inflation does rise going forward (very likely), there will be a flow of money away from bonds to other asset classes, such as equities and commodities.
I am of the opinion that the next three to four months will be critical in deciding the direction of the global economy. If tax cuts are extended, the debt ceiling is raised and China resorts to more stimulus, the global economy might be able to recover from the current state of manufacturing recession and the services sector slowdown. The challenges in the eurozone also need to be considered when trying to assess the probability of a prolonged global "Risk On" trade.
In short, if global central bankers continue to resort to quantitative easing, equity markets will not only be supported at higher levels, but also can surge meaningfully on any sustained recovery and inflation. More than a prolonged period of robust economic growth, rising inflation can be positive for the markets. Investors might argue that inflation is closely related to economic growth. I do agree with this, to some extent. However, inflation can trend higher along with a high output gap. I discussed this point in one of my earlier articles: "The Output Gap Trap For Policymakers".
In conclusion, I look at things this way -- equity markets are trading at near-five year highs with no evidence of a bubble, and plenty of skepticism about corporate earnings. Liquidity can do wonders for asset markets, even if it does not do much for the economy. I can say with conviction that central bankers around the world will continue to pursue expansionary monetary policies. In line with this, equities will continue to trend higher. Also, if there is some stability in the global economy and prospects of inflation, the upside in equities can be very meaningful. Therefore, I would consider exposure to the index and quality stocks on every correction.
Some suggested investment ideas:
SPDR S&P 500 (NYSEARCA:SPY) ETF: It has been proven that beating the index is not an easy task. Therefore, the strategy should be simple -- beat the index or invest in the index. From this perspective, SPY looks interesting. The ETF provides investment results that, before expenses, generally correspond to the price and yield performance of the S&P 500 Index.
iShares MSCI Emerging Markets (NYSEARCA:EEM) ETF: Global diversification is necessary, and exposure to emerging markets is critical. Over the long term, emerging markets will outperform developed markets in terms of equity price appreciation. The cumulative mutual fund inflow into emerging markets has been higher in the last five years compared to developed markets. The iShares ETF corresponds generally to the price and yield performance, before fees and expenses, of publicly traded securities in emerging markets, as represented by the MSCI Emerging Markets Index.
Johnson & Johnson (NYSE:JNJ): I like this highly diversified healthcare company, as it has product as well as regional diversification. Further, the sector JNJ caters to is not very prone to economic shocks. JNJ has been a good dividend payer in the past, with a dividend yield of 3.6%. In my opinion, the stock is excellent for a long-term portfolio. It also commands a higher rating than the U.S. sovereign rating.
BP Plc (NYSE:BP): Long-term exposure to oil exploration companies is a must if one is bullish on the energy sector. Geopolitical tensions, weaker currencies and demand from emerging markets will be the key growth drivers for energy stocks. I personally like BP, which gives me a dividend yield of 4.6%, besides looking promising for long-term capital appreciation. The company is an attractive long-term buy for several other reasons as well. It has an excellent and diversified asset base, presence across the value chain, and presence in alternative investment themes. Further, the TTM P/E is at an attractive level of 7.8. Overall, BP is well-positioned to take advantage of the long-term appreciation in crude oil prices.
Total SA (NYSE:TOT): The French oil giant is another excellent long-term investment option. A strong dollar and cost associated with the North Sea natural gas spill has depressed the stock in the near-term, which provides a good buying opportunity. Like BP, TOT has integrated operations and is a globally diversified player. TOT also offers a very attractive dividend yield of 5.1%, and is trading at a low TTM PE of 8.04.
Market Vectors Gold Miners ETF (NYSEARCA:GDX): is a good investment option for the long term. The ETF seeks to replicate as closely as possible, before fees and expenses, the price and yield performance of the NYSE Arca Gold Miners Index. The ETF holdings have an attractive P/E ratio of 13.8, and an equally attractive price to cash flow ratio of 5.59. I am suggesting GDX, as I believe the expansionary monetary policies will persist, and gold will continue to trend higher. Gold mining companies, which are making good profits at current operating levels, will benefit from higher gold prices.
Disclosure: I have no positions in any stocks mentioned, and no plans to initiate any positions within the next 72 hours. I wrote this article myself, and it expresses my own opinions. I am not receiving compensation for it (other than from Seeking Alpha). I have no business relationship with any company whose stock is mentioned in this article.