RBC Capital released a report on Nokia's prospects today, including a Sum of Parts breakdown of Nokia's (NYSE:NOK) per-share value. RBC's report outlines a hypothetical worst/best case scenario for Nokia stock, excluding the smart phone division.
While I appreciate the effort (actual figures for a change!), I'm skeptical: These are the same people, after all, who only a year ago claimed that Nokia's outlook was "not as dire as feared" and slapped a $9 target price on the stock.
Fig. 1: Nokia's Stock Decline Over The Last 12 Months

However, my real concern is with the assumptions underpinning RBC's numbers, which are given in the table below:
Fig 2. RBC's Sum of Parts analysis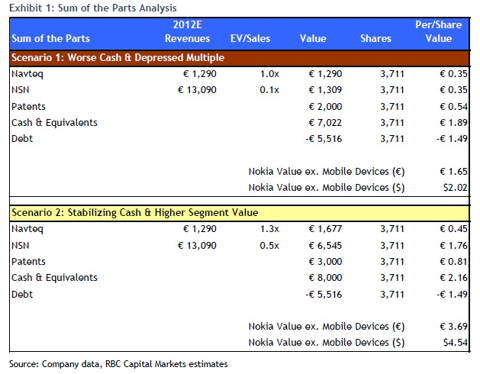 Note the shift in EV/Sales from worst case to best case scenario. In the bearish case - which I assume to mean spinning off the pieces of the moribund Nokia-Siemens network at 20 cents on the dollar - the EV/Sales ratio is .1x. In the bullish scenario, the ratio is .5x.
I suppose that my first question would have to be: Why?
NSN's non-core assets are currently being chopped up and sold, likely to Ericsson. NSN's staff has been trimmed by 17,000 employees, a move which would allow Nokia to save $1.35 billion in annual operating expenses by 2013. Yet these savings aren't accounted for in either Table.
Normally you'd expect to see trade offs between the columns. For example, if that $1.35 billion were used to pay down debt, the value added to the stock in the worst case scenario would be around +43 cents per share. (For the sake of consistency, I'm using RBC's € to $ conversation rate; the current amount would be somewhat higher.) The fact that these common sense trade-offs are not accounted for is my first objection.
Objection #2 is the value RBC attributes to Nokia's patent portfolio. The ultra-bear case pegs the value of Nokia's patents at €2 billion; the bullish case pegs it at €3 billion.
Again, why? Nokia's receives $600 million annually in re-occurring licensing fees, courtesy of Apple, Inc. (NASDAQ:AAPL). Wouldn't the revenue generating power of Nokia's patents then depend on how well Apple - as well as Nokia's other 40 licensees - were doing, rather than on Nokia's performance?
Based on Google's acquisition of MMI, and assuming that Nokia's current liabilities are sufficient to cover its debt, an analysis of discounted future cash flow indicates an intrinsic value of $2.60 a share. Yet, RBC assigns a fire-sale price to the patents amounting to just 66 cents a share.
Moreover, Nokia's patent portfolio is regarded by the telecoms industry as being extremely robust. (Just ask Apple!) HTC's patent portfolio, on the other hand, is considered to be one of the weakest in the industry. According to a source within the company, Nokia plans to sue HTC for infringing its on Lumia design with its 8S/8X series of smart phones.
Fig. 3: Lumia 820/920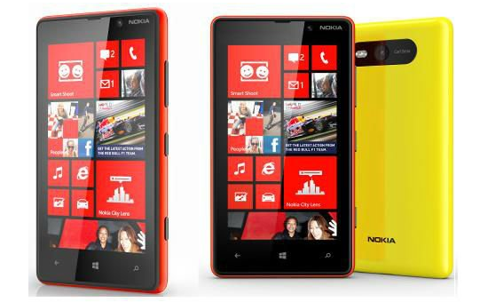 Fig 4: HTC 8S/8X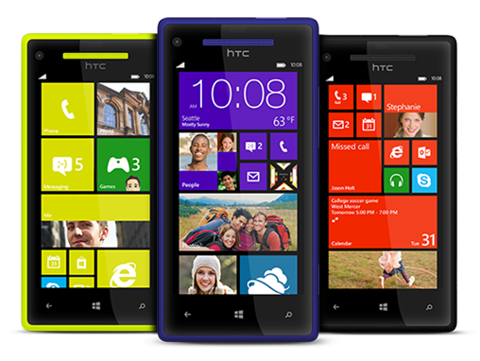 I haven't seen the evidence, mind you, but somehow, I think Nokia just might win this one.
Bottom Line
RBC's near term price target of $3 on Nokia is actually a bullish analysis. (As of this writing, Nokia trades at $2.58.) However, RBC's calculations are fundamentally flawed in my view, for three reasons:
Cost savings from NSN spin-offs are not taken into account.
Nokia's plan to reduce its OpEx (operation expenses) down to €3 million a quarter are not taken into account.
Nokia's patents are priced at distressed valuations that the company's Cash & Equivalents would tend to prevent.
If the assumption is that Nokia will ultimately fail then it's reasonable to assume that the company will continue to cut overhead and spin off non-essential divisions. If that's the case, then Nokia's Cash & Equivalents should either be adjusted up, or Nokia's debt should be adjusted down - and in either case, the patents should be worth about the same.
Translated into English, RBC's worst-case scenario reads like this:
"We assume that Nokia gets the worst price possible for the Nokia-Siemens network, though there are currently multiple bids for its divisions, and that the money Nokia receives from this sale vanishes into Nokia's operating costs, even though Nokia is cutting overhead. These personnel cuts do not alter Nokia's balance sheet in any way. Further, we assume that Nokia panics and sells off 1/3rd of its patent portfolio at fire sale prices. This money, too, vanishes."
Nokia continues to be mispriced. At the very least, the company is a compelling asset play at $2.58 a share. Nokia's upcoming Q3 report may present an even more attractive entry point.
Disclosure: I am long NOK. I wrote this article myself, and it expresses my own opinions. I am not receiving compensation for it (other than from Seeking Alpha). I have no business relationship with any company whose stock is mentioned in this article.