Since the current bear market began back on October 9th, 2007, the Russell 1,000 is down about 18%.  Of the stocks in the index, 8.5% are down more than 50%, while 25% are actually up since then. 
Below we highlight the 25 best and worst performing stocks in the Russell 1,000 during the current bear market.  As shown, Fannie (FNM) and Freddie (FRE) top the list of losers, falling from the mid-60s down to $5 and $2.81 respectively.  Washington Mutual (NYSE:WM) is down the third most at -89%.  Financials represent the top 12 losers, followed by Oshkosh Trucking (NYSE:OSK) from the Industrial sector at 13th.  Other notable names on the list of losers include GM, WB, AIG, SNDK, LVS and ODP.
click to enlarge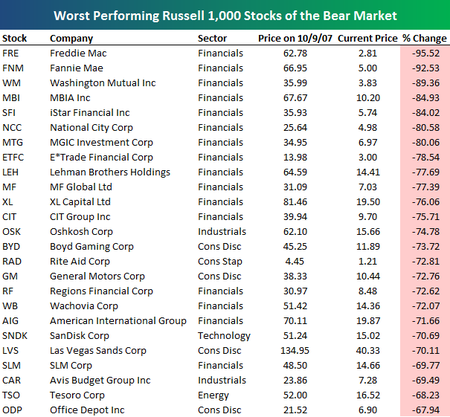 Surprisingly, six companies in the Russell 1,000 are up more than 100% during the current bear market.  Four of the six come from the Energy sector, with Alpha Natural Resources (ANR) leading the way at 283%.