Market Recap
The market got a reversal finally on Monday on the back of strong retail sales and better than expected earnings. Retail sales came in at 1.1% growth vs. 0.7% expectations, which was the second straight month over 1.0%. The data was a bright spot for a market that has been mixed up with Europe, earnings fear and election hangover. In addition to that data, earnings this morning from Citigroup (NYSE:C) were better than expected and helped push the financial sector higher. Additionally, earnings from Gannett (NYSE:GCI) were fairly strong with growth in the television division. Big companies continue to report good enough earnings to keep the market from falling apart, and as long as that lasts, downside will be limited. One bearish note was a weaker Empire Manufacturing Index report that came in at under -6 vs. expectations for -2.
Here are some stocks we like moving into next week and beyond:
Stocks To Trade
Today, we are looking at an earnings trade in Allstate (NYSE:ALL), longs in Shermin-Williams (NYSE:SHW) and Bunge (NYSE:BG), and shorts in Caterpillar (NYSE:CAT) and eBay (NASDAQ:EBAY).
For an earnings trade, we are looking at Allstate today. We believe that the insurance sector may end up being the best sector for Q3 earnings as the companies are seeing a lot of profit growth across the board. Take Allstate for instance - the company is expected to boost EPS from 0.16 to 1.06. A +0.90 move in EPS would push the TTM EPS to 5.00 for ALL. That means that P/E would go from 10.00 to 8.2 if the current price holds. That P/E ratio accompanying a stock that is seeing such significant earnings growth in a low-growth market will not last, and we fully expect ALL to be moving very strongly to the upside throughout this earnings season into the October 31 report and out of it. We prefer a conservative approach to the stock, and like using the $39 line for building a position as it sits right at the 50-day MA, which has held for several months.
Trade: ALL, Nov17, 39/38 Bull Put Spread
Max Gain: 16%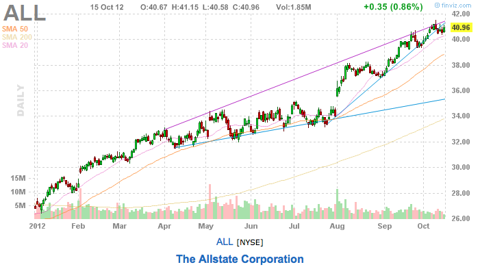 Click to enlarge
For longs, we like the looks of Bunge and Sherwin-Williams. Both stocks are ones that are looking at solid earnings moves in the coming quarter, and we believe that will give each company relative strength to the rest of the market. BG is expected to report 150% growth in earnings along with 13% growth in revenue. That type of growth should not go unnoticed for a company with a PE ratio at 14.4 and future PE below 10. Right now, the stock is building a nice base at 68 and has resistance at 69.50. We believe a break over 69.50 will be a nice place to pick up the stock as we expect it continue to build into earnings, which are on October 25th. SHW has also been looking very strong as of late in a tight upward channel. The stock dropped back to its 20-day MA, and with earnings around the corner, we like taking advantage of some near-term softness along with earnings volatility to lock in premium. The company has not broken its 50-day MA since its last earnings, and it has not broken its upward channel since it began in April. The company looks good to hold 140 through earnings and market weakness.
Stock Trade: Long, BG
Breakout Point: 69.50
Options Trade: SHW, Nov17, 140/135 Bull Put Spread
Max Gain: 14%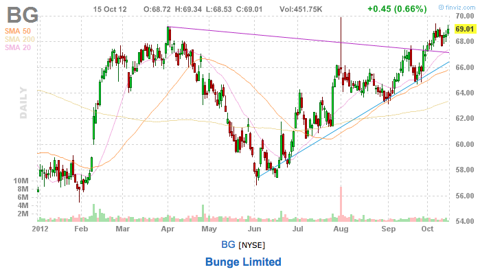 Click to enlarge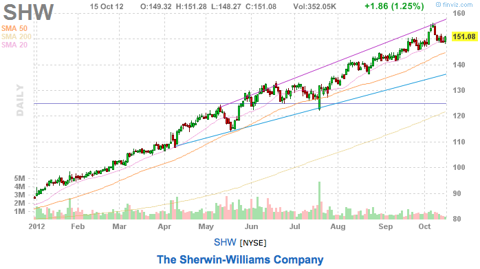 Click to enlarge
For shorts, we like the looks of Caterpillar and eBay. Both stocks underperformed a nice day in the markets today and are looking quite weak right now. CAT did not follow with other industrial goods companies today and continues to look weak since breaking an upward channel. We like shorting CAT into earnings as many are not expecting a good outlook for the company and we believe this weakness will remain. The breakout point to watch right now is 82.00, which has held over the past couple months on two other tests. If that level breaks, we would be shorting as it could signal a lot of sellers. 81.75 is the level to watch.
EBAY also is looking quite weak right now. The company commented today that they are cutting 3% of its workforce and restructuring due to efficiency, and while that could be true, the stock failed its 50-day MA today, and it is near to dropping below an upward channel. Earnings are around the corner on Wednesday, and we want to watch the company into Wednesday. If there are any signs of weakness in earnings, the stock will fail some key levels, which could be places that won't be retaken for some time. We like using the $50 line for a bear call spread on Thursday if there are any hints of weakness.
Stock Trade: CAT, Short
Breakout point: 81.75
Options Trade: EBAY, Nov17, 50/52.50 Bear Call Spread
Max Gain: Currently 28%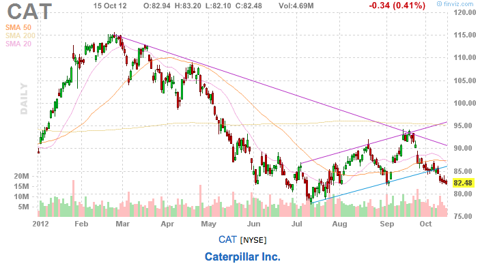 Click to enlarge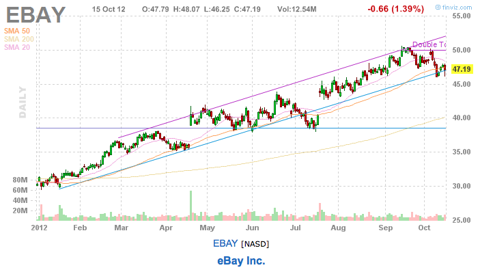 Click to enlarge
Tomorrow's Outlook:
The market finally got some news to rally on today with retail sales and some decent earnings, but this week belongs to earnings reports. Those are going to be all over the place, so it is hard to say what exactly the movement each day will look like. What we do know is that a lot of the major names in the market are beating expectations so far, and if that continues, we could be in for some solid rallying. The important names to watch tonight and tomorrow morning are Coca-Cola (NYSE:KO), Goldman Sachs (NYSE:GS), Johnson & Johnson (NYSE:JNJ), and State Street (NYSE:STT). The market will also be reacting to some data here at home with Industrial Production and CPI due to be released. Other than that, the market will continue to be keeping Europe in its periphery, but is expected from there until Thursday/Friday.
Our Moves/Holdings:
We had a mixed day in the market as we were able to lock in some small gains in our long in Travelers (NYSE:TRV) and McKesson (NYSE:MCK) while we took a neutral gain on an Omnicom (NYSE:OMC) short and took a larger loss in Akamai (NASDAQ:AKAM). We added the long in MCK (which was discussed here) as well as in ALL. Further, we added a bear call spread in United States Oil (NYSEARCA:USO) as well as long in BHP Billiton (NYSE:BHP) and short in Mechel (NYSE:MTL) to our Goldman Trades.
We have the following positions:
In our Short-Term Equity Portfolio we are long McKesson.
In our Options Portfolio, we are long Discover (NYSE:DFS), Intuit (NASDAQ:INTU), Williams-Sonoma (NYSE:WSM), Wal-Mart (NYSE:WMT), and Exxon Mobil (NYSE:XOM). We are short United States Oil.
In our Earnings Alpha Portfolio, we are long Allstate, Michael Kors (NYSE:KORS), Starbucks (NASDAQ:SBUX), Disney (NYSE:DIS) Travelers, Alexion (NASDAQ:ALXN), Costco (NASDAQ:COST), Polaris (NYSE:PII), Crocs (NASDAQ:CROX), Continental Resources (NYSE:CLR). We are short Polo Ralph Lauren (NYSE:RL).
In our Goldman Sachs Up/Down Paper Portfolio, we are long Host Hotels (NYSE:HST), BHP Billiton and Netsuite (NYSE:N). We are short Johnson & Johnson and Mechel.
Chart courtesy of finviz.com.
Disclosure: I have no positions in any stocks mentioned, and no plans to initiate any positions within the next 72 hours.
Business relationship disclosure: The Oxen Group is a team of analysts. This article was written by David Ristau, one of our writers. We did not receive compensation for this article (other than from Seeking Alpha), and we have no business relationship with any company whose stock is mentioned in this article.