In terms of the technology space, there were two huge launches expected in the second half of 2012. The first was Apple's (NASDAQ:AAPL) iPhone, which has already launched, of course. The second is the launch of Microsoft's (NASDAQ:MSFT) new operating system, Windows 8. As I detailed in a past article, the Windows 8 launch was staged over a few months, mixed in with some other launches, such as Windows Server 2012. There is no doubt in my mind that the Windows 8 launch is big for the company. However, for those investing in Microsoft for the long term, this company is not a one-trick pony. There are plenty of other reasons why investors need to be long this stock.
When someone thinks of Microsoft, obviously, they think first of Windows and Office. Those two product lines are extremely important, and I'm not downgrading them in the slightest. However, I believe many tend to think that they represent almost all of Microsoft's revenues, and that is not the case. Windows and Office represented about $40 billion in last year's revenues, but Microsoft did over $73 billion in yearly revenues. Microsoft's Server and Tools business did almost $19 billion in revenues. The Entertainment and Devices division did nearly $10 billion in revenues, and Xbox continues to be the best-selling game console in the U.S. Even the Online Services division chipped in, with almost $3 billion in revenues. Microsoft does have a nicely diversified business, and I think many forget that when they look at the name.
Microsoft is another good bet because it generates lots of profits and has tremendous cash flow. That has allowed the company to build a very impressive balance sheet, affording it opportunities to pay dividends and buy back stock. The company's dividend currently yields 3.15%, which is 30 basis points higher than a 30-year U.S. Treasury bond. Investors recently saw a nice dividend raise. In addition, in fiscal 2012 (ending this past June), Microsoft bought back 142 million shares for $4 billion. The company had $8.2 billion remaining on its buyback program at the end of June. Some may question Microsoft's ability to continue the buyback with only $9 billion of its cash and investments located inside the United States. But what most don't realize is that the domestic cash pile increased by more than $1 billion from the end of the previous fiscal year. If Windows 8 does okay, Microsoft will generate plenty of cash, and that will provide the ability for future dividend raises and buybacks.
When it comes to the competition, it is obvious that Apple and Google (NASDAQ:GOOG) are two of Microsoft's biggest competitors. The unfortunate part for Microsoft is that, while most of the computer companies are struggling, Apple seems to be selling more computers than a year ago. That means iOS is taking more market share away from Microsoft. Obviously, the iPhone has a much higher market share than Windows-powered phones. Microsoft has tried taking on both Apple and Google with its Windows 8-powered Surface tablet, so we'll have to see how successful that product is. Additionally, Google obviously competes in the phone and tablet space, but also in the search business. Microsoft's search business currently is not profitable, which has led some to believe that Microsoft could eventually sell Bing and just get out of that business line. I don't see that occurring in the near term, but if Google and others continue to dominate the space, Microsoft might give up on Bing unless it becomes profitable.
So how do some of the numbers stack up between the big three? I've put a few comparisons in the table below, which shows the currently expected growth forecast for each company in terms of revenues and earnings. It shows the current fiscal year for Microsoft and Apple, and FY 2013 for Google. A price to earnings comparison is also given, based on Friday's close and the current expectations for earnings in the given year. The table also shows the average analyst rating (closer to 1 equals a stronger buy), as well as the average target and the corresponding upside from Friday's close.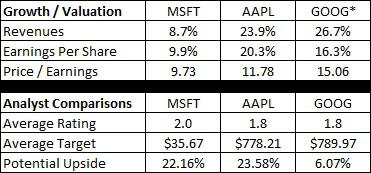 *Non-GAAP estimates. Remember also that Q1 2013 for Google will include Motorola Mobility results not included in Q1 of 2012.
Microsoft has the lowest amount of expected growth, but it also carries the lowest valuation. Is this a fair price to pay? I would argue yes. Microsoft has a 3.15% yield, while Apple is yielding 1.68%, and Google does not pay a dividend. Microsoft is also buying back plenty of stock, enough to reduce the share count each year. Apple has just started buying back some stock, but not enough to reduce the share count yet. Google is not buying back stock. As for analyst opinions, Microsoft is currently rated a buy, while the other two are slightly stronger buys. However, according to analysts, Microsoft has almost as much upside as Apple does, and plenty more upside than Google.
To me, Microsoft is much more than just Windows 8, and investors need to realize that. Yes, Windows and Office are important, but you also have Bing, Skype, Xbox, and more. Microsoft offers a decent amount of growth, a 3-plus percent dividend, and is buying back stock. All of this comes at a reasonable valuation, and analysts see plenty of upside from here. Microsoft will report earnings on Thursday afternoon, and I'm guessing a lot of the questions will be about Windows 8. Fair enough, but I'm waiting to hear about how everything else is doing. This is a good stock for long-term investors to be in, and I think that notion will be reinforced later this week.
Disclosure: I am long AAPL, and I may initiate a long position in MSFT over the next 72 hours. I wrote this article myself, and it expresses my own opinions. I am not receiving compensation for it (other than from Seeking Alpha). I have no business relationship with any company whose stock is mentioned in this article.