Russia just declared war… on investors.
As the "R" in BRIC emerging markets, Russia has been one of the hottest places for overseas capital flows in the last ten years. Between 1997 and 2007, capital inflows to the country rose from $4.8 billion to over $50 billion: an all time record.
It's not difficult to see why. On paper Russia has all the hallmarks of a booming market: a fast-growing economy, dramatic increases in wages and standards of living, and massive currency reserves.
Russia's GDP has grown at an average annual rate of 7% since 1998. Over the same time period, average monthly salaries have risen eight-fold while unemployment has halved to 6%. All told, 20 millions Russians have risen out of poverty as the country's economy grew to be sixth largest in the world. And thanks to its massive energy reserves—#1 for natural gas, #2 for coal, and #8 for oil worldwide—Russia sits atop the third largest currency reserves in the world, $581 billion.
However, as good as Russia looks on paper, investing in the country has proven quite problematic. As much as the Kremlin purports to embrace free market capitalism, Russia's government has a nasty habit of playing hardball with domestic and international firms doing business there—see Yukos in 2004 and BP (NYSE:BP), Mechel (NYSE:MTL), Evraz Holding (OTC:EVGPF), and Raspadskaya Coal today.
Russia also likes playing hardball regarding energy supplies—it cut off supplies to Ukraine in 2006—and starting cyber wars against its adversaries—Estonia, the U.S. and most recently Georgia. All of these factors combine to make investing in Russia a bit like playing Russian roulette.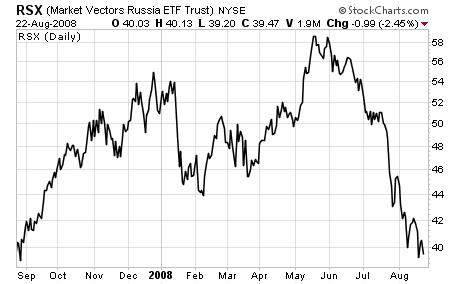 However, it wasn't until Russia physically invaded Georgia this month that investors really started fleeing the country. The Financial Times reported last Thursday that investors have been withdrawing funds from Russia at the fastest rate since the ruble crisis in 1998. They withdrew $16.4 billion in the week of August 8 alone: the second largest weekly drop in 10 years.
Crisis often leads to great value. And Russia as a whole is now quite cheap — the Russian stock exchange has fallen 23% this year and now trades at seven times earnings, one of the cheapest valuations in the world.
But I'd be very careful about putting any money there.
The simplest means of investing in Russia are the two Russian ETFs: Market Vector Russian ETF (NYSEARCA:RSX) and the ING Russia Fund (MUTF:LETRX). However, both of these funds are heavily invested in Russia's massive energy and mineral companies — the very companies the Kremlin has a history of interfering with. So I'd steer clear of either of those.
However, if you're feeling daring, I'd suggest looking at consumer driven plays in Russia. The macro-trends — Russia's growing middle class and increased standard of living — are booming. And while even these companies aren't above political interference —  Russia froze food prices from Oct '07- Jan '08 — they're too politically sensitive for the government to shut down.
Here are a few worth looking at:
| | | |
| --- | --- | --- |
| Company | Symbol | Business |
| Wimm-Bill-Dann Foods | WBD | Food products |
| Rostelecom | ROS | Telecommunications |