Shares of Philip Morris International (NYSE:PM) have steadily returned 38% over the past 12 months. At $91.70 per share, the stock is trading very close to its 52-week high of $94.13 attained recently. PM's solid global exposure, defensive nature, robust cash flow, as well as the decent 3.7% dividend yield have contributed to the best 1-year stock price performance in the cigarette sector (see charts below). However, I am of the view that investors should become cautious for this investment given that the shares are likely overbought at this level and the stretched valuation has significantly eroded the investment's margin of safety.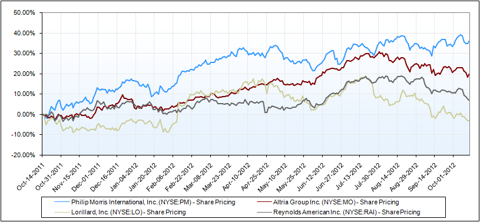 My opinion is based on the following value analysis:
PM stock appears expensive relative to the firm's financial performance. Comparing to a peer group consisting of PM's majors including Altria Group (NYSE:MO), Reynolds American (NYSE:RAI) and Lorillard (NYSE:LO) (see table below), PM has a lackluster growth potential. Analysts in average predict PM's revenue, EBITDA, and EPS to grow by 2-year CAGRs of 3.7%, 4.7%, and 8.8% over the current and next fiscal years, compared to the peer averages of 2.7%, 6.3%, and 13.0%, respectively. In addition, PM's EBITDA margin is forecasted to expand by only 0.8% over the same period, significantly below the peer average of 3.5%. However, on the profit side, PM has demonstrated a superior profitability as all of the firm's margin and capital return measures are above the peer averages. In terms of leverage and liquidity, PM assumes a slightly higher leverage as reflected by the higher debt to capitalization and debt to EBITDA ratios. PM has been able to maintain a very high free cash flow margin at 27.1% on a LTM basis, substantially above the peer average of 21.5%. Due to the higher profitability, the company's interest coverage ratio is higher than the average. However, both PM's current and quick ratios are far below the peer averages, reflecting a mediocre balance sheet.

In summary of the financial comparison, PM's financial strengths are the strong profitability and free cash flow generation, but the firm's relatively weak growth potential remains a concern. As such, it would be reasonable to see a small valuation premium for the stock. Nevertheless, PM's current valuations at 5.5x EV/sales, 11.8x EV/EBITDA, 18.9 EV/FCF, 18.2x P/S, and 18.2x P/E (all on the LTM basis) actually represent a sizable average valuation premium of 33% (see table above), suggesting that the stock is somewhat overpriced.
PM also seems expensive relative to the stock's historical valuation level. The stock's LTM EV/EBITDA and LTM P/E multiples are trading at 13% and 14%, respectively, over their 3-year averages (see charts below). Over the past 12 months, PM's valuation has outperformed that of the comparable peers and the S&P 500 index (see chart below). It appears that the valuation expansion has been supporting the company's financial estimates which have experienced multiple upward revisions over the past 12 to 18 months (see tables below).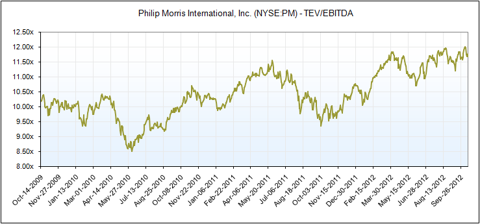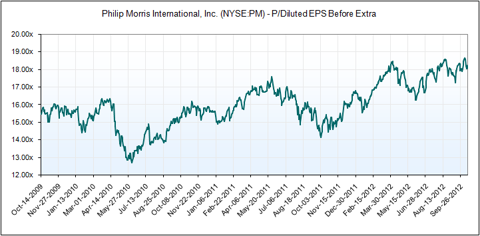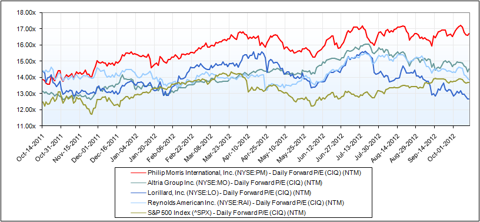 However, a further look at the company's historical financial metrics proves that the increased valuation is somewhat exaggerated. Comparing PM's financials at present to the figures in exactly a year ago, the company's revenue, EBITDA, and EPS 2-year CAGRs have largely come down (see table below). The estimated expansion in EBITDA margin has also dropped from 2.4% to 0.8%. PM's profitability condition is almost unchanged, but the firm's LTM free cash flow margin has reduced from 31.6% to 27.1%. Despite the weakened financials, PM's valuation multiples (including PEG) have expanded by an average of 20.4% over the past 12 months.

Moreover, according to Capital IQ, sell-side analysts have an average price target of $92.98 for the stock, implying a very limited upside potential.
Despite all of the aforementioned negativity, I still believe in PM's capacity to sustain the current pace of dividend growth. Since 2008, dividend per share has been raised by a 3-year CAGR of 22% from $1.54 in 2008 to $2.82 in 2011 (see chart below). In the past years, the company's annual dividend paid only represented roughly a half of the annual free cash flow (see chart below), indicating that there is ample room for future dividend growth.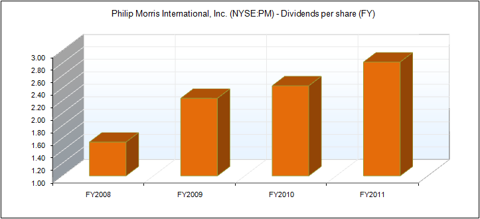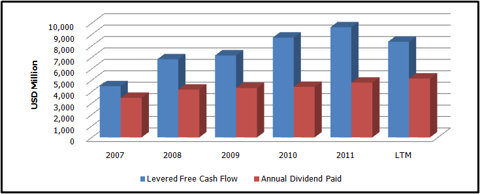 Bottom line, PM's risk/reward profile has deteriorated as the stock appears increasingly expensive. However, the company's financials remain healthy and the dividend yield is well supported by management's strong commitment to a quality dividend policy and the firm's robust capability in generating free cash flow. As such, I suggest a "wait and see" approach for the stock and would only consider buying the shares on a pullback.
Comparable analysis table is created by author, all other charts are sourced from Capital IQ, and all financial data is sourced from Morningstar and Capital IQ.
Disclosure: I have no positions in any stocks mentioned, and no plans to initiate any positions within the next 72 hours. I wrote this article myself, and it expresses my own opinions. I am not receiving compensation for it (other than from Seeking Alpha). I have no business relationship with any company whose stock is mentioned in this article.