By Brad Zigler
Did you have cocoa with your breakfast this morning? No?
Well, you better get some while you can. And don't say that we didn't warn you in advance. A couple of weeks ago, we rearranged the place settings on our monthly Breakfast Index (Sentimental, Not Necessarily Cheaper, Breakfasts) table, highlighting cocoa's recent price advance:
July Breakfast Index
 

Commodity

 

Contract Month

 

30-Apr-08 Price

 

31-Jul-08 Price

3-Month Change (%)

Annualized Change (%)

Sugar #11

October '08

12.70 ¢/lb

13.93 ¢/lb

9.7

43.1

Butter, AA

September '08

148.50 ¢/lb

155.75 ¢/lb

4.9

20.3

Cocoa

September '08

$2,739/tonne

$2,858/tonne

4.3

17.9

Coffee

September '08

137.75 ¢/lb

139.35 ¢/lb

1.2

4.6

Wheat

September '08

$8.1550/bu

$7.8375/bu

-3.9

-15.4

Milk, Class III

September '08

$19.35/cwt

$17.97/cwt

-7.1

-24.9

Pork Bellies (Bacon)

August '08

75.950 ¢/lb

68.500 ¢/lb

-9.8

-33.0

Orange Juice

September '08

122.80 ¢/lb

106.55 ¢/lb

-13.2

-42.3

Average

 

 

 

-1.7

-3.7
Now comes word from the International Cocoa Organization that a global shortage of the chocolate stuff will be twice as large as previously forecast. The crop year's output was originally expected to fall short of demand by 41,000 tonnes. The deficit's now projected at 88,000 tonnes. Cocoa futures, as a result, have been on a tear.
NYBOT Cocoa (December '08) Intraday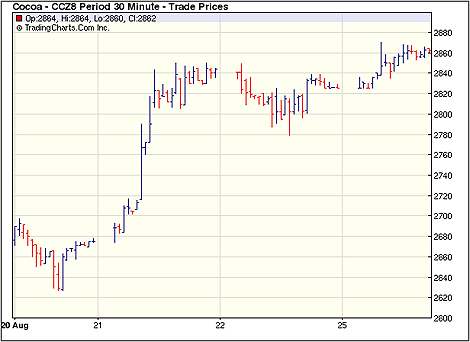 Cocoa, though, is not at new highs for the year, as you'll be able to tell from the monthly chart below. Some of the sell-off that preceded the current rally, however, can be attributed to cocoa's normal seasonality. That prices are now buoyed is rather typical of cocoa's August trading pattern.
NYBOT Monthly Cocoa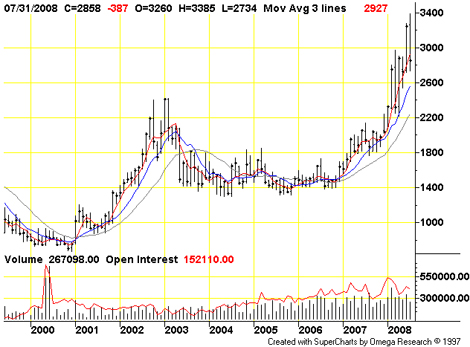 The question to be addressed is whether cocoa's autumn pattern will be typical. Trading in September and October can be volatile, as the market lines up in anticipation of harvest. What we see in the long-term chart could be the "cup" in a "cup and handle" formation - a fairly reliable indicator of higher prices to come. A rangebound market in the next couple of months could, in fact, form the handle. November and December are typical rally months for cocoa, as fears of harvest delays and disease occupy traders' thoughts.
Given the potential volatility and time horizon for this pattern's realization, breakfasters with a taste for cocoa may want to consider the iPath DJ-AIG Cocoa ETN (NYSEARCA:NIB) in lieu of futures.