Citigroup Inc. (NYSE:C) continues its path towards revitalization, posting very strong core business results in the 3rd quarter. Excluding non-operating items such as the negative mark on the sale of Morgan Stanley Smith Barney (MSSB), CVA, and a tax benefit, net income was $3.3 billion, or $1.06 per share. It is important to note that this $3.3 billion in net income comes despite $500MM and $100MM of extraordinary legal and repositioning costs respectively, which likely will trend down over the long term. Core revenues were $19.3 billion, up 3% YoY, while operating expenses declined by 2%. Credit costs of $2.7 billion declined by 20% from last year, while net credit losses of $4 billion were 12% lower over the same period. Citigroup's end of period loans grew 3% YoY to $658 billion based on strong growth at Citicorp, despite the partial offset from the aggressive wind down of Citi Holdings. Deposits grew by 11% providing the company with extremely cheap funds to foster growth as demand eventually increases. Citigroup's global consumer businesses actually enabled the company to grow its net interest margin to 2.86% from 2.81% sequentially, which is significantly better than most of its competition which saw declines.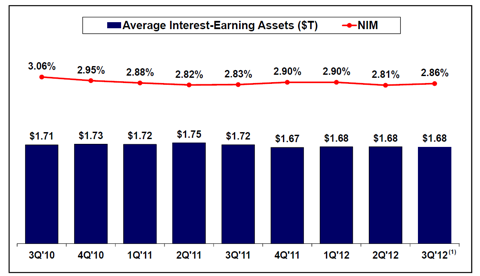 Source: Citigroup 3rd quarter Investor Presentation
Citigroup's understated CEO Vikram Pandit has helped the company cut costs while maintaining a focused approach to growing its core operations. In the 3rd quarter, all three of Citigroup's operating businesses had positive operating leverage for the 3rd quarter in a row. While at first glance Citigroup's operations seem to lag its top competition, JPMorgan (NYSE:JPM) and Wells Fargo (NYSE:WFC), a closer examination shows that the core business moving forward, Citicorp, is actually generating very impressive earnings with great prospects for the future. Citicorp generated 3rd quarter revenues of $18.4 billion and net income of $4.6 billion. Citicorp has $20 billion of earnings power in a more robust economic environment, yet the market capitalization of Citigroup as a whole is just over 5 times that normalized earnings power. Citicorp revenues grew 5% bolstered by 11% total loan growth, and expenses declined 2%.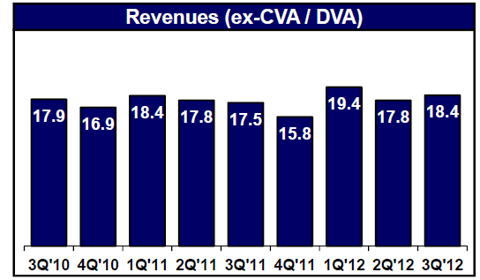 Source: Citigroup 3rd quarter Investor Presentation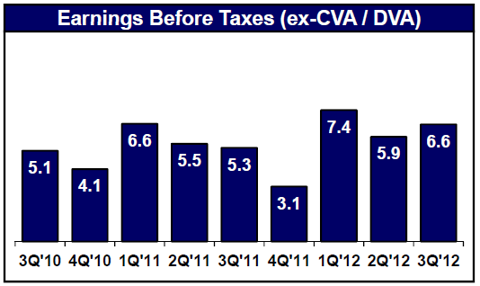 Source: Citigroup 3rd quarter Investor Presentation
While Citigroup was the loser in its arbitration with Morgan Stanley (NYSE:MS) regarding the valuation of MSSB, Citigroup at least was a winner from a regulatory point of view as the disposition reduced the assets of the liquidating Citi Holdings portfolio by $20 billion. Now Citi Holdings' $171 billion of assets only accounts for 9% of assets on the balance sheet, and assets are down 31% YoY. This is a huge development as virtually all of Citigroup's losses in recent quarters have been derived by Citi Holdings, and once the focus shifts to Citicorp, which has been generating returns on tangible equity in excess of 15%, it is very likely the stock will appreciate substantially.
Citigroup's balance sheet is stronger than it has ever been, with roughly $400 billion in highly liquid securities, mostly consisting of cash and government securities. The Basel III Tier 1 common ratio of 8.6% is among the highest in the global banking industry and positions the company to likely be able to aggressively return capital to shareholders in 2013. Unless the stock appreciates sharply, stock buybacks would be enormously accretive for long-term shareholders at discounts to tangible book value. If you exclude the non-economic CVA/DVA and Citi Holdings, Citigroup's year-to-date return on allocated tangible common equity is 17.2%, and return on Basel III Tier 1 on a fully implemented 9.5% basis is 18.7%. For Citigroup as a whole, the YTD return on the tangible equity supporting the businesses is 11.8%, and the return on Basel III on a fully implemented basis is 10.7%. $40 billion of tangible common equity must be retained to support Citigroup's enormous deferred tax asset, so as the DTA is reduced through retention of profits, this capital should be able to profitably be redeployed at higher rates of return. These are exceptionally strong numbers when you factor in the fact that the stock is trading below 70% of tangible book value, which is really a proxy for liquidation value. This means that you are getting the whole Citigroup franchise and future earnings for free, which just doesn't make sense when you take into consideration the company's less-risky business model due to higher capital ratios, and the attractive growth prospects.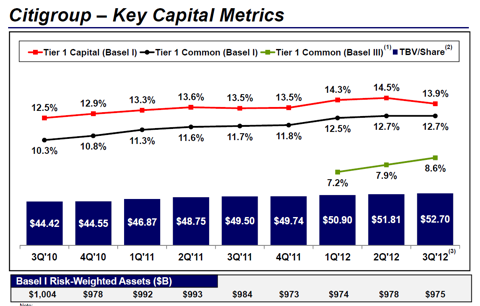 Source: Citigroup 3rd quarter Investor Presentation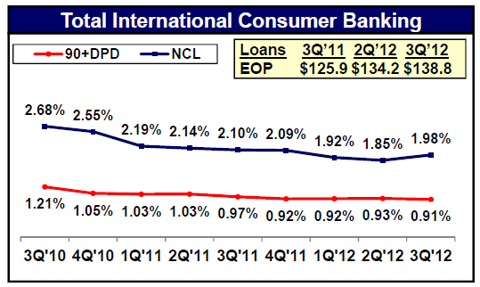 Source Citigroup 3rd quarter Investor Presentation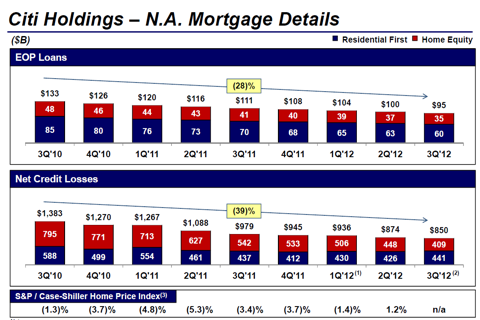 Source: Citigroup 3rd quarter Investor Presentation
Credit metrics have consistently been improving for the last two years and don't show signs of slowing down. The North American operations have really turned the corner, with strong mortgage refinancing production boosting profits. As housing continues to strengthen, I'd expect Citigroup to be one of the largest beneficiaries as they have consistently had the highest reserves against potential losses, which can be reversed if the actual losses are below estimates. Latin America is a real source of strength for the company, and in the 3rd quarter, revenue grew by 7% while expenses were flat. Business has gotten more challenging in Asia, particularly in Korea due to changes in the regulatory environment. Revenues were down in Asia by 2%, while expenses were up 8% in constant dollars. While this is disappointing, it is important to note that Asian growth prospects are extremely attractive and while bumps in the road will occur, the long-term opportunity is tremendous for Citigroup in the region. The company believes that it can attain Asian revenue growth of 4-6% moving forward with positive operating leverage beginning in 2013.
The market's current paranoia towards the large U.S. banks centers on their capital markets businesses. This is primarily cited as the reason for the valuation disconnect between the larger money center banks, and the smaller regional outfits. Citigroup's Securities and Banking business grew revenues 15% YoY and 7% sequentially. Investment Banking revenues of $926MM grew 26% from last year with increases all across the board. Fixed Income revenues were a real source of strength with revenues of $3.7 billion, up 63% YoY, and 31% sequentially. While I wouldn't expect the Fixed Income business to post these types of returns every quarter, I do believe that with reduced competition, the capital markets businesses provide tremendous upside potential for when global markets improve over time. Citigroup has unparalleled geographic scale, which allows the company to win business from all regions of the globe. Its diverse and global operations will expose it to more short-term issues as opposed to a more domestic business profile such as a Wells Fargo, but the benefits of this are that the company can allocate capital to the highest returning areas. Citigroup has gone from an undercapitalized and poorly run conglomerate to a geographically dynamic company with a fortress balance sheet.
The Transaction Services business posted revenues of $2.7 billion, which were down 5% YoY, and up 1% in constant dollars. Growth in Treasury and Trade Solutions was mostly offset by a decline in Securities and Fund Services. End of period trade loans were up 30% from the prior year and average deposits were up 17%, while expenses were down 5% from last year. These factors position the business for strong performance moving forward. Citi's Transaction Services business is a key differentiator between it and its competition, and this business tends to have a lower risk profile than some of the other credit related businesses.
While Citigroup's stock has performed well in 2012, it is coming off a truly disastrous 2011, where despite the business value increasing, the stock dropped precipitously. Even after Monday's nearly 6% increase, Citigroup trades at a 32% discount to its tangible book value of $52.70. I'd expect tangible book value to grow by 13-15% per annum over the next 5 years not including any dividend payouts. This sets the stage for 20% per annum returns for an investor buying Citigroup at current prices. For investors that are skittish about buying something when it has risen substantially, selling put options provides a disciplined approach to acquiring the stock at cheaper prices, but the investor risks missing out on tremendous upside if they aren't long the stock.
Disclosure: I am long C, WFC, MS, JPM. I wrote this article myself, and it expresses my own opinions. I am not receiving compensation for it (other than from Seeking Alpha). I have no business relationship with any company whose stock is mentioned in this article.