The second-best-performing Czech blue chip, and the only one listed on U.S. exchanges, is Central European Media (NASDAQ:CETV).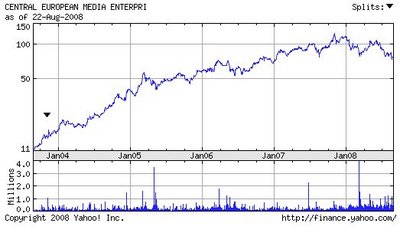 If you look at the chart, share performance is just amazing. But broad selling pressure has sent the price from an all time high of $126 to $77. The company released very good last quarter with revenue growth y-o-y 41%. And net income $67.6 has been almost doubled compared to year ago.

EPS $1.58 was well above analyst expectations $1.16.

Key drivers for success were unexpectedly strong performance on markets in Czech Republic, Romania and Croatia, and the stabilization of USD against EUR.
Analysts are seeing no reason for the recent drop other than political tensions in the area. On Thursday, Citi analysts said "We believe that now is the
time to buy CETV. The shares are trading at their lowest level in over
a year while nothing has changed fundamentally to justify the de-
rating" and reiterated a $100 target.

My outlook for CME remains positive as all the key markets of their business (Central and Eastern Europe) show still strong economic growth. The USD rebound could also positively impact strong earnings in following quarters. Current P/E valuation is 24 and earnings growth 95%. This makes a very interesting discount with PEG valuation just 0.25.

Disclosure: Author doesn't own CETV shares or other investment products.