If you picked today to get back from holidays and re-commence messing about in the capital markets, I'm guessing you wish you hadn't. The indices all tanked, with everything from oil to the financials doing a Fearless Freep dive into nothingness.
Then again, there were some bright lights out there. Matter of fact, two stocks (indicated by white arrow below) that have lost billions in market capitalization, that are the subject of non-stop news chatter, that are rumored to be set to take down Western Capitalism (sic.), were up big today. Fannie Mae and Freddie Mac were up 10.4% and 18.2%, respectively.
Not to put too fine a point on it, but we are deep into strange, strange market territory when these two neutron bombs not exploding yet is the sole sources of market cheer.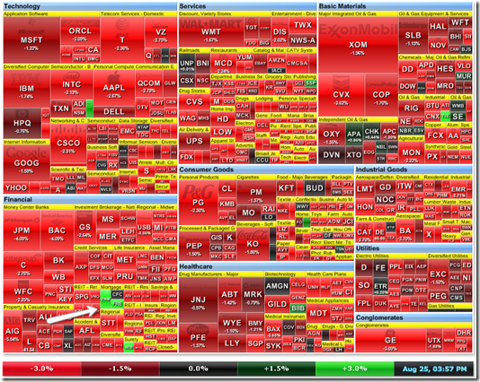 [via Finviz]