VeriFone (NYSE:PAY) is a company that many of us use on a daily basis. Yet when I mention the name to inventors, I receive a blank stare in return. When you pump gas, purchase groceries, or pay for taxi fare using your credit card, there is a high likelihood you are utilizing one of VeriFone's devices. Last night as you finished dinner and handed the waiter your credit card they very well could have swiped it through a VeriFone product. I like to think of the company as play on "technology infrastructure". Unknown brands like VeriFone have the potential to add tremendous profits to your portfolio if you buy at the right time.
There has been a lot of uncertainty surrounding the company and shares have fallen roughly fifty percent in the past two quarters. The growing interest in mobile commerce has caused investors to avoid VeriFone and stick with more familiar, fashionable stocks. What many investors make the mistake of doing is grouping VeriFone together with Square, or eBay's (NASDAQ:EBAY) Paypal. The later are both payment processors, Verifone, although a player in the mobile commerce arena, creates the technology infrastructure for retailers to utilize (i.e. Point of Sale). Additionally, a large component of revenue (roughly one third in FY11) came from Europe, the problems on that continent have caused a wave of selling pressure.
Short interest peaked at the same time the stock did during May, and has been steadily declining. The bears have made their profit and now I believe a new upward trend is about the emerge. As the chart below illustrates, less than 6% of the shares outstanding are short. The bad news is out, and given the growth opportunities that lie ahead for this company, shares appear undervalued.

Source: Bloomberg
Revenue Growth
Organic revenue growth has grown at a CAGR of 16% (see chart below). I believe there are tremendous opportunities that await VeriFone in the years ahead and although we may not see 16% growth, double digit revenue growth still appears likely.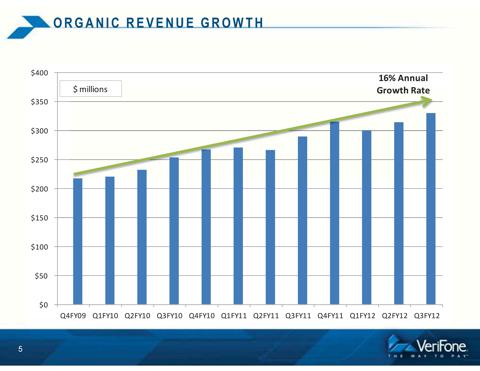 Source: Verifone
There are multiple sources from which revenue could grow, below are only a handful which I feel offer the greatest opportunities:
Taxi Cabs - Currently the company has payment devices in over 35,000 vehicles in select cities worldwide. CEO Doug Bergeron anticipates over the next few years 100,000 vehicles will utilize a VeriFone payment system. If you haven't had the opportunity to ride in a taxi equipped with a VeriFone device, it is truly a unique experience. From the touch-screen enabled television, passengers can monitor their fare, map their current location, and watch VNET.
VNET, which is offered through multiple VeriFone products, allows customers to watch live television, map their current route (taxi use), purchase tickets for shows and the lottery. This allow advertisers unique access to consumers who are forced to remain in front of the screen for a set amount of time. The service is also being implemented at gas station pumps and provides consumers with pop-up couponing allowing them discounts inside the convenience store.
Mobile Checkout - Nobody enjoys waiting in line to make a purchase, VeriFone is taking employees from behind the cash register and allowing them to ring up transactions anywhere in the store. Through credit card readers that adapt to the iPod Touch and iPad devices, customers can have a much more personalized experience each time they step into the store. One of the latest companies to adapt this technology is Finish Line (NASDAQ:FINL). Employees have the ability to bring the customer a pair of shoes, scan the bar code, swipe the credit card, and the customer is on their way. This access to "line jumping" and personalized approach to shopping creates a unique and memorable user experience.
PayPal - As more and more companies allow PayPal as a means of payment, VeriFone has created an agreement to implement them on the point of sale systems. VeriFone has devices at roughly 80% of the top 200 retailers in the United States. Allowing PayPal to utilize these payment terminals could allow the VeriFone name to continue for years to come.
Google Wallet and Near Field Communication - Google (NASDAQ:GOOG) Wallet enables consumers to store their payment cards and loyalty cards on NFC enabled Android smartphones. With Android devices rapidly outpacing Apple (NASDAQ:AAPL) iPhone sales, this may be the single largest opportunity VeriFone has. As retailers upgrade their point of sale products, allowing them to accept payment via NFC, revenue will flow directly to VeriFone.
Financial Strength
The company has gone through a period of acquisitions in which a large amount of debt accrued on the balance sheet. Given the recent Hypercom acquisition and the hurdle of dealing with the AntiTrust Department, I don't anticipate the company making further acquisitions. Cash on the balance sheet was $410 million as the most recent quarter end. Free cash flow has grown at a CAGR of 46.6% over the past few years (see chart below), and as merger related expenses slow down, this will likely continue expanding.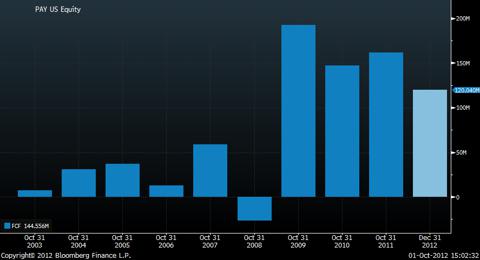 Source: Bloomberg
Valuation
The company has disappointed Wall Street analysts with the three latest earnings reports. Management has also struggled with credibility in the eyes of investors and revenue guidance and lack of clarity continue to be an issue. However, given this current struggle, the stock sell off appears to be overdone, and shares are trading historically low valuations. With shares trading at just under 10x earnings (see chart below), I think long term investors have an attractive entry point. To put this in perspective, the SPDR S&P 500 ETF (NYSEARCA:SPY), which tracks the S&P 500 index, trades at 14x earnings.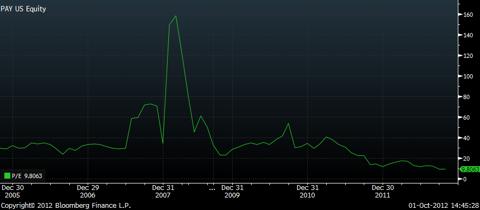 Source: Bloomberg
Conclusion
While there are numerous risks that go along with this VeriFone, I think the pros are beginning to outweigh the cons. We will likely see more predictable revenue and earnings growth out of this company once merger related costs are absorbed. The valuation story is still the most compelling this stock has to offer. The potential drivers of growth I listed above have the ability to make VeriFone a household name five to ten years down the road. Although many investors will likely wait for improved financial results before loading up on shares, scaling into positions at today's price level offers long term shareholders the potential for outsized returns.
Note: All data is directly from SEC Filings, press releases, and investor presentations.
Disclosure: I am long AAPL. I wrote this article myself, and it expresses my own opinions. I am not receiving compensation for it (other than from Seeking Alpha). I have no business relationship with any company whose stock is mentioned in this article.