The weak economic environment has shifted consumer spending away from malls to factory outlet stores in the outskirts of big cities. Tanger Factory Store (NYSE:SKT) has been a beneficiary of this trend. In fact, Tanger has been one of the better performers since the recession in 2008.
It doesn't hurt that a disciplined management team has managed growth and leverage during tough economic cycles, results of which have translated into strong stock performance.
A Quick Look At The Stock:
Tanger Factory stock trades around $31.99 versus its 52-week range of $25.99-$34.04, returning 23% in the last 1 year. The stock is trading at a FFO multiple of 20 times versus a forward FFO multiple of 18 times. Looking at the EV/EBITDA multiple, Tanger is trading at 20 times, a premium to its peer group's multiple of 19 times. The dividend yield on the stock is 2.3%. We would like to highlight that for the period 2008-2009, Tanger stock lost around 18% versus its peer Simon Property (NYSE:SPG), which lost almost 45% for the same period. Tanger's strong fundamentals have provided a floor for the stock.
A Quick Look At The Fundamentals:
Given that Tanger's focus is factory outlet centers, a weak consumer spending environment could continue to benefit the company as we see more consumers shopping for discounts
Tanger maintains a strong occupancy rate of 98% as of September 2012
New outlet centers in Houston and Glendale are expected to be at least 90% leased at opening in November
Tanger has a diversified tenant base with The Gap (NYSE:GPS) being the largest tenant occupying less than 8% total gross leasable area
Management maintains a conservative balance sheet with $950 million in unsecured debt, and no significant near-term maturities
Management has a proven track record of completing all development earlier than expected
Conclusion: Tanger is a strong player in the retail REIT space. The company's operating performance, and disciplined balance sheet management is clearly reflected in the valuation of the stock. That being said, it's a company to add to your investment radar for any possible pullback in the stock. Risk related to investing in the name is an increased competitive landscape as peers begin to build outlet centers.
For those of you looking for other investment ideas in the retail REIT space, we encourage you to look here.
The chart below compares share performance over the past year. The letter "D"s mark dividends paid.
click to enlarge image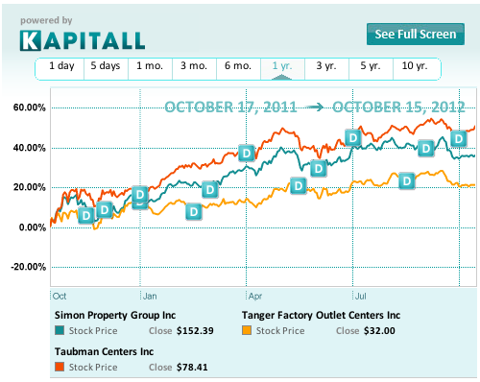 Written by Kapitall's Sabina Bhatia. Tool provided by Kapitall.
Disclosure: I have no positions in any stocks mentioned, and no plans to initiate any positions within the next 72 hours. I wrote this article myself, and it expresses my own opinions. I am not receiving compensation for it (other than from Seeking Alpha). I have no business relationship with any company whose stock is mentioned in this article.