Abbott (NYSE:ABT) gave investors another reason to be long AbbVie when the company splits in two later this year, reporting it met endpoints in its Phase IIb trial for ABT-450, an ex-interferon treatment of Hepatitis C, genotype I.
Currently, Hep C is treated using combination therapies which still rely on interferon and often Ribavirin, to improve efficacy. However, interferon patients suffer significant side effects, suggesting non-interferon therapies will mark a big step forward in patient care.
Big Pharma is targeting non-interferon options.
Outside of Abbott, a number of big pharma companies are working on non-interferon treatments, including Bristol Myers (NYSE:BMY), with asunaprevir and daclatasvir, Merck, Gilead (NASDAQ:GILD), with GS7977, and Vertex, with VX-222.
Bristol Myers combination therapy of asunaprevir and daclatasvir generated a 77% success rate 24 weeks after treatment ended in Phase II. As the drug moves to Phase III, investors should be watching to see if the success rate in hard-to-treat patients, which was much lower than null responders at 64% versus 91%, respectively.
Gilead's GS7977 paired with Ribavirin in Gilead's Electron trial showed 88% of patients were virus free 4 weeks after completing treatment.
Vertex's VX-222, combined with Incivek and Ribavirin and without interferon, produced a success rate of 83% after 12 weeks, prompting Vertex to conduct a Phase IIb trial of this ex-interferon regimen with full data expected at the Annual Meeting of the American Association for the Study of Liver Diseases in November.
But, Abbott's success will be hard to top.
Abbott's combination of ABT-450 with ABT-267, ABT-333 and Ribavirin showed a 99% cure rate after 12 weeks following treatment. Hard-to-treat case, those most interferon intolerant, showed a 93% rate.
Abbott plans to move the drug into Phase III, studying the combinations both with and without Ribavirin.
Hep C is a massive market.
In spring 2011, both Merck (NYSE:MRK) and Vertex (NASDAQ:VRTX) gained approval for boceprevir (Victrelis) and teleprevir (Incivek), respectively. Both drugs further improve interferon and ribavirin's effectiveness and both are high priced drugs generating significant sales.
In Q2, Vertex pocketed $328 million from Incivek and guided for full year sales of $1.1-1.25 billion - making Incivek the fastest drug to reach $1 billion in history. Merck's Victrelis was no slouch either, generating $126 million in Q2 sales.
According to the World Health Organization, some 2-4 million are chronically infected in the U.S., with another 5-10 million in Europe and as many as 12 million in India too. At a prevalence rate of 3%, some 170 million may carry the disease worldwide. Here in the U.S., about 150k new cases are diagnosed annually.
According to Express Scripts (NASDAQ:ESRX), spending on Hep C therapies rose 194% last year, thanks in part to Victrelis and Incivek. Spending is likely to double to $85 billion in the next 20 years as boomers age. Peg interferon remains a big piece of the spending, controlling over 40% of Medicaid's Hep C spend in 2011.
This suggests a significant opportunity for the next generation of hep C treatments as they siphon sales away from peg interferon, which gives investors another compelling reason to be long Abbvie following Abbott's spin-off.
Finally, Abbott is historically sluggish in November over the past decade, suggesting any weakness next month may prove a good opportunity to add to positions.
Source: Seasonal Investor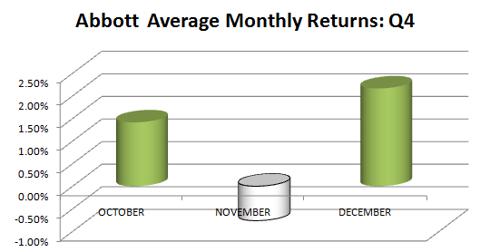 Disclosure: I have no positions in any stocks mentioned, and no plans to initiate any positions within the next 72 hours. I wrote this article myself, and it expresses my own opinions. I am not receiving compensation for it (other than from Seeking Alpha). I have no business relationship with any company whose stock is mentioned in this article.