Home Properties (NYSE:HME) owns, operates, acquires, and rehabilitates apartment communities in the Northeast, Midwest, and Mid-Atlantic markets in the United States. The company's stock is trading around $58.81 versus its 52-week range of $52.11-$66.98, up 8% in the last one year.
More importantly, the stock yields 4.5%. Compare this to Apartment Investment and Management (NYSE:AIV), which yields 3%, and Avalon Bay Communities (NYSE:AVB) which yields 3%.
The fundamentals that support the dividend yield:
As organic growth continues, the company reported Q2-2012 FFO of $0.96, higher than the consensus of $0.95. Additionally, the company has increased FY2012 FFO guidance by $0.07. A decrease in expenses, and better than expected performance in a weak economy has become a trend for the company
Occupancy is a solid 96.2%, which has been a steady increase by 70 bps from Q1-2012. Occupancy rate a year ago was 95.8%. Although low mortgage rates have been attractive for a large amount of new home buyers, the high unemployment rate is still restricting many people to take the risk of a new mortgage. On the other hand, as young people find jobs, they are moving out from their parent's homes, and renting apartments. Given the higher demand for apartments, rents on new leases were also up 4% in Q2-2012 versus Q1-2012.
The balance sheet consists of $2.9 billion in debt with only $190 million maturing in 2013. The company has maintained its fixed charge coverage of 2.8x
Liquidity is not a concern given that the company has $10 million in unrestricted cash on their balance sheet, and $75 million available on its revolving credit facility.
Home Properties is well within the restriction on all its balance sheet covenants.
We will conclude by saying that the dividend yield of 4.5% on Home Properties stock is the highest among the apartment sector REITs. The company has shown an improvement in fundamentals in a weak economic environment, and has forecasted a further improvement in earnings for full year 2012. A strong and improving balance sheet provides long-term support for the dividend.
Risk in investing in Home Properties remains a sharp increase in the supply of apartments, which might hurt occupancy rates, and an increase in unemployment rate, which might also mean a decrease in rent.
For more ideas on high yielding REITs, read Health Care REIT: A Dividend Story For Your Wallet.
The chart below compares share performance over the past year. "D"s mark dividends paid.
click to enlarge image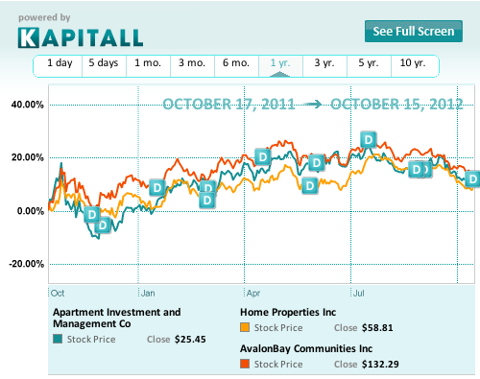 Written by Kapitall's Sabina Bhatia. Tool provided by Kapitall.
Disclosure: I have no positions in any stocks mentioned, and no plans to initiate any positions within the next 72 hours. I wrote this article myself, and it expresses my own opinions. I am not receiving compensation for it. I have no business relationship with any company whose stock is mentioned in this article.