Don't you just love a bargain? Those who bought Workday (NYSE:WDAY) Monday didn't get one. The Software-as-a-Service stock trades at a dizzy 41.9 X sales. So far, this IPO has catapulted up 86% from its $28 offering price just this last Friday.
At that P/S ratio, the other names in the group look downright cheap. Cornerstone OnDemand (NASDAQ:CSOD), NetSuite (NYSE:N), Saba Software (OTCPK:SABA), and Ultimate Software (NASDAQ:ULTI) all have lower P/S valuations.

Still, Workday has been growing its revenues faster than its peers. Workday's revenues grew at a 118% clip for the first 6 months of this year, far greater than the other SaaS stocks mentioned. No wonder investors went gaga over the stock. Workday is piling up revenues at a blistering pace but does it deserve the sky-high P/S valuation?
I hate to be a party pooper. Per the prospectus, sales growth is actually decelerating. Workday revenue growth has been dropping from 294% in 2009 and 170% in 2010. Sorry, guys, but wild valuations call for wild sales acceleration and Workday's best days might be behind it. Following the trend, it wouldn't be surprising to see Workday's revenue growth slow next year to a 60 to 70% rate. Not bad, but not worth the staggering valuation.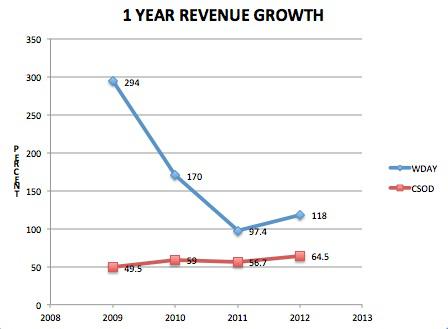 With decelerating growth, Workday investors should swap into the more attractively priced Cornerstone. You get revenue growth at easier to swallow valuations.
Disclosure: I have no positions in any stocks mentioned, and no plans to initiate any positions within the next 72 hours. I wrote this article myself, and it expresses my own opinions. I am not receiving compensation for it (other than from Seeking Alpha). I have no business relationship with any company whose stock is mentioned in this article.
Additional disclosure: Disclaimer: The opinions in this document are for informational and educational purposes only and should not be construed as a recommendation to buy or sell the stocks mentioned. Past performance of the companies discussed may not continue and the companies may not achieve the earnings growth as predicted. The information in this document is believed to be accurate, but under no circumstances should a person act upon the information contained within. We do not recommend that anyone act upon any investment information without first consulting an investment advisor as to the suitability of such investments for his specific situation.