The shale gas boom has brought a worldwide shift in fuel usage around the world, especially in electricity generation. In the U.S., natural gas has become one of the cheapest sources of electricity generation in recent years. Prices of natural gas have decreased significantly since 2008 when it traded around $10 per contact. Hydraulic fracturing produces around one third of total U.S. gas now. Coal, which is considered to be an alternative to natural gas, experienced a price decrease as its demand slowed due to environmental concerns and lower natural gas prices.
Lower coal prices helped the U.S. to export more coal to the rest of the world, especially to Europe. Coal exports to Europe have increased significantly, and in the current year, they are expected to reach a record high level. In 2012, the EIA expects exports of U.S. coal to stay strong and reach a record level of 125MMst. Most of the U.S. coal exports are to Europe and Asia, which make around 76% of total U.S. coal exports. In the last few years, coal exports to Asian markets have been increasing because of strong demand from China, India and South Korea.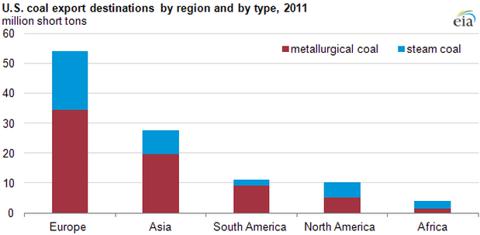 (Click to enlarge) Source: eia.gov
U.S. exports two types of coal; metallurgical and steam coal. Metallurgical coal is primarily used in the production of steel, whereas steam coal is used for electricity generation. More than 60% of total U.S. coal exports in 2011 were of metallurgical coal.
Natural gas prices have started to move upwards in recent weeks. The trend is expected to continue, and as natural gas prices increase, it will lose its competitive edge against coal. When the natural gas price fell below $3, there was a notable coal to natural gas switch. However, natural gas prices in the range of $3 to $3.5 make coal to gas switching unattractive. The gas price is heading towards $4, which would mean that dependence on natural gas for electricity generation would decrease. It is difficult for natural gas price to go above $4.5 to $5 given the excess supply due to hydraulic fracturing.
Coal companies are cutting on their production, which is helping in managing the inventory levels. Last week, natural gas futures surged after the EIA announced that inventory levels rose, but by 72 billion cubic feet, which was less than expectations. As the natural gas prices rise, coal prices are also expected to rise alongside. This is because natural gas would no longer be the cheaper source of energy and demand for coal will increase as companies would shift back to coal for electricity generation.
Demand for metallurgical coal is also expected to rise in China from steel manufacturers. China is the largest steel producer of the world and it imports almost 15% of its metallurgical coal needs. Recently, China approved a $157 billion infrastructure plan for railways and roads, which will also give a boost to U.S. coal exports. The above information supports the point that going forward, prices for coal will increase as more coal will be demanded by electricity and steel producers in China.
Worldwide, coal demand is expected to increase by 1.3 billion annually in the next five years. China's coal imports are expected to double by 2016. Besides China, India is also one of the fastest growing coal importers. Its thermal imports are up 13%, June YTD 2012. As the coal prices are expected to rise in late 2012 and 2013, U.S. coal stocks are likely to perform well. Coal prices are expected to rise by 20% to 30% in the near future.
As the coal prices rise, we recommend buying two stocks that would benefit from the coal price increase; Consol Energy Inc (NYSE:CNX) and Peabody Energy Corp. (BTU). BTU is the world's largest private sector coal company. It deals in more than 25 countries. The company is expected to register revenues of $7.98 billion in 2012. Revenues for fiscal year 2013 are expected to grow by 6.5%. Consol Energy is a producer of coal and natural gas. It is also one of the leading diversified energy companies in the U.S. The company is expected to earn $5.5 billion in revenues in 2012. In 2013, revenues are expected to grow by 6.3%. CNX and BTU stocks are down 6% and 22% YTD, respectively; as coal lost its competitive edge due to lower natural gas prices.
Both CNX and BTU have higher margins compared to their competitors as seen below in the table. CNX has a lower debt to equity among its competitors. CNX also has natural gas exposure and would also benefit from an increase in natural gas prices. Also, both BTU and CNX offer attractive returns on equity of 16.5% and 17%, respectively, as compared to their competitors.
| | | | | |
| --- | --- | --- | --- | --- |
| | BTU | CNX | Arch Coal Inc. (ACI) | Alpha Natural Resources, Inc. (ANR) |
| Forward P/E (2014 earnings) | 8 x | 14 x | NA | NA |
| Gross Margin | 29 % | 32 % | 20 % | 15 % |
| Profit Margin | 11 % | 11 % | -8 % | -37 % |
| Operating Margin | 18 % | 12 % | 7.25 % | 2.2 % |
| Debt to Equity | 108 % | 82 % | 146 % | 60 % |
| ROE | 16.5 % | 17 % | -11% | -43 % |
Source: Yahoo! Finance
Risks:
However, there are some doubts regarding the demand for coal for electricity generation increasing in the future. Regulations regarding coal use are becoming stricter with time, as coal leads to greater emissions and it is not environment friendly. Authorities around the world are pushing for lesser coal use in accordance with the emissions control program. In future, emission fee and emission permit costs are expected to increase, which will add to the cost of coal usage, making it less cost effective. In the U.S., electricity producers are retiring their coal fired plants, and in the next five years, 59000MW to 77000MW of coal generated electricity is expected to be gone. By 2020, it is expected that almost 12% of total U.S. coal-fired capacity would be retired.
Disclosure: I have no positions in any stocks mentioned, and no plans to initiate any positions within the next 72 hours.
Business relationship disclosure: The article has been written by Qineqt's Energy Analyst. Qineqt is not receiving compensation for it (other than from Seeking Alpha). Qineqt has no business relationship with any company whose stock is mentioned in this article.