Last week, HudBay Minerals Inc. (HBMFF.PK) announcd the closure of its Balmat mine in New York State. It joined a growing list of companies shutting down unprofitable zinc mines.
For analysts, the Balmat news was not surprising, as management previously indicated that something needed to be done with it. The project was expected to produce 90 million pounds of zinc in 2009, according to Blackmont Capital analyst George Topping.
In a note to clients, Mr. Topping wrote:
Balmat is a non-core asset with a mine life of less than three years. While the shuttering is not unexpected, we had included Balmat in our model as we expect a near-term recovery in zinc prices.
He cut his target price on the stock very slightly to C$19.30 a share, down from C$20.00. He removed Balmat from his model, but expects to add it back in when the zinc market recovers and the project can start up again.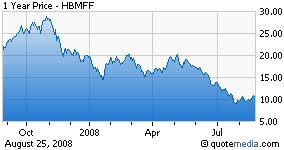 Desjardins Securities analyst John Hughes noted that at today's zinc price of $0.83 a pound, closing Balmat should be accretive to earnings per share by C$0.05 to C$0.08 per quarter. And the costs to close it are minimal. He also had a prior target of C$20.00 a share, and lowered it to C$18.90.
With Balmat closing, analyst Onno Rutten of UBS Securities wrote that announced mine closures over the past month should remove about 133,000 tonnes of annualized zinc capacity from the market. And he noted that another 180,000 tonnes of production looks marginal. Put together, he figures that cutbacks could almost completely remove the surplus in the zinc market, leading to higher prices.