On Friday, August 22 before the market open, Perry Ellis (NASDAQ:PERY) reported a Q2 loss of $0.36 per share or $5.4 million vs. earnings of $0.02 or $267,000 per share a year ago. Excluding one-time items, analysts expected PERY to post a loss of $0.02 per share on $200.4 million, missing both earnings and revenue targets. Revenue fell 1% to $193.7 million for the quarter vs. $195.3 million a year ago. Shares gapped down, opened at $20.45, and closed at $17.23, down $5.77 or 25% on 1.26 million shares traded. Average daily volume is 226,000 shares. 
The reasons for the loss include increased costs, reduced shipments, weakening consumer demand, and repositioning of its European unit, including changes in top management, which resulted in a $0.11 per share charge in executive charges. Due to its acquisition of Laundry by Shelli Segal and C&C California, PERY also took an additional $0.04 charge. An additional $0.04 charge resulted in the opening of three new Perry Ellis stores as well as one Original Penguin store. Delayed shipments due to integration problems with a third party resulted in a reduction of $0.07 per share in earnings. In addition, nearly $6 million in revenue was lost due to the bankruptcies of several retailers including Mervyn's, Boscov's, and Goody's.  
PERY announced that PEI Licensing, an affiliate company, entered into five licensing agreements with Randa Corp., a leading neckwear and luggage manufacturer, to design, manufacture, and distribute neckwear and luggage under the Perry Ellis Brand in the U.S. and Canada. In July, PERY announced that the company entered into a licensing agreement with TV Mania GMBH and Must International Trading, PTE, Ltd., to design, manufacture, and distribute snow and surf apparel under the Gotcha Brand. The product line will be available in European markets. Currently, the Perry Ellis family of brands include: Axis, Tricots St. Raphael, Jantzen, John Henry, Cubavera, the Havanera Co., Natural Issue, Munsingwear, Grand Slam, Original Penguin, Mondo di Marco, Redsand, Pro Player, Manhattan, Axist, Savane, Farah, Gotcha, Girl Star, and MCD. Other licensing includes Nike (NYSE:NKE), JAG, PING, Champions Tour, PGA TOUR, and Dockers.  
The outlook for the apparel industry is at-best neutral. Due to the weakening U.S. economy, reduced consumer spending on non-essential items, higher inflation, and increased costs, retailers will continue to be under pressure. As SKS earnings demonstrated, higher-end consumers are affected as well, contributing to a 3% growth rate in 2007, compared to a 5% growth rate in 2006. Due to acquisitions and new and existing licenses, PERY will be better positioned in the future.  
For fiscal 2009, the company lowered its outlook to $1.67-$1.72 per share, down from its previous guidance of $1.95-$2. Management has stated that their revenue target remains the same at $910 million to $925 million for fiscal 2009. Guidance includes a non-cash impairment of $0.08 per share or $2 million due to the impairment of marketable securities.
CFO Oscar Feldenkreis said:
As we get a better reading of the macroeconomic issues in the second half of the year, rationalize our expenses and assess the impact of the actions undertaken in our European operations and retail, we will update our guidance accordingly.
Therefore, expect additional guidance from PERY in the coming weeks.  
Currently, four analysts publish recommendations on PERY. There are three "Buy" ratings and one "Hold" rating. On August 22, Brean Murray Carret & Co. reiterated their "Buy" rating, noting that PERY's Q2 results included extenuating and one-time items factored into results, and that the company's business remains healthy. Wedbush Morgan reiterated their "Hold" rating, but reduced their price target to $20 from $22. In the past 12 months, insiders purchased 3,800 shares and sold 188,867 shares.  
Technically, PERY formed a wide breakaway gap, which is highly likely the start of a major downtrend. After trading in a range for five months, PERY broke through a key support level. The stock is currently testing another support area at $17. I suggest not going long or short at this time and traders should expect a dead-cat bounce.
click to enlarge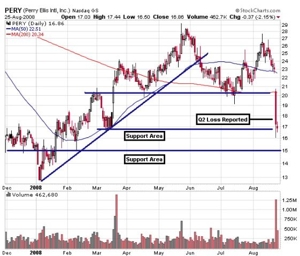 Disclosure: None