On August 20 before the market open, Citi Trends Inc. (NASDAQ:CTRN) reported earnings or $0.20 per share or $2.8 million vs. $627,000 or $0.04 per share a year ago. Results included a $0.03 per share secondary offering expense. Sales jumped 19.5% to $115.7 million vs. $96.8 million a year ago. Analysts were expecting earnings of $0.17 per share on $115.7 million in revenue. Shares dropped 10.7% to close at $18.45 ahead of earnings and but were up 5.6% after hours. On Thursday, shares gapped up at $19.45 and closed at $20.26, up $1.81 or 10%. 
Same-store sales for CTRN were up 5.6% due to an increase in same-store sales through stimulus check spending, according to management. CTRN also opened four new stores and expanded two stores for a total store count of 335. If stimulus checks were the main reason for an increase in sales, then I wonder where sales will come from now that there aren't any more checks coming (presently). 
The specialty apparel sector remains neutral as less and less disposable income is used for essential purchases and more toward food and energy expenses. In 2007, the sector grew at a 4.5% rate to gain 31% of the apparel market as more consumers are shopping at specialty retailers vs. department stores. The entire sector is expected to post 3% growth in 2008 despite continued weakness in the domestic economy.  
Four analysts currently publish recommendations for CTRN. The current consensus is two "Buy" and two "Hold" ratings. JPMorgan reiterated its "Overweight" rating and noted that CTRN should trade in line with its growth rate. On August 7, Piper Jaffray downgraded CTRN to "Neutral" from "Buy" and reduced its price target to $26 from $28. There have been no insider purchases and 62,527 shares sold in the past six months.
Management also reiterated their guidance for the remainder of the fiscal 2008 year, expecting same-store sales to be either flat or up 1%-2%. CTRN expects to report earnings of $1.10-$1.15 per share for the year vs. $1 per share in 2007. Analysts expected $1.25 per share for the fiscal 2008 year. When comparing Q2 to Q1, there has been a 49% change in institutional ownership with a net 4.62 million shares sold.  
Technically, after August 6's sales announcement, CTRN gapped down forming an island reversal (after a strong breakaway gap). Afterwards, earnings did little as CTRN had already initiated a downtrend prior to the report. Expect support levels at $17 and $18 and resistance at the 50-day MA as well as a continued downtrend or range-bound trading in the short-to-mid term. 
click to enlarge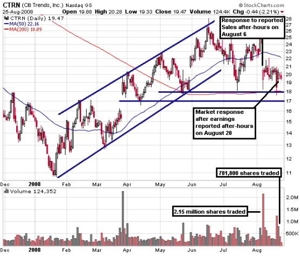 Disclosure: None