AT&T (NYSE:T) and Verizon (NYSE:VZ) were already facing headwinds when the news of possible Sprint Nextel (NYSE:S) deal with a Japanese wireless provider came in. This pushed the two stocks, T and VZ down further. AT&T was hit hard especially, closing the day down by about 1.2% after being down about 2.2% at one point in the day.
While suddenly everything about AT&T is negative, this article tries to provide a few positive points for the stock. Let us get into the details.
Upcoming Dividend Increase: AT&T went ex-dividend on October 5th for a dividend of 44 cents a share, the fourth consecutive quarter the same payment has gone out. This means, a dividend increase is in the cards given AT&T's history of increasing dividends for nearly 30 years.
Granted, the stock has not been growing dividends at a frenetic pace recently but any increase is good for investors when the other 'safer' alternatives yield much lower. Even a 45 cents new payment will push the yield well past the magic 5% mark. In spite of the hardships, one can fully expect AT&T to keep up its near 30 year tradition of increasing dividends each year.
Valuation: A lot of new investors take a look at the price to earnings ratio of a stock and immediately make up their mind on whether the stock is having a rich valuation or not. AT&T famously (or notoriously) took a big charge as a result of its failed merger with T-Mobile during the 4th quarter of 2011. This reduced the 2011 Q4 EPS and bloated the PE ratio. The Q4 of 2012 has already begun and it won't be long before the PE returns to its usual teen levels. The same way, the payout ratio is also causing a lot of concern to investors currently. The updated EPS after Q4 2012 should take care of these concerns.

Click to enlarge
(Source: Ycharts.com)
We strongly believe the stock will be back to its usual low valuation once the write offs go away from the equation. The table below shows AT&T usual PE level, until the big charge in 2011.

Click to enlarge
(Source)
Revised Estimates: Taken with a pinch of salt, analyst estimates can be helpful in analyzing where a stock is expected to go. While everyone is focusing on the negative news alone, analysts have been quietly increasing their estimates for 2013. The estimated EPS of $2.58 gives the stock a forward PE of about 13 at $34.8. A low PE teen for a company dominating a virtual duopoly and paying a 5% plus dividend? Most income investors will take that.

Click to enlarge
(Source: Finance.yahoo.com)
Technical Indicator #1: Recent Pullback: AT&T has officially entered the 'correction zone'. The stock is down almost 10% from its recent high of $38.58 share. The day's low on October 15th was $34.83, which was a dime from the 10% correction level. The 10% correction is usually seen as healthy for the stock as long as the fundamentals haven't become worse or if the overall market isn't crashing.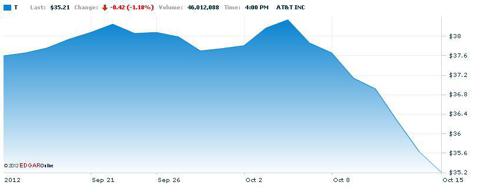 Click to enlarge
(Source: Nasdaq.com)
Technical Indicator #2: Extremely Oversold: So, the 10% correction has pushed the RSI to depressing levels as shown in the chart below. A RSI of 30 indicates a stock is oversold and AT&T's RSI of 12 speaks volumes. A bounce is on the cards from the technical perspective, especially if there is something negative coming out of the Sprint corner.

Click to enlarge
(Source: Nasdaq.com)
Conclusion: Before the bears jump out of the cage to paw, let us acknowledge that the stock might go down a bit more from here. There certainly are potential headwinds for the company, like if the Sprint deal does go through, both AT&T and Verizon could face a stronger competitor with fresh billions injected into it. However, the point of this article is to note that not everything is negative for AT&T and investors could do much worse than initiating a position/adding with this industry leader at a 5% yield.
Disclosure: I am long T. I wrote this article myself, and it expresses my own opinions. I am not receiving compensation for it (other than from Seeking Alpha). I have no business relationship with any company whose stock is mentioned in this article.