Trading in the technology sector has been bumpy since Apple (NASDAQ:AAPL) price appreciation has reversed, Advanced Micro Devices, Inc. (NYSE:AMD) released slowing growth forecasts and Intel (NASDAQ:INTC) warned on earnings estimates. There have been numerous comments and articles targeting technology and smartphone manufacturers and suppliers. The current downturn in estimates and neutral to negative comments are pulling down the technology sector outlook. But are the pricing signals correct? Did Apple misstep with the iPhone 5 launch, and pending iPad mini strategy? Is Nokia (NYSE:NOK) doomed to fail? Will Microsoft's (NASDAQ:MSFT) change in strategy backfire? Is the PC dead?
Listening to market currents and the media pundits it would seem that growth in the technology sector has slowed and is in fact taking down the Nasdaq and S&P 500 indexes. The iShares Technology ETF (NYSEARCA:IWY) is down with a tumbling RSI indicating softness in the world of technology.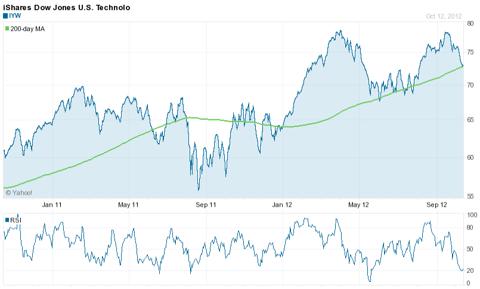 Click to enlarge
But not everyone is buying into this thesis looking forward. In a screen of order flow targeting Out of the Money Calls an interesting trend emerged. Many of the leaders in order flow for Out of the Money Calls are the companies that are now challenged by bad press, reduced earnings reports, pipeline shortage worries and tests to competitive strategy. What this screen tells me is that money is flowing into the technology sector as prices decline in the form of Out of the Money Calls.

Click to enlarge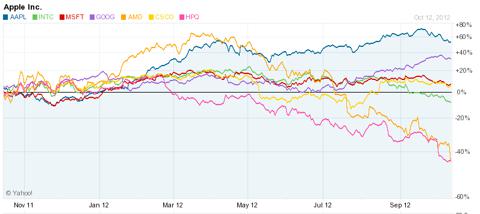 Click to enlarge
Company Descriptions:
Apple Inc., together with subsidiaries, designs, manufactures, and markets mobile communication and media devices, personal computers, and portable digital music players
Microsoft Corporation develops, licenses, and supports software products and services; and designs and sells hardware worldwide.
Intel Corporation designs, manufactures, and sells integrated digital technology platforms primarily in the Asia-Pacific, the Americas, Europe, and Japan.
Google Inc., (NASDAQ:GOOG) a technology company, maintains an index of Web sites and other online content for users, advertisers, and Google network members and other content providers.
Advanced Micro Devices, Inc. operates as a semiconductor company worldwide.
Cisco Systems, Inc. (NASDAQ:CSCO) designs, manufactures, and sells Internet protocol (NYSE:IP) based networking and other products related to the communications and information technology industries worldwide
Hewlett-Packard Company (NYSE:HPQ) and its subsidiaries provide products, technologies, software, solutions, and services to individual consumers and small- and medium-sized businesses
Due to the normally reduced price of an option contract I tend to buy good company call options on bad news. This tactic has worked well when a company's share price drops on bad news as long as the news does not represent a fundamental gap in the business plan or competitive landscape. Research needs to be conducted on each company to ascertain if the news warrants the price drop. The call volume demonstrates that traders are betting on a stronger price in the future and have selected to use OTM Call options to capture future upside. The other key component of this analysis is the volatility for each issue looking out 30, 60 and 90 days. If the volatility index for the stock is flat or declining it is a good indicator that price swings will level out. Using the OTM order flow and volatility index provides a glimpse of future possibilities for pricing. These data points are not used in isolation, but provide added visibility to future pricing possibilities. I use this information to build a deeper thesis for technology holdings and hopefully minimize mistakes. If data are telling me that pricing should settle down and there are orders for out of the money calls I will use that information to both look into buying Calls and stay long.

Click to enlarge
Using data and research on each holding I will add INTC OTM Calls with a strike of $27 expiring in April 2013, which have a pricing difference of a low of $.12 this week to a contract high of $2.55. I added MSFT with a strike of $25 expiring in January 2013 with pricing ranging from a low of $2.18 to a high of $8.30, which is in the money but based on the 90-day volatility highlighted in red and will yield higher returns than the riskier OTM calls. The data points to a bumpy road ahead for MSFT and I want to maximize gains while minimizing risk. I am adding the AAPL strike $700 to my watch list that is trading at $20.30 with a contract high of $52.80 and a low of $12.70.
Using Out of the Money Calls is often viewed as riskier than other option strategies. Adding the additional data points of Implied Volatility and Call Order Flow add clarity to my thesis and trading direction.
Disclosure: I am long INTC, AAPL, MSFT. I wrote this article myself, and it expresses my own opinions. I am not receiving compensation for it (other than from Seeking Alpha). I have no business relationship with any company whose stock is mentioned in this article.