One of the items I peruse every weekend is the insider transactions section in Barron's. Each week the magazine lists the top 20 stocks that have the heaviest insider buying by dollar volume and it provides the same format for insider selling as well. I find it is a good source for finding long ideas that insiders are buying. Conversely, I like to know if any of my long selections have had recent heavy insider selling. Significant insider selling can also be a good starting point for research into possible short positions. Here are two stocks on this week's top 20 insider selling list (#1 and lucky number #13) that look substantially overvalued.
LinkedIn Corporation (NYSE:LNKD) operates the largest online professional network in the world.
Four reasons LNKD insiders are right and the shares are overvalued at $110 a share:
A half of dozen insiders sold over $40mm worth of shares in the last three weeks. Lockup expired months ago, so passing that milestone is not driving the new selling.
The company has twice the five year projected PEG (3.29) than of Facebook (1.49). It also has less than 1/10th the net cash on its balance sheet than its social media brethren.
Consensus earnings estimates for both FY2012 and FY2013 have both come down over the last sixty days.
The stock is selling for more than 85 times earnings and 16 times annual revenues.
Ulta Salon, Cosmetics & Fragrance, Inc. (NASDAQ:ULTA) operates as a beauty retailer that provides prestige, mass, and salon products in approximately 500 stores in 45 states.
4 reasons ULTA is pricey at $95 a share.
Insiders have sold over $7mm of their shares so far in October and just under 40% of their total shares during the prior six months.
There is a divergence between net income (NI)

and

operating cash flow (OCF). NI has more than tripled over the past three years while OCF is up only around 20% in that time frame. I view this as a red flag as it is much easier to "manage" earnings than cash flow.
The stock is selling near the top of its historical valuation range based on P/S, P/CF and P/B. It also sells at 42 trailing earnings.
After gaining some 50% YTD, the stock looks like it is starting to top (

see chart

).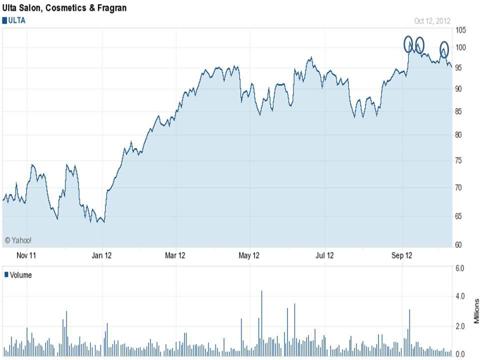 Disclosure: I am short LNKD, ULTA. I wrote this article myself, and it expresses my own opinions. I am not receiving compensation for it (other than from Seeking Alpha). I have no business relationship with any company whose stock is mentioned in this article.