Mellanox Technologies (NASDAQ:MLNX) announces quarterly earnings on October 17th. The company has a stellar earnings and revenue story. Mellanox shares trade at a 49.3% operating earnings growth rate. The stock will continue to increase if sales and earnings beat tomorrow's third quarter expectations. I expect the company will beat earnings. This view is based upon the company's leading product line, technology partners, and top-tier customer clientele.
Click to enlarge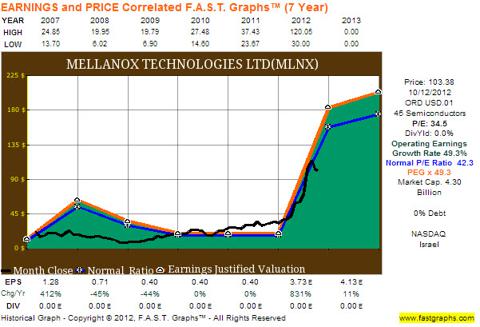 Since its founding, Mellanox has evolved into a complete end to end supplier of ultra high speed, high performance, end to end interconnect solutions and services for storage and server environments. Fundamentally, Mellanox' products help databases and enterprise servers connect with each other at blazing fast speed.
Business Model
Mellanox's products include silicon chips, switches, adapters and software, and are used in enterprise data centers, high performance computing applications, Internet applications, cloud computing and storage applications, with practical applications across a host of business, commercial, educational, research, government and defense computing platforms.

In a nutshell, Mellanox's products, software and solutions are used in situations where an application has to interact with a database to serve up results to a user, and where speed matters significantly such as for mission critical applications, cloud computing, and Wall Street trading applications. For example, the New York Stock Exchange uses Mellanox solutions for high speed market data delivery. Mellanox solutions are also used at the high speed particle collider at CERN in Switzerland where data speed matters at the fractional micro second range.
Corporate Growth
Mellanox was initially funded through venture capital, with an initial $7.6 million investment in 1999. Subsequently, the company raised an additional $81.7 million in two more rounds of funding that included strategic investors such as Dell (NASDAQ:DELL), International Business Machines (NYSE:IBM), Quanta Computer, Vitesse Semiconductor (NASDAQ:VTSS) and Sun Microsystems.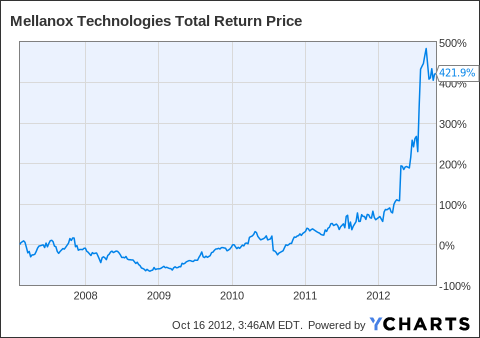 MLNX Total Return Price data by YCharts
In January 2001, Mellanox shipped its first commercial product under the InfiniBridge brand and grew revenues sizably thereafter. Mellanox also expanded its products under the InfiniBand and ConnectX brands and, over the years, added adapters, switches and cables to its portfolio, with supporting software and open source code. Mellanox also picked up multiple awards for industry leading research and development, its products portfolio and its stellar business execution, quality and growth.
In February 2007, Mellanox announced its initial public offering where it raised $102 million giving it a valuation of $510 million dollars. In its IPO, Mellanox sold six million shares at $17 each.
In September 2009, Mellanox won the Gold Award for Cloud Computing Technologies at the Best of VMworld 2009 Awards. In January 2010, Mellanox founder, Eyal Waldman, was named CEO of the Year.
In November 2010, Mellanox reached an agreement to acquire one of its competitors, Voltaire Ltd., for $218 million. The acquisition was aimed at acquiring Voltaire's strong presence in 10 Gigabit Ethernet (10 GigE) products, its pipeline of 40 and 100 GigE products, its presence in HPC and financial applications, and to offer greater vertical integration between Mellanox and Voltaire products in the InfiniBand space. The acquisition was also used to strengthen Mellanox against competitors such as QLogic (NASDAQ:QLGC) which has since languished, while Mellanox has far and away gained market share and Wall Street attention.
In May 2012, Mellanox sets a new industry record for high-speed Internet switching performance. More recently, in July 2012, Mellanox announced a partnership with Quanta QCT, a leader in network equipment, storage and server solutions to data centers, to deliver low latency, high bandwidth solutions for cloud computing. This alliance also gives Mellanox access to Quanta QCT's large enterprise, government and service provider customers.
Corporate Balance Sheet
The company has zero debt on its balance sheet. The revenue, cash flow, and earnings have increased with new product launches.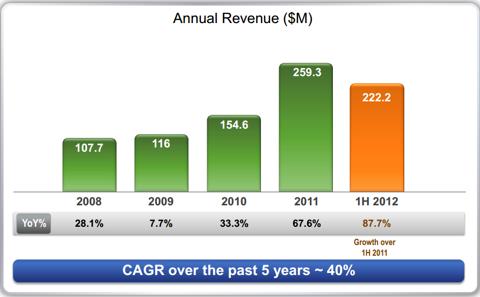 In parallel, Mellanox has consistently increased cash flow from operations, with cash and cash equivalents of $327.8 million as of June 30, 2012 (see graph below).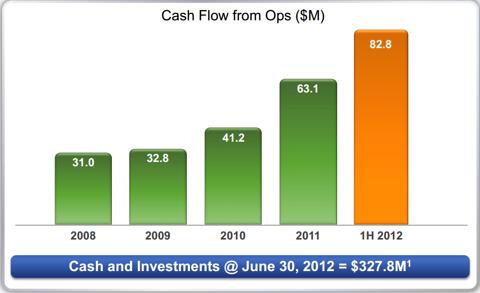 Quarterly revenue has grown consistently year after year. While quarterly revenues dipped around late 2008 and early 2009, and showed some seasonal dips in the 3rd and 4th quarters, quarterly revenues have consistently increased from $37.8 million in 3rd quarter 2010 to $133.5 million in 2nd quarter 2012, with projections of $150 million or more for 3rd quarter 2012, as seen in the graph below.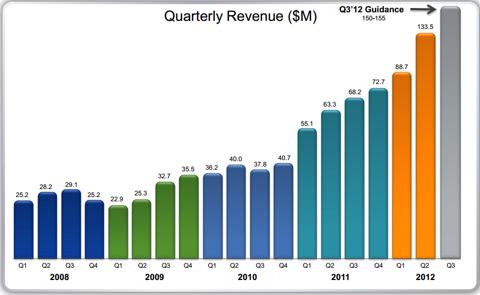 Shares
Mellanox investors have seen shares appreciate well above market since its IPO. As of October 16th, 2012, shares traded at about $101. The company experienced a 88% growth rate in the first half of 2012. The trailing twelve month earnings are $1.31 per share. Mellanox has a market capitalization of $4.3 billion.
Mellanox shares have a beta of 1.25 and its sharp rise, naturally, includes higher intrinsic volatility. At current levels, shares have downside risk if earnings and revenues are below analyst expectations.
Management
Eyal Waldman has served as Chairman, President and CEO of the company since its founding. He holds a B.S. and M.S. in electrical engineering from Technion, Israel's leading institute of technology.
Chief Financial Officer (NASDAQ:CFO) Change: Until recently, Michael Gray served as the company's Chief Financial Officer, a position he held from December 2004 until his retirement on September 10, 2012. Jacob Shulman is the new CFO in a planned transition that will take effect November 5, 2012. Mr. Gray will continue to serve on the Board through February 4, 2013 to help with the transition. Mr. Shulman has over 19 years of professional finance experience and has been with Mellanox since 2007, previously serving as VP of Finance and Corporate Controller.
While company shares dropped 9.8% on this announcement, this was a planned transition with Mr. Gray heading into retirement. The drop was likely just a market reaction to the company's strong share price run up. This transition, especially with an internal appointment, is likely to have no adverse material influence on the company's operational prospects but could influence Wall Street perceptions if investor relations are not handled well. Overall, the risks of this CFO change will likely be minimal, if any.
Ronnie Ashuri is the company's Vice President of Engineering, and one of its co founders. Mr. Ashuri too holds an electrical engineering degree from Technion.
Shay Cohen serves as the company's Chief Operating Officer, has extensive experience with operations and engineering, and is also one of the company's co founders. Mr. Cohen too holds an electrical engineering degree from Technion.
Collectively, top management has a very solid technical background, has been in this industry for several decades, and successfully driven research, product development, sales, marketing, business development and finance for the company. Management is well accepted by Wall Street, has successfully navigated an IPO and follow on offerings, grown revenues and profits consistently, guided corporate growth organically and through alliances, and delivered outstanding shareholder and customer value.
Future Growth Prospects
From the time of its founding, the company has strongly focused on high performance interconnect products for the servers and data storage market, and successfully delivered virtual protocol interconnect (VPI) products that meet customer needs for cutting edge high speed data transmission.
The company's products and solutions have always been a step ahead of its benchmark - the bandwidth of Intel Corporation's CPU cores - and delivered data transmission speeds from the 10 gigabits per second (Gb/s) range to over 50 Gb/s over the past 10 years.
With its technological innovation and research, the company has grown data message rates from roughly 30 million per second to close to 100 million per second over just the past year.
Today, the company's InfiniBand and Ethernet interconnect solutions provide the lowest latency (less than 1 micro second) and the highest bandwidth (56 Gb/s), and deliver the best return on investment for computing and storage platforms.
Mellanox focuses on the following key growth markets: high performance computing (HPC), web 2.0, enterprise servers and databases, cloud computing, and financial services. In each of these focus sectors, Mellanox's Products have consistently delivered exceptional performance and return on investment (ROI).
Industry Leader
Today, Mellanox's product suite is the most widely used interconnect solution in the world's top 500 systems and newer petascale systems. Mellanox products are designed to deliver unmatched ROI for Web 2.0 and large scale data systems, and have delivered 2x increases in analytics, 13x increases in transactions per second and data retrieval times, and 4x improvements in price performance by delivering four times more bandwidth at the same price.
Mellanox's go to market strategy consists of strong relationships with top tier partners - hardware OEMs in the servers, storage and embedded systems space; software partners such as Microsoft (NASDAQ:MSFT), VMware (NYSE:VMW), IBM and Oracle (NASDAQ:ORCL); and channel partners such as TechData. Oracle does own over 3.4 million shares of Mellanox.
Fundamentally, the company's strategy is to pursue revenue opportunities in servers, storage and embedded systems, which collectively have a total addressable market of $5.3 billion in 2012 alone.
In a nutshell, the company's strategy is to drive strong revenue and earnings growth with end to end solutions, industry leading product offerings and well established distribution channels.
Products
Mellanox's product suite includes Ethernet and InfiniBand adapters, switches and cables in the 10, 40 and 56 Gb/s bandwidth range, and application acceleration software.
Adapter Silicon: Mellanox offers 10, 20, 30, 40 and 56 Gb/s adapters under the InfiniBand brand, and extremely energy-efficient adapters under the ConnectX.3 brand.
Adapter Cards: Mellanox adapter cards provide the lowest latency, highest bandwidth connectivity and flexible interconnect capabilities.
InfiniBand Switch Silicon: These silicon switches offer network operators numerous features to accurately configure systems to meet the demands of their customers.
InfiniBand Switch Systems: With Mellanox's InfiniScale IV and SwitchX InfiniBand products, networks can seamlessly implement combinations of 20, 40 and 56 Gb/s bandwidths without any issues.
Ethernet Switch Silicon: SwitchX combines Ethernet and Fibre Channel traffic on one wire at speeds of between 1 Gb/s to 10 Gb/s per lane, and are ideal for robust, mission-critical computing applications.
Ethernet Switch Systems: Mellanox's Ethernet range of switches allows practical applications that span from 10 Gb to 40 Gb Ethernet.
Gateway Silicon: Mellanox BridgeX range is the only Virtual Protocol Interconnect (VPI) on the market and functionally allows OEMs to design consolidated input/output (I/O) solutions.
Gateway Systems: Mellanox's gateway systems allow data centers to use I/O consolidation on both fast 40 Gb networks as well as slower speed networks in the 2, 4 and 8 Gb range.
The company recently won gold for Big Data at the 2012 Stevie International Business Awards with its entry of PHAT-DATA 40G. This high performance add-on to the 40 Gb Ethernet adapter delivers a 40% performance increase. Essentially it allows data centers to achieve higher levels of efficiency and scalability while drastically cutting capital and operational costs.
Management Software: Mellanox's management software allows for easy managing of servers, applications and fabrics. Users can monitor performance of each from a single console and guarantee that time-critical information is sent and received.
Acceleration Software: A key product, Mellanox's acceleration software significantly increases performance, reduces latency and enhances application performance without having to expand application size on hard drives.
Software Drivers and Tools: Geared towards HPC and data centers, this software accurately tracks and monitors data transfers.
Cables: Mellanox' manufactures highly durable, low cost and easy to install cables that provide optimum signal integrity when interconnecting high bandwidth products.
M-1 Global Support Services: Mellanox offers three tiers (bronze, silver and gold) of customer support for its global base of customers.
Competition
Mellanox dominates the high-performance interconnects' market. As the sole company with a 40 Gb product line and a complete end to end solution, the company has no real formidable competition. The graph below shows how Mellanox' market capitalization is well above other top semiconductor companies, as a reflection of its marketing success and future prospects.
At least in theory, a company's market capitalization reflects future growth prospects more than past performance.
With more advanced products, Mellanox attracts top tier customers in long term contracts that support revenue stability and earnings growth.
Quarterly Results - Second Quarter 2012
Mellanox had an extremely successful second quarter (ended June 30, 2012) with record revenue and earnings, and its first quarter with revenue above $100 million. Growth was driven by its strong product suite and high market demand for fast interconnect solutions for cloud computing, large data centers, financial services, HPC, storage, Web 2.0 and database markets.

Comparisons with 2nd quarter 2011 are not overly meaningful because of the strong gains over intervening period. In the 2nd quarter 2012, earnings grew to a record $32.1 million and $0.74 per share on a GAAP basis ($0.99 on an adjusted non GAAP basis).
The company reported total assets of $632.48 million, no meaningful debt, liabilities from standard operating activities (primarily Accounts Payable and Accrued Liabilities) of $114 million and $518.4 million in shareholders' equity. In the quarter, cash from operations was $59.2 million. At quarter end, cash and investments totaled $327.8 million.

Operationally, the company tracked higher than its target long term model benchmarks for gross margin, about in line on R&D, lower on SG&A and significantly higher on operating and net income (see table below).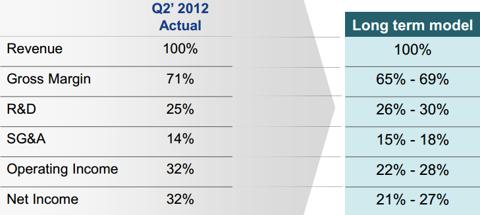 Over the first half of the year, cash from operations was $82.7 million, yet another record high. The company invested $156.2 million in short term securities and raised $14.3 million from common stock issued to employees.
Key customers included Hewlett Packard (NYSE:HP), IBM, Intel Corporation (NASDAQ:INTC) and Oracle. Airbus, Comcast (NASDAQ:CMCSA), JP Morgan (JPM, Viacom (NYSE:VIA) and Chevron (NYSE:CVX) were smaller customers, but strategic accounts for long-term revenue growth.
Summary
With advanced products and a solid customer base, Mellanox dominates its high performance interconnect niche. Interconnect technology is critical for business performance because it increases application productivity and ROI. Mellanox's addressable interconnect market is large and growing, with a market opportunity of $5.3 billion in 2012 alone.
Moreover, Mellanox focuses on high growth sectors such as high performance computing, web 2.0, rapidly growing storage and databases sectors and cloud computing that is increasingly replacing in house servers.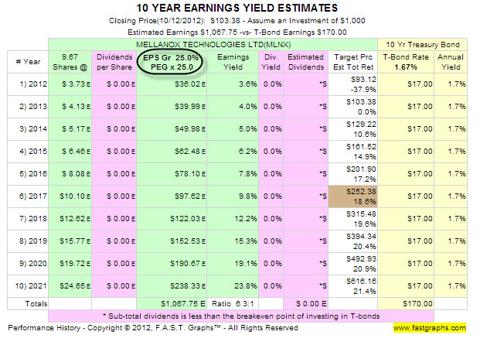 Mellanox also has top-tier partner and channel relationships that help it capitalize on major market opportunities.
Financially, Mellanox has strong cash flow, a solid, debt free balance sheet and a business model that is working very well. Mellanox has proven that it can develop and deliver industry leading products and stay ahead of its competitors.
Mellanox's long-term prospects as a business appear to be solid. I believe tomorrow's earnings call will outperform market expectations of $150 revenue and analyst earnings, as indicated in the above table, expectations.
Disclosure: I have no positions in any stocks mentioned, but may initiate a long position in MLNX over the next 72 hours. I wrote this article myself, and it expresses my own opinions. I am not receiving compensation for it (other than from Seeking Alpha). I have no business relationship with any company whose stock is mentioned in this article.