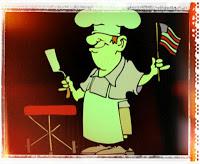 Earnings season opens with low expectations
Alcoa officially opened earnings season by beating expectations, but with a warning that a global economic slowdown could depress earnings in the coming quarters. All I can say is "same old story." For four years, we have had warning after warning on how bad the future can/should/will be, but with earnings coming in better than expectations. Sure, there are a gazillion reasons why the economy should tank, but as long as corporate earnings are still rising and coming in above expectations, growth we will see. It may be sluggish, inconsistent, or not feel much like it, but the trend will be there and the first rule is, "Don't fight the tape." Do not be swayed by the sizzle of the daily headlines -- the meat is in the earnings, and the bottom line is what counts.
The biggest thing the market has going for it is that the people in charge of printing the money are telling you to get your money out of the bank and buy risk assets. I am not saying I agree with this. Clearly, the long term outlook can only end badly. Actually "bad" is an understatement, because we all know what happens when bubbles burst. However, for the immediate future, and by that we mean months, not years, QE Buzz Lightyear will certainly ease the pain and keep the economy growing by creating another bubble. In normal times, monetary injections lead to inflation in consumer prices. Today, with little lending and falling monetary velocity, this easy money cannot keep up with the massive deleveraging going on, which is destroying assets at a faster rate than the Fed can inject. Eventually, this will lead to inflation, but not yet.
As we have come to learn, bubbles are fun while they are growing, but the price is that it prevents the deleveraging and rebalancing that is necessary for the economy to restore its health and long-term growth. If we are not careful, we could become just like Japan, as I discuss in Facing Goliath - How to Triumph in the Dangerous Market Ahead. However, for investment purposes, as long as free money has a positive effect on the economy, you do not want to break rule #2: "Don't fight the Fed."
Investors can enjoy the liquidity driven market moves higher by buying selected commodity stocks (that benefit from world banks printing money) such as: Goldcorp Inc. (NYSE:GG), Barrick Gold Corp. (NYSE:ABX), SPDR Gold Shares (NYSEARCA:GLD), Power Shares Double Gold (NYSEARCA:DGP), Market Vectors Gold Miners ETF (NYSEARCA:GDX), Newmont Mining Corp. (NYSE:NEM), Freeport-McMoRan Copper & Gold Inc. (NYSE:FCX), plus Silver Wheaton Corp. (NYSE:SLW), ProShares Ultra Silver (NYSEARCA:AGQ), and Fortuna Silver Mines (NYSE:FSM).
QE3 was benevolent, with more liquidity, and stock investors willing to take on some risk should buy the best of the best growth opportunities such as Apple (NASDAQ:AAPL), which is getting hit at the moment, but setting up as the buy of the year. Also, other leaders in innovative technology companies are attractive, such as Google (NASDAQ:GOOG), Intel Corporation (NASDAQ:INTC), Qualcomm (NASDAQ:QCOM), Microsoft (NASDAQ:MSFT), Cisco Systems (NASDAQ:CSCO), Dell (NASDAQ:DELL), Caterpillar (NYSE:CAT), General Electric (NYSE:GE), Yahoo (NASDAQ:YHOO), Red Hat Inc. (NYSE:RHT), Schlumberger (NYSE:SLB), and VMware Inc. (NYSE:VMW). For more broader exposure, fall on ETFs like the SPDR S&P 500 (NYSEARCA:SPY), SPDR Select Sector Fund - Financial (NYSEARCA:XLF), iShares MSCI Emerging Index Fund (NYSEARCA:EEM), Emerging Markets Consumer ETF (NYSEARCA:ECON), Brazil (NYSEARCA:EWZ), PowerShares QQQ Trust Series 1 (NASDAQ:QQQ), iShares Russell 2000 (NYSEARCA:IWM), and iShares FTSE China 25 Index Fund (NYSEARCA:FXI).
Lower risk investors should focus on MLPs like Terra Nitrogen (NYSE:TNH), CVR Partners (NYSE:UAN), Legacy Reserves (NASDAQ:LGCY), Vanguard Natural Resources (NYSE:VNR), and BrietBurn Energy (BBEP), and healthcare REITs related to the aging baby boomers, such as Healthcare Properties (NYSE:HCP), Senior Housing (NYSE:SNH), and IShares Healthcare (NYSEARCA:IYH).
Disclosure: I have no positions in any stocks mentioned, and no plans to initiate any positions within the next 72 hours. I wrote this article myself, and it expresses my own opinions. I am not receiving compensation for it. I have no business relationship with any company whose stock is mentioned in this article.